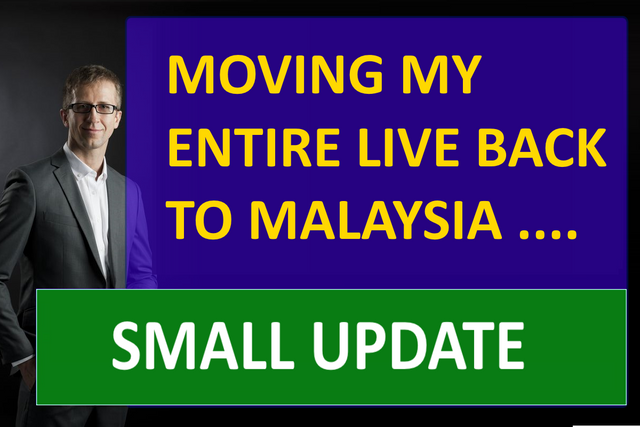 INTRODUCTION

Just a week ago I've posted a publication explaining the reasons for my recent absence: MOVING INTO A NEW HOUSE. Since then I've received tons of good wishes, for which I'm super grateful. Many of you have also been also asking about the progress of moving my entire life back to Malaysia.
This post is to update all of you who may care about this subject. I haven't been online much lately and I'm fully aware that my discord is full of unanswered messages. Hopefully, you will continue having some patience as my life lately has been quite hectic and I may not be able to reply as fast as I used to.
SMALL UPDATE

Unfortunately, my application to enter Malaysia has so far been rejected - which is impacting my plans greatly. The reason provided is quite straightforward: borders are being shut and the entire country is still under heavy lockdown caused by another wave of daily covid cases.
There isn't much I can do about it and it's hard to tell when this situation will change.
To make things worse, I may be forced to rebook and postpone our flight (mine, my Malaysian wife, and our little puppy dog). And that comes with some new challenges: we cannot extend our stay in the current location as it's already fully booked. And since it's summer (following a long period of full lockdowns) - it may be quite difficult to find an accommodation which would still be available.
The entire process is becoming quite a headache. The amount of paperwork one needs to proceed with to be able to travel to South East Asia is a nightmare. And so much of that paperwork is "time-sensitive". Meaning: some documents have their "validity time" and may simply "expire". Therefore, if I postpone a flight ticket then I may need to start some processes from the scratch.
NIGHTMARE.
It's almost hard to believe that only 2 years ago one could simply hop on the plane, land at the destination and apply for a visa at the airport.
No such a thing anymore.
YOUR PATIENCE IS APPRECIATED

I would like to thank you one more time to all of you, for showing your support, patience and understanding.
Currently, I feel like I'm living in "LIMBO". Not sure what my next week will look like. And this uncertainty isn't allowing me to be as active on Steemit as I would like to be.
Yours, @crypto.piotr
Founder of Project.hope community