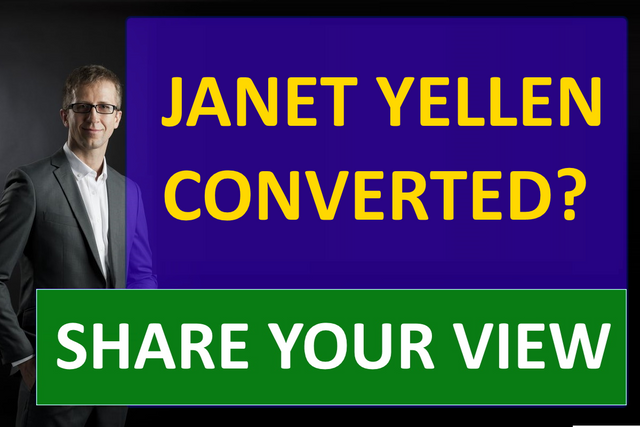 Janet Yellen - is introduction even needed?

This is going to be one of those short publications, but one that I would recommend going through and sharing your feedback with me. As I'm more than interested in your own line of thinking regarding this particular person.
I strongly believe that most Project.hope community members are already aware of who Janet Yellen is. In case you, dear reader, aren't aware of the significant role of this person then let me tell you: she has been openly one of the most active CRYPTO HATERS for a very long time.
She is also US Treasury Secretary, so her words carry loads of power and influence.
She has been pretty much disliked and disrespected within the crypto community and even I considered her to be a "DINOSAUR" in terms of knowledge and understanding of blockchain technology. My own mother seemed to understand more, while my mum is in her early 70s already.
Janet Yellen - RAPID 180 degree turn

Just yesterday many youtube channels EXPLODED with amazing news. Janet Yellen, yet another crypto hater, made a rapid 180 degree turn and now she seems to start to understand what blockchain is about and she seems to appreciate the technology behind it.
Allow me to recommend watching this 3 min short video by well known Anthony Pompliano:

This is SYMBOLIC

I didn't expect the crypto market to become bullish based on that news. After all, regardless how influential Janet Yellen is and how much power she holds -> this recent "transformation" wouldn't be enough to really move the market.
However ... I consider this "transformation" to be another great example on how people (one by one, including important politicians) are changing their mindset and are becoming bitcoin believers. One could say that they are becoming CONVERTED.
Do you know any other "converted" crypto HATER ?
---
This is another question I would like to ask. Would you know any other famous and influential person (be it politician or youtuber, big corporation or organization) which changed the approach towards crypto? I could name Mark Cuban Kevin O'Leary. Both famous "SHARK TANK" investors.
Any other big names? Share some similar stories with me if you know any.
I will greatly appreciate each valuable comment.
Yours, @crypto.piotr
@project.hope founder
check out our PH community: https://steemit.com/trending/hive-175254