2/19/20
Heart Attack Snowfall
No I did not have a heart attack, but for those that have heart conditions yesterdays and this early morning snow is Heart Attack snow. It started yesterday afternoon about 1:00. Silver dollar sized heavy thick wet snow flakes. it dumped about 5 inches in the next three hours. That evening I cleared the car of about 5 to 6 inches of very heavy wet snow. I did not shovel all the way around it, it was just to heavy, and I figured the snow plow guys would be here when they finished the main roads.
Well last night it decided to do the same thing as it did yesterday. I woke up to another 5 to 6 inches of snow on the car. Bummer, that was really unexpected, I guess I am glad the snow plow guy did not come yesterday. So after finishing half of my coffee it was back outside to clear the car once again of snow, and again it was the heavy wet kind.
The only good thing about the thick heavy wet snow is that it only occurs when it is warm. Yesterday we almost hit 40 degrees Fahrenheit again, but it seems it topped out at 38 degrees. So hopefully the bitter single digits are done with.
Enough words for now, here are a few pictures of the after plowed view. First up the view from where I park: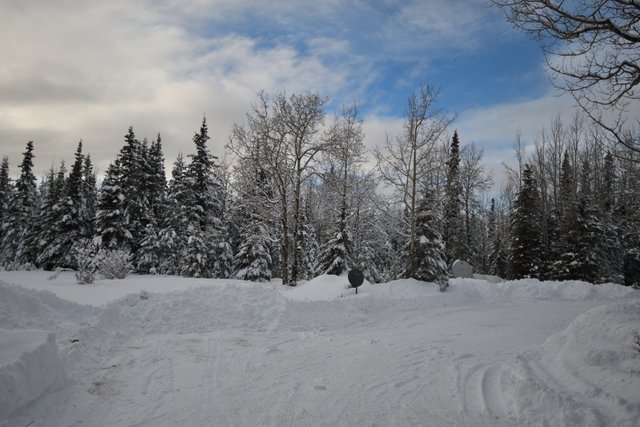 For a change we actually have some blue in our sky. Outside temperature was 31F, just a slight breeze, but still cold enough that I did not want to linger to much.

The Tree Circle/Clump/Gathering, I like our little island of trees making a private one-way roundabout.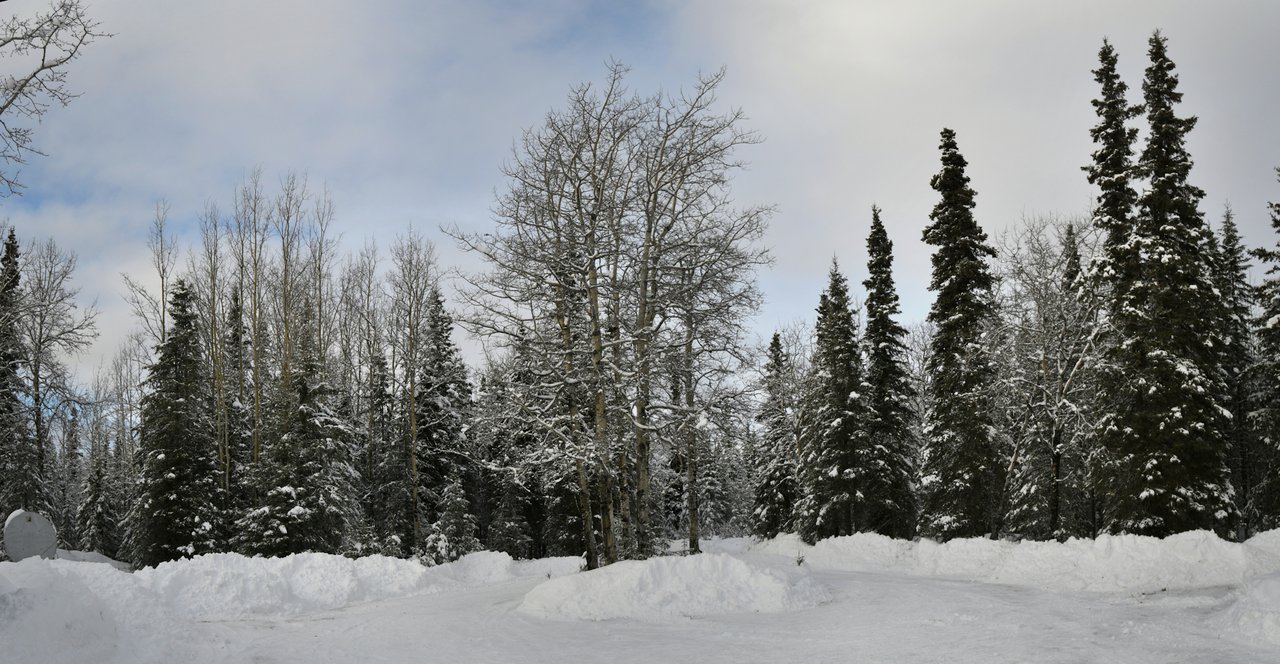 We all need an Island at times, I just wish mine had nice warm blue water around it and not a lot of frozen piled snow. The above image is a series of 4 images stitched together, two across the top and two across the bottom.

This is our in/out part of the driveway. It was just going to be my normal shot of the drive out one image. After taking the drive out picture I thought I wanted to share the snow pile there on the lower left side of the image, also in a stand alone shot, but after taking it I thought heck why not get a little bit of the tree circle and see if the three of them would stitch together nicely. I think they did.

I am glad the snow plow person came today, it is not fun looking at a long driveway loaded with a bunch of heavy wet snow. It was nice to see some blue sky for a change, although it is clouding up again and i don't think the snow is done yet, we will just have to wait and see.

All images were taken by me today with my Nikon Camera.

Driveway Saga Post: