2/12/2020
Surprising Overnight Snowfall with Wind
I have mentioned in a few post about our weather and how it is rare that we get both Snow and Wind in one event. last night we got them both. We woke up to about 4 inches of new fresh wind blown snow. All of the snow piles from our last driveway plowing were looking pretty nice, smooth little mounds that really did not resemble pushed and plowed snow. It stayed overcast most of the day, and was snowing off and on all day also. For a change I beat the plow guy to my driveway with the camera, and it was not that cold either about 22 degrees Fahrenheit. So I'll start with the tracks out and back for the first driveway picture excursion today.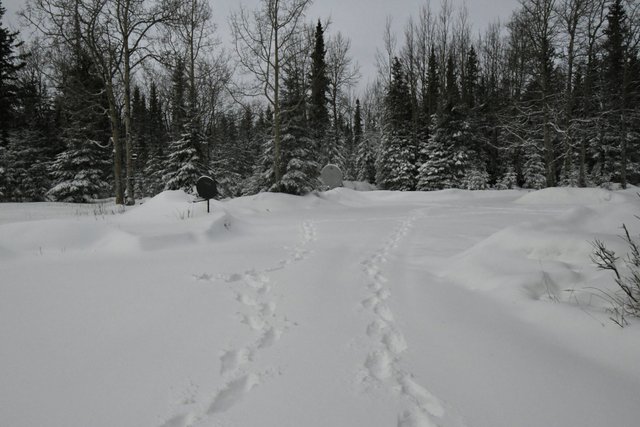 Slightly larger View
Funny, I was not even aware of the time when I was out there. That picture was taken at 1:11, I don't think I have ever had a non-intentional 1:11 picture before. So nice smooth and clean looking. Problem though is it was rather wet and sticky snow. Not a nice thing to drive in or on as it can be very slippery at times, much more so than our normal light weight powdery crystal snow.
Two hours and fifteen minutes later this is what the driveway looked like after being plowed: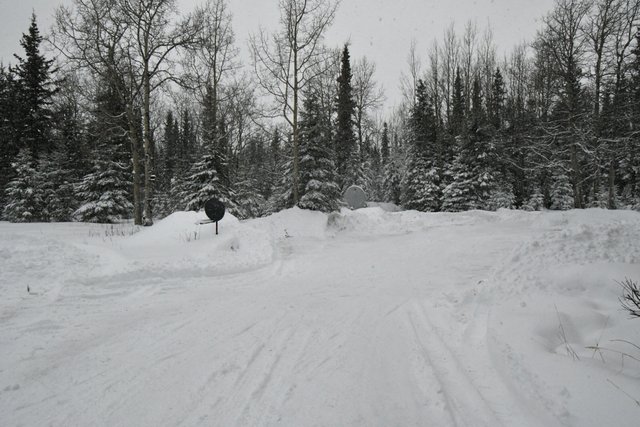 Slightly larger View
Fortunately we are not expecting any significant warm-ups so hopefully we will not end up with a skating rink in the next couple of days.

Panoramic time, pre-plowed driveway first. This is six images, three lower and three upper ones stitched together with the "Autostitch" program from Canada's University system. Like I said it was overcast all day, at least for the pre-plow shots it was not snowing so I was able to sort of take my time. Everything so smooth out there.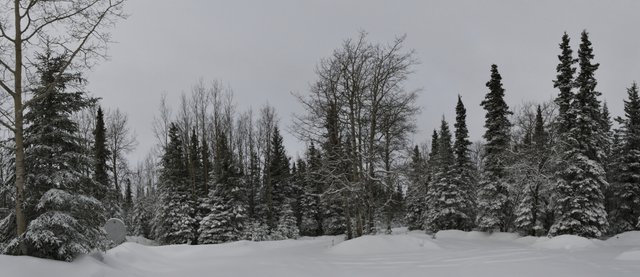 Slightly larger view
Of course it started snowing again as soon as the plow guys left, so this is just a two shot stitched image. I did not want to have my camera snowed on to much.

Slightly larger view
I must say things look a lot nicer when there is blue sky and some fluffy clouds to off set all the blinding white. I did have a couple of other photos, but I think for now this will be it. Maybe I will post the driveway out for the picture a day community, not sure yet, or use it in some other type of post, or it may just sit on my computer only to be looked at in a rare what photo can I play with today hunt.

All images were taken by me today with my Nikon Camera.

Driveway Saga Post: