3-5-2020
Early Evening of the Long Shadows
The photo was taken at 4:47pm this evening. Sunset is at 6:44 this evening, I did not know that until getting this post together. There is not a single cloud in the sky. At the time of the picture my vehicle thermometer said it was 20 degrees out side, we had about a 10 MPH breeze,That would make it feel about 9 degrees. If you need a handy windchill calculator: Windchill Calculator Page, courtesy of the US Government.
So on with the picture: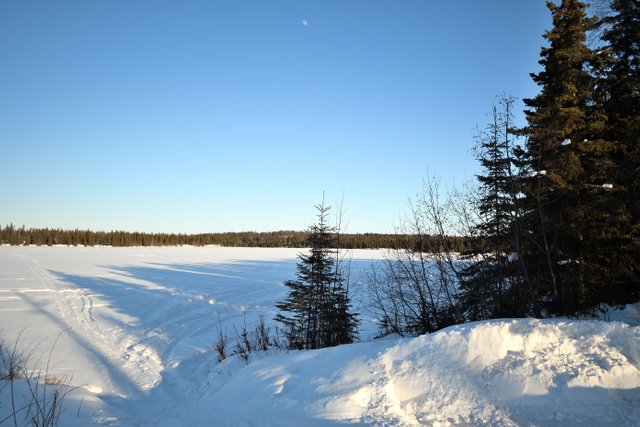 Long tree shadows, snow mobile tracks, and the moon still high in the sky. It is hard to believe that in a couple of months there will be a lot of lilies in the lake and nice clear blue water. It will still be cold but at least the snow will be gone, and the single digit temperatures at night will be done with.
This is likely the largest picture I have uploaded to the block chain at 4.34 MB. no compression done when resizing it down by 50%. Camera was My Nikon D7500, f/5.6 exposure of 1/1600 at 125 ISO, with my landscape lens set at 18mm. I did do some post processing in the Nikon photosoftware, and then did the saving and resizing in Corel Paintshop Pro.
I was hoping to be able to get a panoramic shot series, but the pano program I use did not find enough similar pixels to stitch the image together. I have run into this before with mostly snow and sky shots, not enough contrast on the edges.
I am looking forward to the lily days of spring, and the ducks floating along on the lake. Maybe by May,