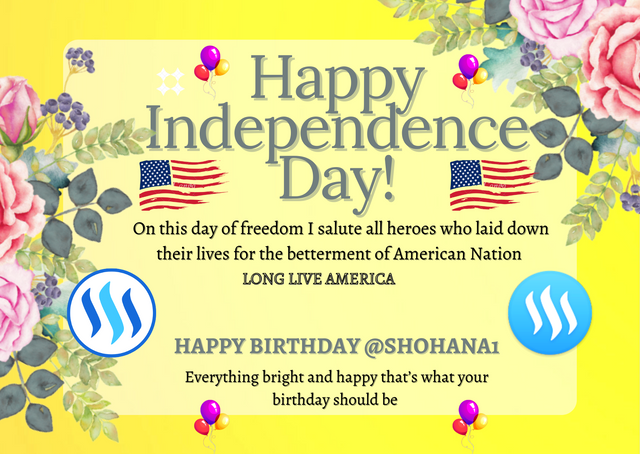 Deign link
Hello everything, I hope you are all having an amazing day. I am doing good as well. I thank @shohana1 for organizing such a wonderful contest and also giving us an opportunity to share with all wonderful members of steemit platform our creativity.
This contest serves as an opportunity for me to wish American a happy Independence Day and also to wish one of our great steemian. A steemian that serves as a role models to most steemians on the platform and someone who has put in much efforts in promoting steemit to many non users.
From all of us on steemit platform, we together while your birthday is full of excitement and much joy. We love you and we will forever be with you in spirit celebrating. Happy birthday @shohana1.
I personally started learning the use of canva in the design of cover pages and steemit promotional banners from @shohana1 and @steemship community. Everyday I see amazing designs in the community and that motivated me to learn the use of canva.
TRX Promotion Around The Globe || Gif And Poster Design | Tron December Assignment 7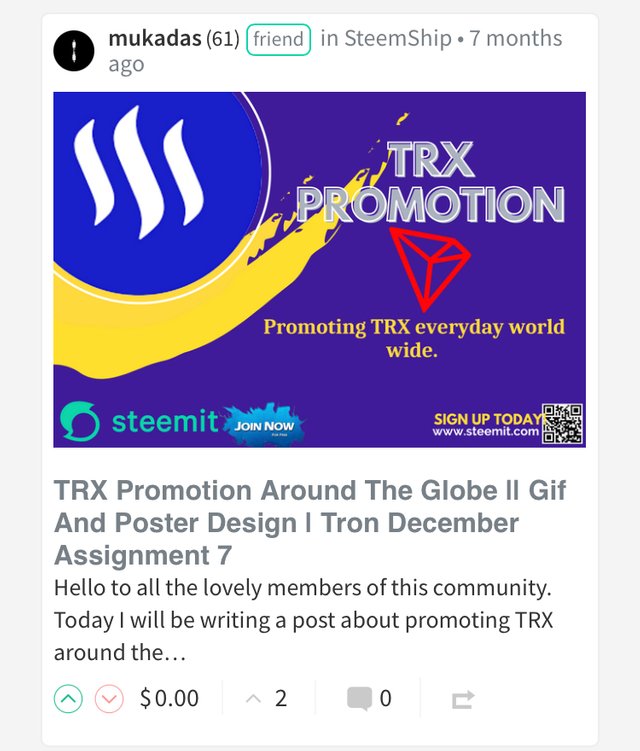 My first design using canva
Today I am here to present to you a greeting card I personally designed on Canva celebrating American's Independence Day and most importantly your birthday. Below are the steps I followed on canva to successfully complete my design.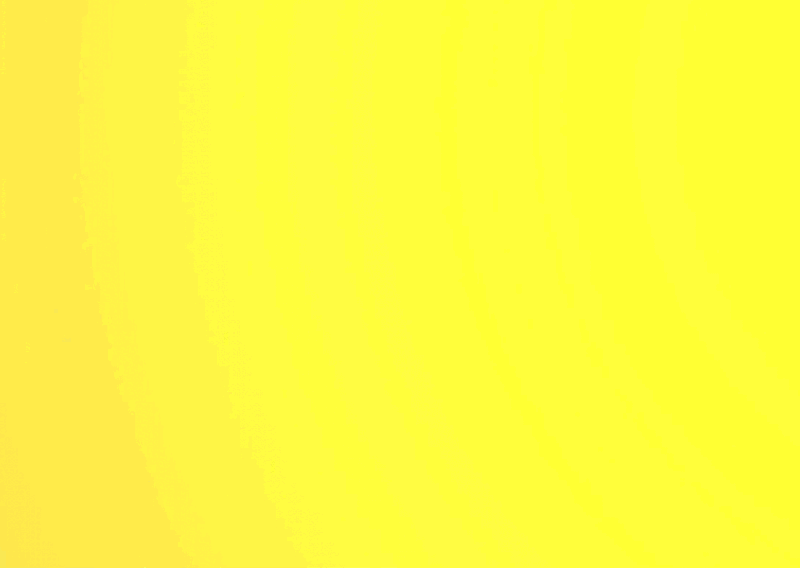 Design link
STEPS TO FOLLOW
After visiting canva mobile application on my phone, I searched and tapped on Cards (landscape). From the free templates offered, I chose a suitable template to work with and replaced all the text available with my own words.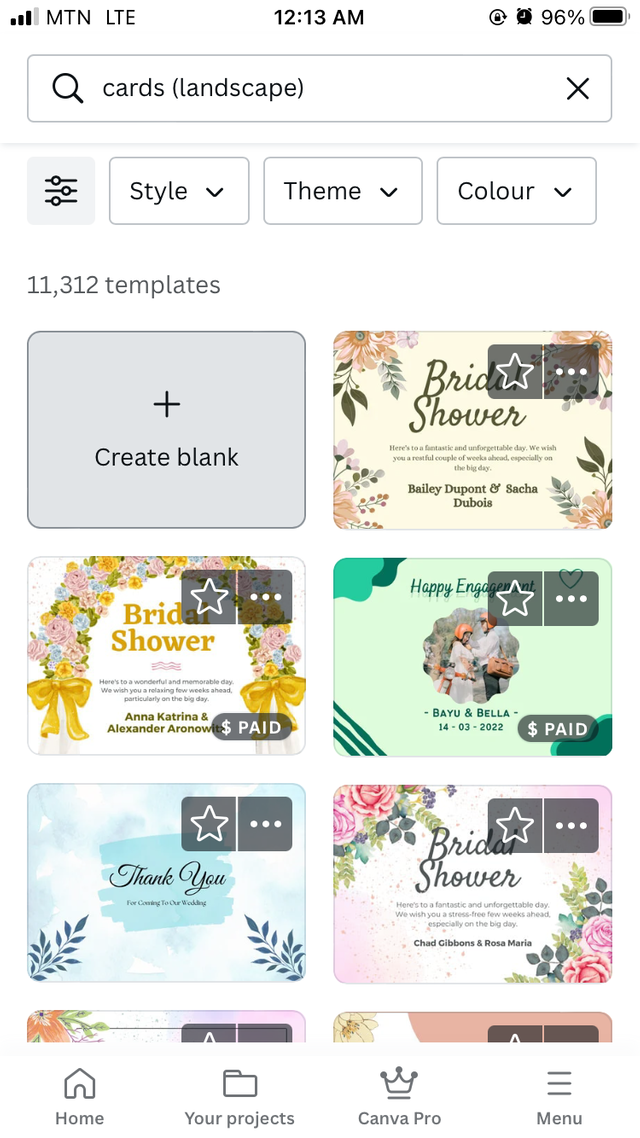 STEP 1
After choosing a template. I replace the text with my own words wishing @shohana1 and America a happy birthday. I chose the necessary font, effect and font size to make my design look eye catching.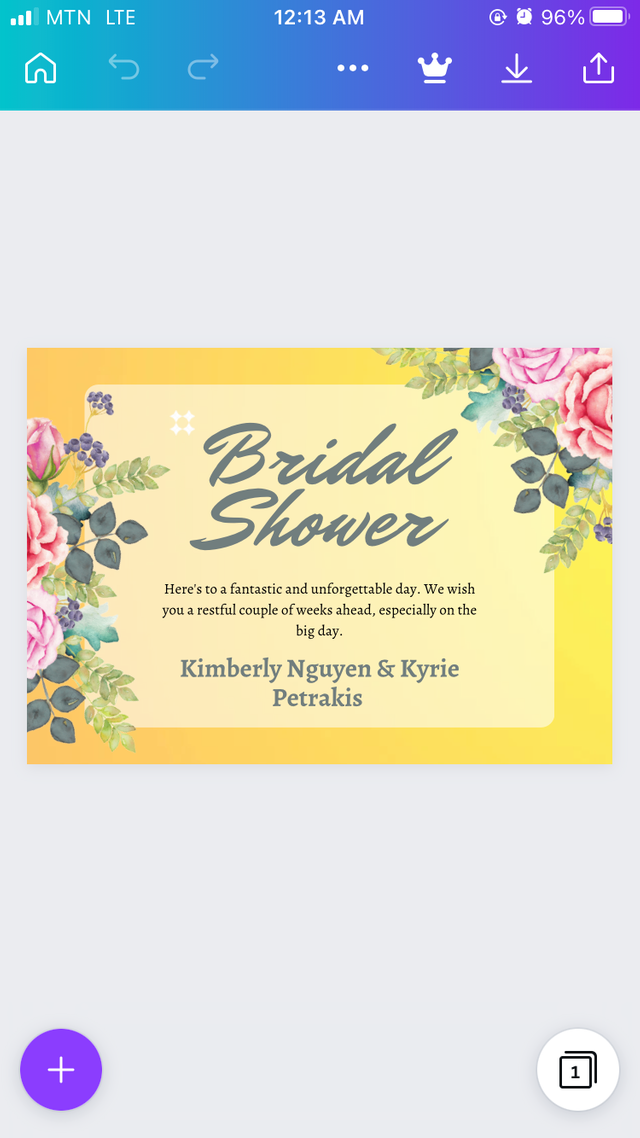 STEP 2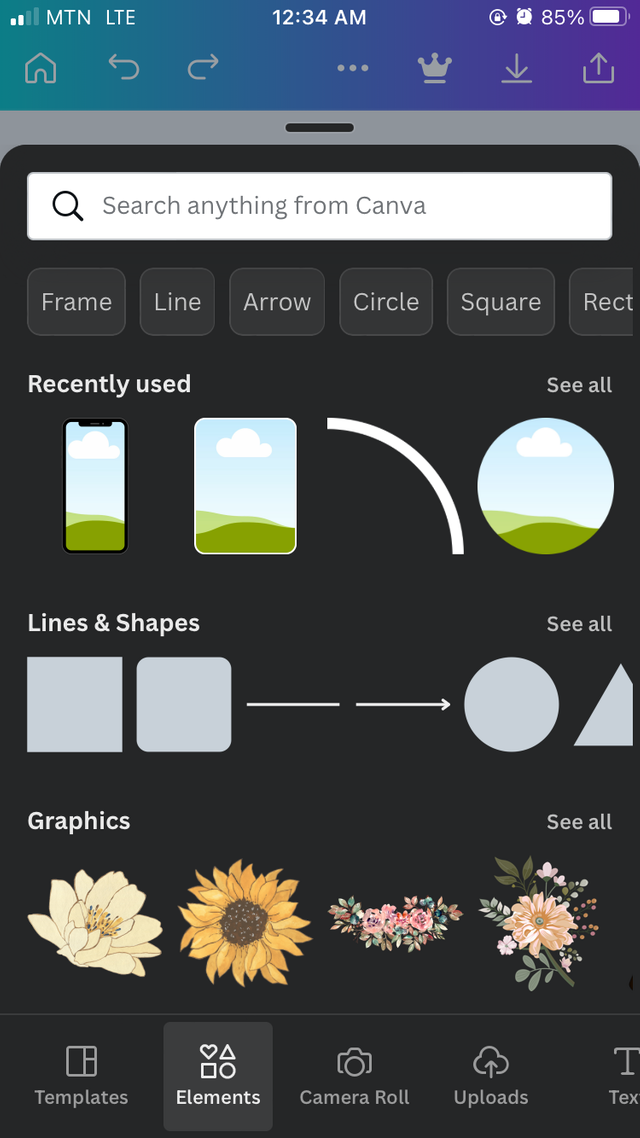 Now tap on the plus button at the left bottom and tap on element. Now search frame to get a list of pictures frames you want for the insertion of images. I chose the circle frames for steemit logos.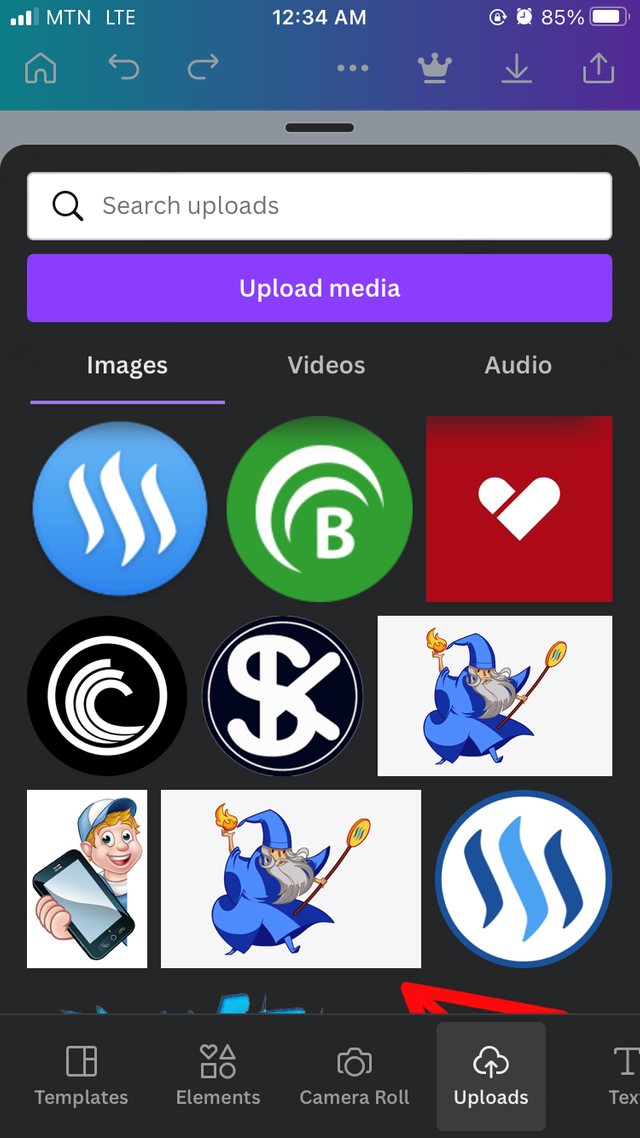 I now tapped on upload to upload my steemit logos on canva and by tapping on any of the logos, it automatically appears on my design. I uploaded two different color and design of steemit logo.
STEP 3
I moved the logos on my design to fit into the picture frames I positioned at various corners of the design.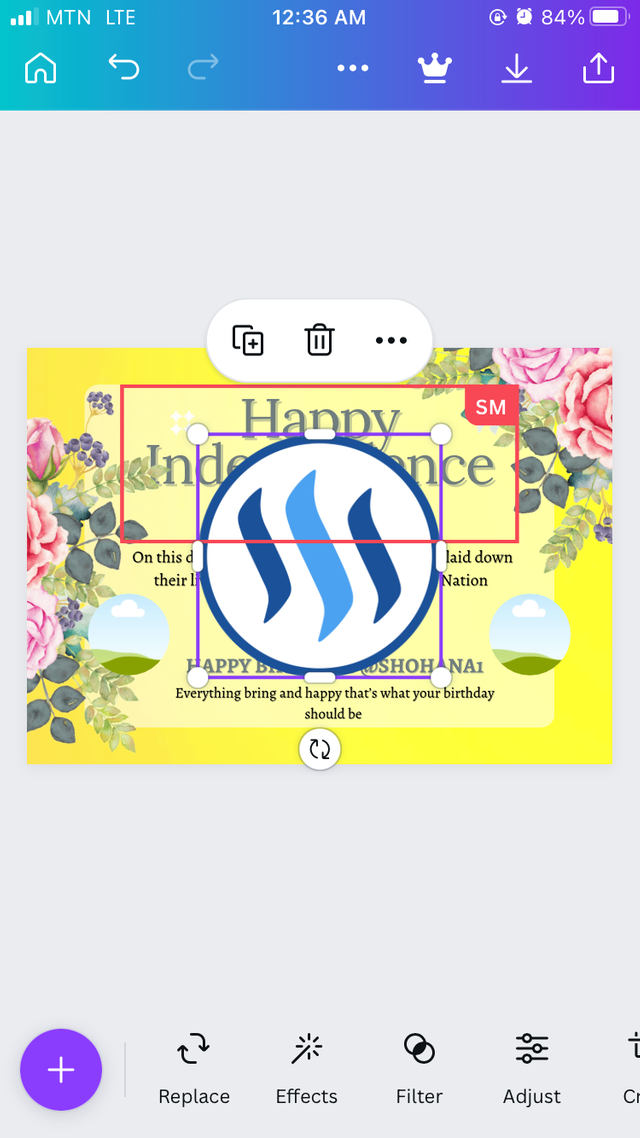 I stilled tapped on elements and searched for balloons and America flag and chose from the pictures and gifs Available to add to my design. I selected there ones that can match the colors of the template.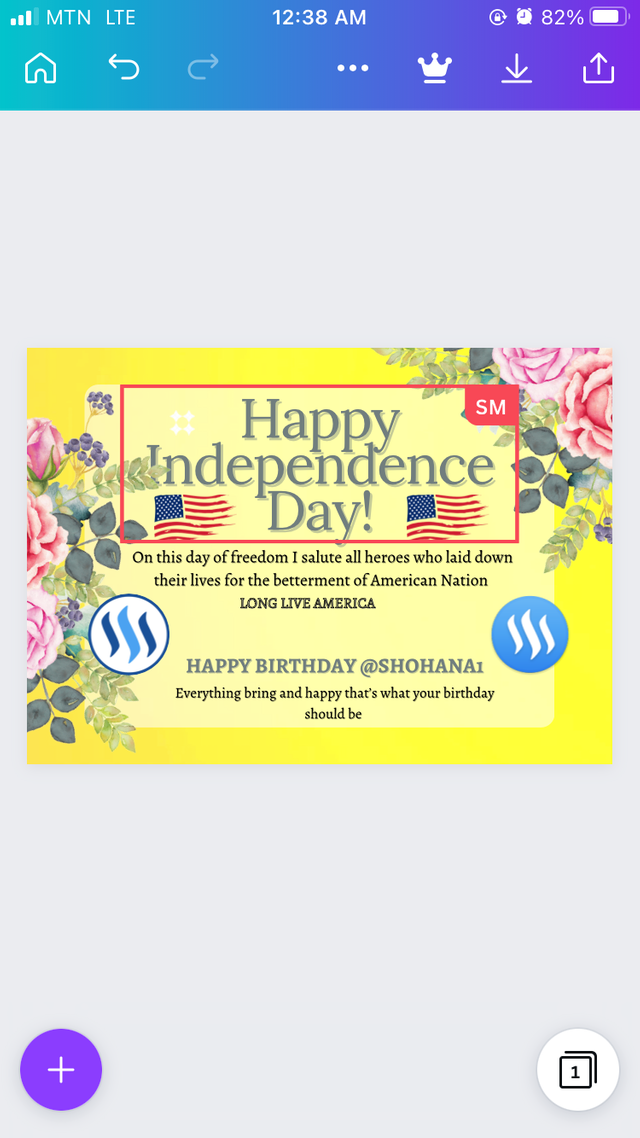 I tapped on the written text and picture and tapped on effect to change the looks of the text and pictures to make them bright.
STEP 4
I added to animation elements on my design by tapping on either a text, picture, or the whole template and then tap on animate. I chose the type of animation I wanted to add to my design.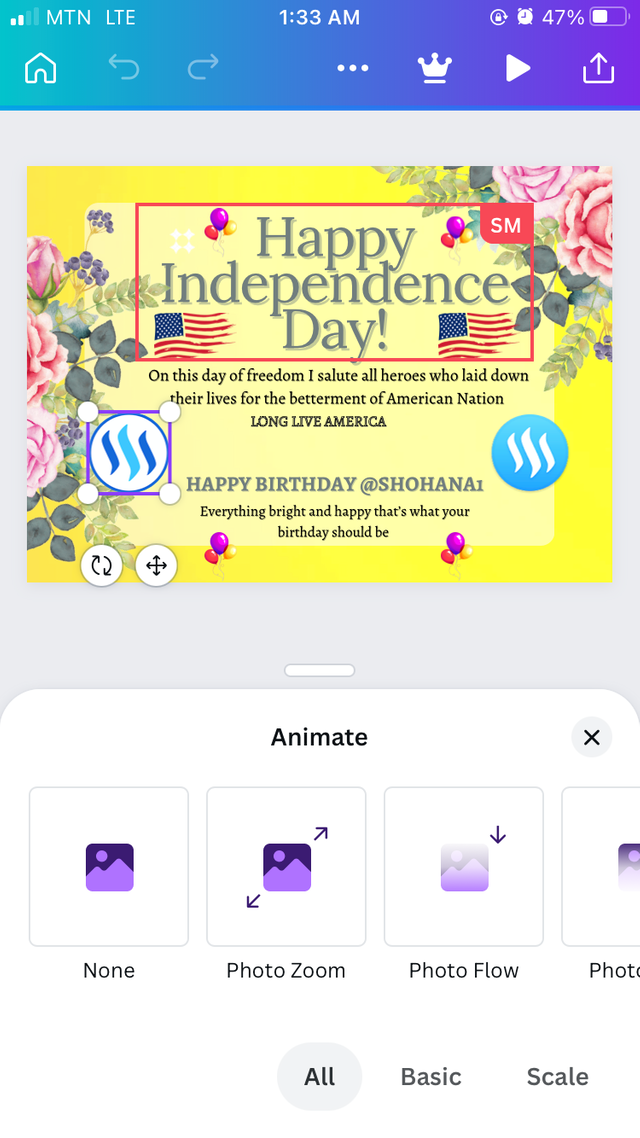 After completion I tapped on share located at the right top corner of my screen. I now tapped on download and chose another the various file type the formal in which I want my design to be in.
I usually prefer downloading pictures designs in PNG File Type and animated designs in GIF File Type. I finally downloaded my greetings card which is found below.
PNG File Type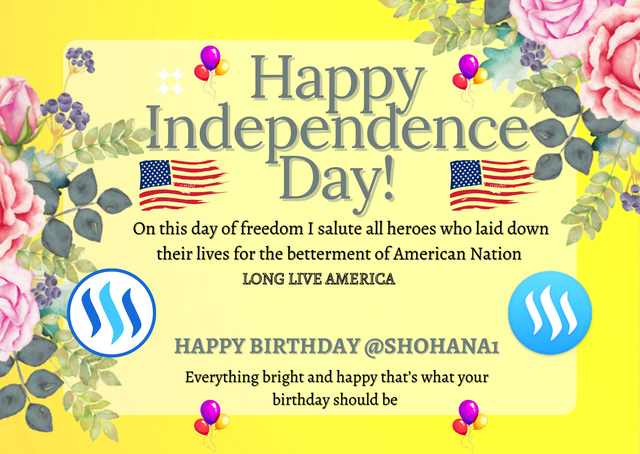 GIF File Type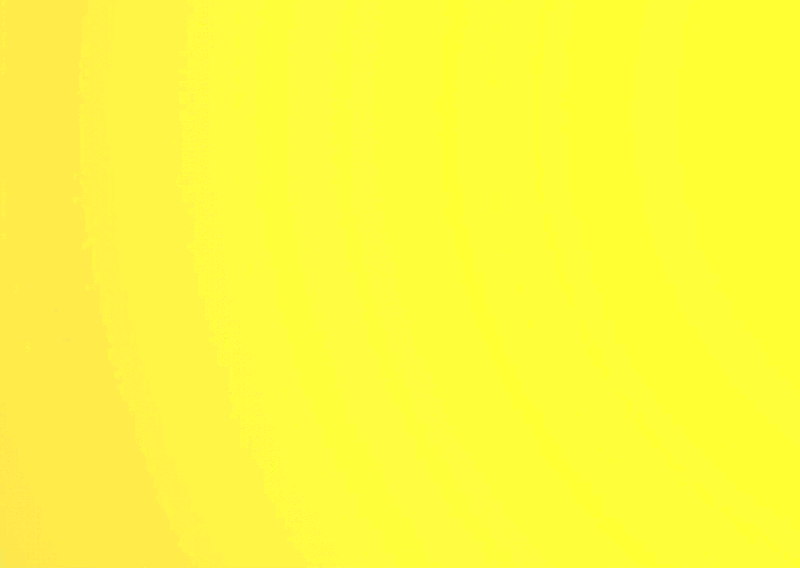 Happy Independence Day America and Happy birthday to @shohana1. Thank you all for visiting my post.