Some Facts About Hand Sewing
---
Woman trying to pass a thread through the eye of a needle. The cover page of this machine and hand sewing guide book.
---
What is Sewing
Because we all wear cloths, I could be safe to assume that we all have felt the value of sewing whether we understand it's history or not.
Form my own perspective, I feel the oldest indication of cloth making was handed to man by the other intelligent beings. That is my opinion influenced by the content of an old manuscript called the origin, written around the year 1513BCE. in the twenty-first verse of it's third chapter. Man receives clothing as a gift from the supreme spirit. Man has since worked towards perfecting the art of creating dresses by sewing.
Wikipedia describes Sewing as "...the craft of fastening or attaching various materials using stitches made with a sewing needle and a thread." Source
---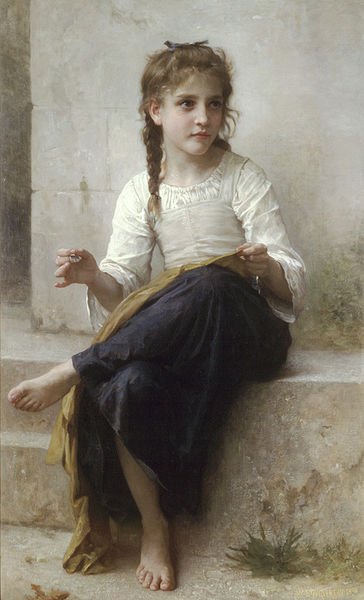 Source
During the stone age, people got dressed with fur or leather sewed using makeshift needles from bone, antler or ivory. In place of thread, they used small strips of lather or catgut. It was in the 19th century that the sewing machine came in to the picture and before that time, everything was hand sewn. People had to adopt different types of stitching techniques
---
Types of hand Stitches
• Backstitch
• Blanket Stitch
• Catch Stitch
• Couching Stitch
• Cross Stitch
• Faggoting
• Feather Stitch
• Fishbone Stitch
• Fly Stitch
• Invisible Stitch
• Running Stitch
• Whip Stitch
Couching Stitch
The Couching Stitch were mostly used for embroidery to create thick lines that are easily visible. Though Couching Stitch are not hard to make, they require a lot of patience.
---
Running Stitch
This type of stitch is also known as straight stitch. To create this stitch you will have to pass the needle in and out of the fabric at a regular intervals. It is the basics for other forms of stitching, thought it can't fermly hold materials together.
Invisible Stitch
To get an invisible stitch you may use a Ladder stitch or a Slip stitch. An invisible ladder stitch will be very helpful when making a dart or a tuck on a material. But if you are folding the hen, a slip stitch will be the best invisible stitch to use.
---
Blanket Stitch
The blanket, cable or crochet stitch is often used when reinforcing the edges of loose materials. You can also use it for decoration. "Blankets with edges that have not been woven can be nicely finished using the blanket stitches. When this is done, you can see the stitches on both sides of the blanket." Wikipedia
Faggoting
Faggoting stitch are used to hold two materials together and can also be used to add decoration to the material. Table clothes are one of the places you will readily find Faggoting stitch. It was a trending design in the Victorian era.
Machine vs hand sewing
| Machine Sewing | Hand Sewing |
| --- | --- |
| You use a Sewing machine | You make use of your hands |
| it requires very little effect | needs plenty of work and skill |
| Sewing is very fast | Sewing is slow |
| It uses two threads, a spool and a bobbin | it uses only one thread |
| Spacing is perfectly even | some spacing may not be uniform |
| Can use two different colours | can only use a single colour thread |
Hand Sewing needles
There are different types of needles for different types of sewing
---
Chenille needle this type of needles have a very long eye that makes it suitable for embroidery and a very sharp point that allows it pass through tight materials effortlessly
The picture to the right is showing how to make an invisible stitch
---
Milliner needle these are very slim and smooth needles that can easily pass through though materials with less drag. They are made of steel with burr-free embossed eye.
Crewel needle
The Crewel embroidery, which is also called a crewelwork, is another type of embroidery which often involves the use of wool. You can use different embroidery stitches to design the outline of the fabric. The Crewel embroidery technique is very old, it could be up to at a thousand years old
Tapestry needle tapestry needles are blunt tipped needles that are used on larger woven materials. They are mostly written on materials like knit and crochet materials. Because of the nature of the material, the blunt needle can still go through it without damaging the material.
Some benefits of hand sewing
It improves dexterity as it sharpens the coordination between the eyes, hand and brain. It keeps the mind gainfully occupied during old age because It is relaxing and therapeutic for all ages.
With hand sewing, you can do your work on the go as the required tools are very portable, just your hands and the needle is all you need to carry.
Hand sewing is less noise compared to using a sewing machine. If you have slept in the next room close to a room where there someone sewing. You will understand how much noice it makes.
Less complexity as you don't need to make adjustments to obtain better results when sawing with your hands.
@ngoenyi @whitestallion
@alphafx @cryptokannon
@tarpan @juichi