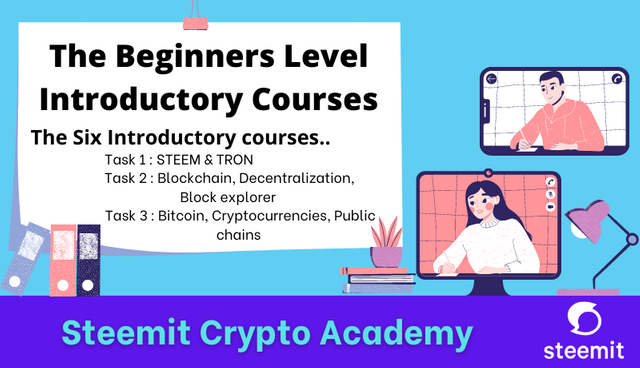 Hello Newcomers!
Last week Steemit Crypto Academy has launched The Beginners Level Introductory Courses 📢Announcement : Join The Beginners Level Introductory Courses 📚 that you can participate anytime without an expiry date. Please take note of the requirement of the courses before you submit your homework post.
This week they have launched the first weekly courses of Season 3 which are :
two Beginners courses,
three Intermediate courses and
two Advanced courses.
You may participate in any of those courses if you met the criteria or requirements for the courses. I think you should be able to join the two Beginners courses as the requirement for those courses are lower than the other 2 higher level. Please submit your homework tasks before the expiry date of 11.59pm UTC, on Saturday, July 3rd 2021.
For more details about the courses please see this post The Steemit Crypto Academy Weekly Update [ June 28th, 2021 ] : The New Courses
Newcomers Achievement Program
These are the Newcomers Achievement Program that has been translated into several languages, you may write your post in any of these languages :
English version
Lists of Achievement Tasks,Resources & Materials : Newcomers Resources
Spanish version
Recursos para los Ingresantes: Logros, Materiales y Recursos
Turkish version
Yeni Katılan Türk Kullanıcılar İçin - Kazanım Görevleri ( Achievement Tasks ) Türkçe Versiyonu Hazır!
Bangladesh version
Lists of Achievement Tasks,Resources & Materials : Newcomers Resources[বাংলায় ট্রান্সলেশন]
Bahasa Indonesia version
Kumpulan Panduan Tugas Achivement dan Materi Tugas Pencapaian Bagi Pendatang Baru
This program has no expiry date but you only eligible for an upvote if you are newcomers that registered into Steemit in the year 2021.
Complete at least until achievement 4 of Newcomers Achievement Program then you will be eligible for :
Please don't be hesitate to ask me any questions in regard to these programs, I would be happy to assist you.
Keep on steeming, Steem on! 🚀
Steem Greeters Team.