Hello guys, welcome once again to my blog. In my previous task, I discussed achievement 4 as mandated by the steemit newcomer's community. It was a post on how to use the steemit markdown styles. Now, in this article, I will be talking about the steemit tool called steemworld.org, a platform that was developed by a genius steemian @steemchiller. I will attempt the questions by visiting and explaining each section of it.
How can we see the summary of historical rewards, for the last 30 days and of the last 7 days? (Rewards Summary)
---
In order to view the summary of our history reward on this platform, we have to visit the platform by navigating to the platform website here. The link there is steemworld.org. Below is what it showed out. Lets take a look at it below.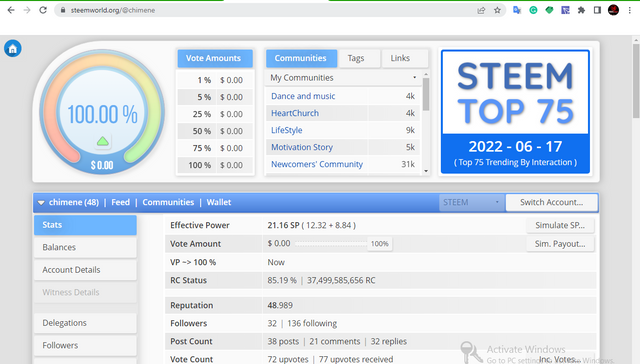 Alright for us to see our rewards for the past 30days, we going to screw down to look for rewards section which is located at the stats sections. It has the rewads for the past 30days, 7days, and all time rewards in the steemit platform.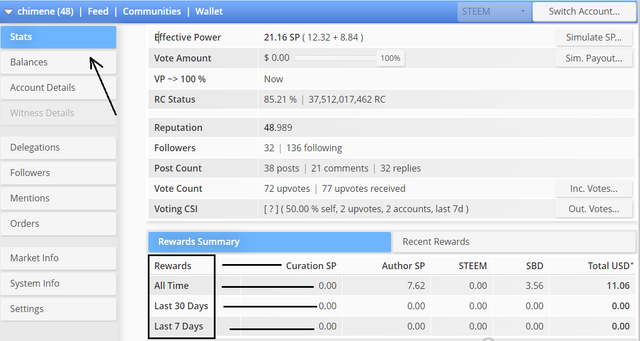 It is displayed in 3 categories which are steem, steem power, steem backed dollar, and in USD. Like I have explained above, it shows your rewards summary in the past few days.
What are Delegations, What Kind of Delegations Could be Done, and How to do it?
---
The delegation is the action of releasing your powered up seems to another steem account, sometimes this is done to assist the receiving account while in most cases it is done to be receiving some rewards from the account that the user has delegated to. I will illustrate with a screenshot how this is been done.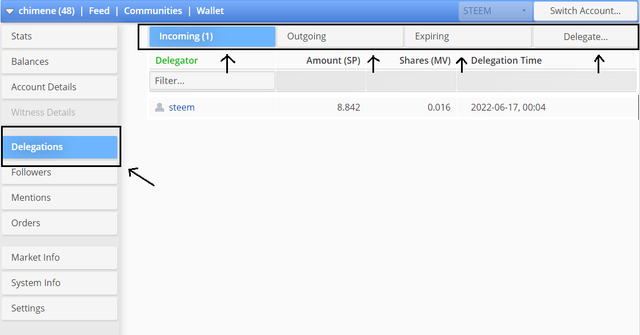 Now the above image, there are 4 arrows, each pointing to the different kinds of delegations. Let me briefly talk about each of them below.
Incoming Delegation - This kind of delegation is when you are the receiver of the delegation of, maybe you are receiving from a delegator, this is why it is called incoming delegation.

Outgoing Delegation - This another kind of delegation is is been done in the platform, it is called outgoing because your the one delegeting.

Expiring Delegation - Expiring delegation is when you have terminated a delegation, maybe you delegated to a steem account and later terminated it, it will be seen as an expiring delegation, although it will take a maximum of 5days to complete its termination.

Delegate - This is not actually of those above but how to delegate to another account, so I will take you on a short guide on how to do that via screenshots.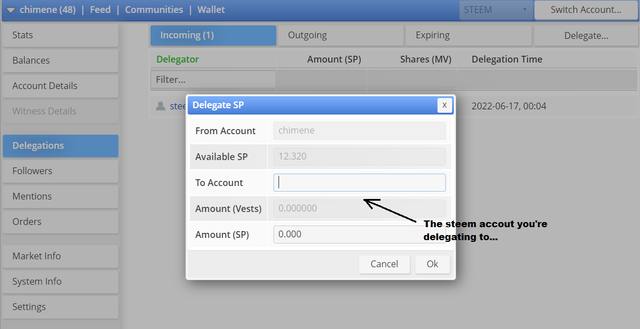 Step 1 - click on the delegate button and fill the user's steem Acc. Then input the amount of SP you wish to delegate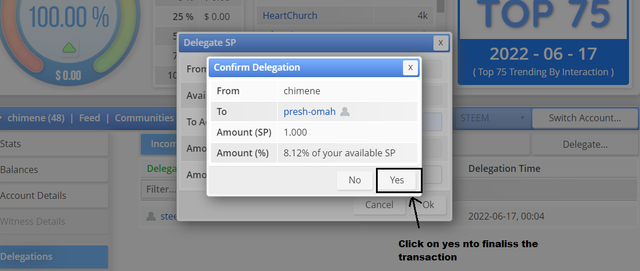 Step 2 - Now you are to click on the ok button to finalise the transaction. On the next page you will be ask to input your key...
By the time you provide the key which is your active key on the next page, it will then reload and your transaction will be finalize, and you have successfully delegated your steem to another steem account. Lets talk about the next question.
Explain how to check the votes you made and the ones you received.
---
This feature is found in the home interface of the steemworld platform, Lets navigate to there quickly by clicking on the stats button to locate the votes counts and. check image for a clearer understanding.

from the image you will the two options, outgoing votes and incoming votes, these are two different terms. Lets talk about each here. Incoming voting ae votes that you have received for the past 7days, either by weight, amount, or by count. See the screenshot below.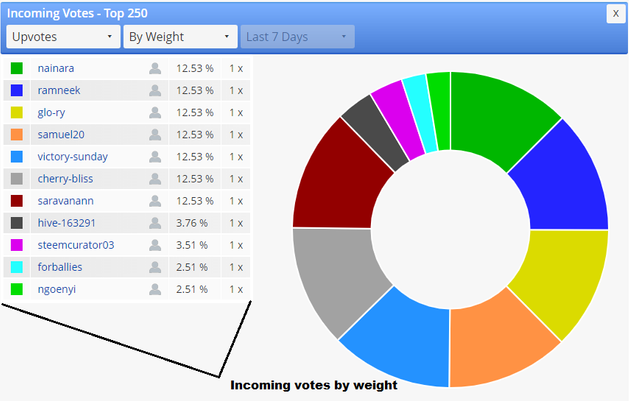 These are my incoming votes and it is by weight, you can decide to switch to any type sort of view you want. The next is outgoing votes this when you are voting other steem accounts - in a layman's tune. The system(steemworld) does the recording. Let's watch the screenshot below.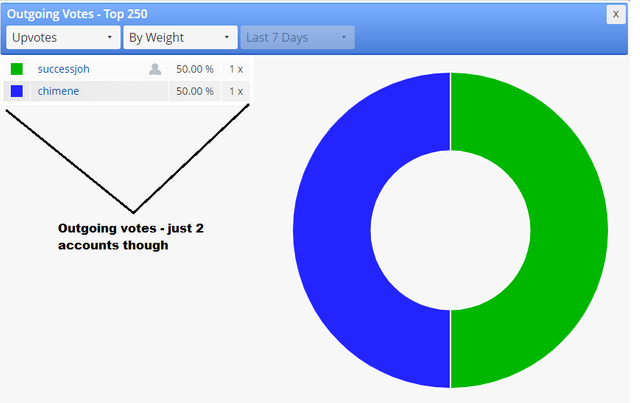 Here's the outgoing votes from my accounts, its just 2 though, and that is because I have not been active for a while now. Note - the views are sort by weight. You can decide to view it by amount or count. Viewing by amount means that it will select the account with highest amount in USD, and with count it will select the account who personally voted for my post.
Explains how to review an account's trades in the last 7 days and what details can be viewed.
---
Okay on this we going to be talking about the author rewards from posts, and also curations rewards that are done by upvoting people's votes. Now, let's check the author's reward first.

The above image is for author rewards, it is not showing anything though, because I haven't earn for the last 7days. Let's see the curation reward too.

This is my curation reward for the last 7 days, I haven't earned anything too, lol. It is not because I cannot write, just because I am new, and have not been making posts. next is the beneficiary rewards.

Beneficiary rewards are ones that are attached to you by setting your account as a beneficiary, i.e if you set your account as a beneficiary on any post payout, it will be paid into your account as a beneficiary reward, and would be recorded here as beneficiary rewards.
How to check your upvote value and on different voting weights using this tool.
---
This is another section that is located in the platform, it has to do with checking your upvote value and the different voting weight. It is found in the header section of this tool. Let's see this image below.

From the image, you will see that my voting weight is at 100% which means. You can also check within to know the amount of $$$ you can actually vote with a specific amount of voting weights. Here I will stop. Thank you for reading through my post. See you on my next task.
Cc
@ngoenyi