В прошлых конкурсах мои работы занимали почётные призовые места, я не останавливаюсь на достигнутом и продолжаю участие в серии конкурсов от нашего гуру @slon21veka.
Сегодня хочу представить вашему вниманию подборку муралов о сильных людях внёсших огромный вклад в культуру, искусство, здравоохранение и другие сферы нашей жизни. Можно сказать благодаря им мы живём и будем жить!
In previous contests, my works won prizes of honor, I do not stop there and continue to participate in a series of contests from our guru @slon21veka.
Today I want to present to your attention a selection of murals about strong people who have made a huge contribution to culture, art, health care and other areas of our life. We can say thanks to them we live and will live!
Сильные духом
На торце многоэтажного дома №37 на Московском проспекте находится граффити, посвящённое работе медиков во время пандемии коронавируса. Мурал размещён с согласия и одобрения главного архитектора Калининграда А. Анисимова.
В первоначальном варианте на изображении должна была присутствовать подпись "Сильные духом", но в окончательном варианте надписи не осталось, по какой причине - неизвестно.
At the end of a multi-storey building number 37 on Moskovsky Prospekt, there is graffiti dedicated to the work of doctors during the coronavirus pandemic. The mural was placed with the consent and approval of the chief architect of Kaliningrad A. Anisimov.
In the original version, the image was supposed to contain the signature "Strong in spirit", but the final version of the inscription did not remain, for what reason is unknown.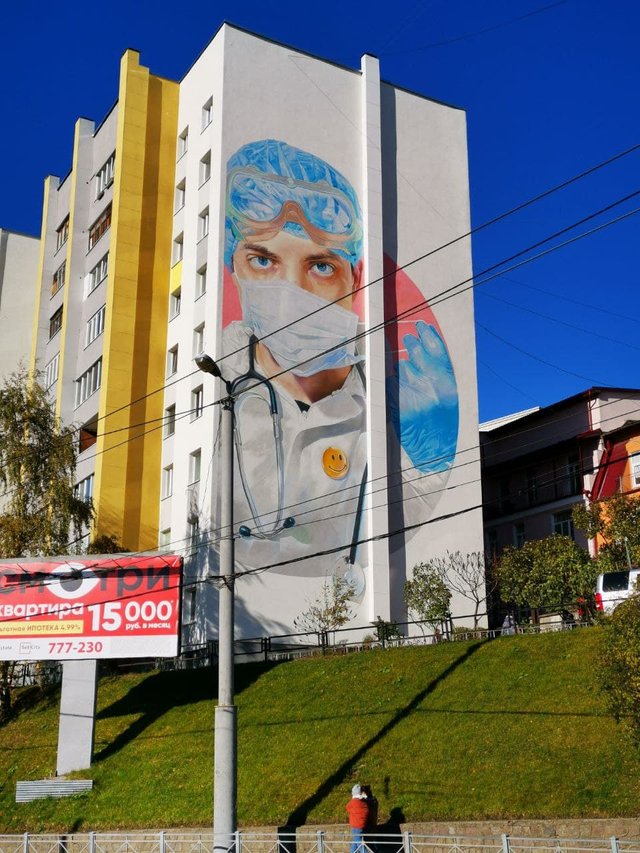 Алексей Леонов
Мурал посвящён нашему земляку, первому человеку вышедшему в открытый космос, космонавту Алексею Леонову. 13-летним юношей Алексей переехал с семьёй в Калининград, здесь окончил школу и отсюда ушел учиться в авиационную школу.
Портрет расположен на фасаде дома 64 по проспекту Мира, в котором раньше располагалось кафе «Космос», при этом сам портрет высотой примерно в 4 этажа обращён к улице названной в честь космонавта. Автор рисунка стрит-арт-художник Г. Михайлов, заказчиком работы выступили городские власти.
The mural is dedicated to our compatriot, the first person to go into outer space, cosmonaut Alexei Leonov. As a 13-year-old boy, Alexey moved with his family to Kaliningrad, graduated from school here and left here to study at an aviation school.
The portrait is located on the facade of building 64 on Prospekt Mira, which previously housed the Cosmos cafe, while the portrait itself is about 4 stories high, facing the street named after the cosmonaut. The author of the drawing is the street art artist G. Mikhailov, the customer of the work was the city authorities.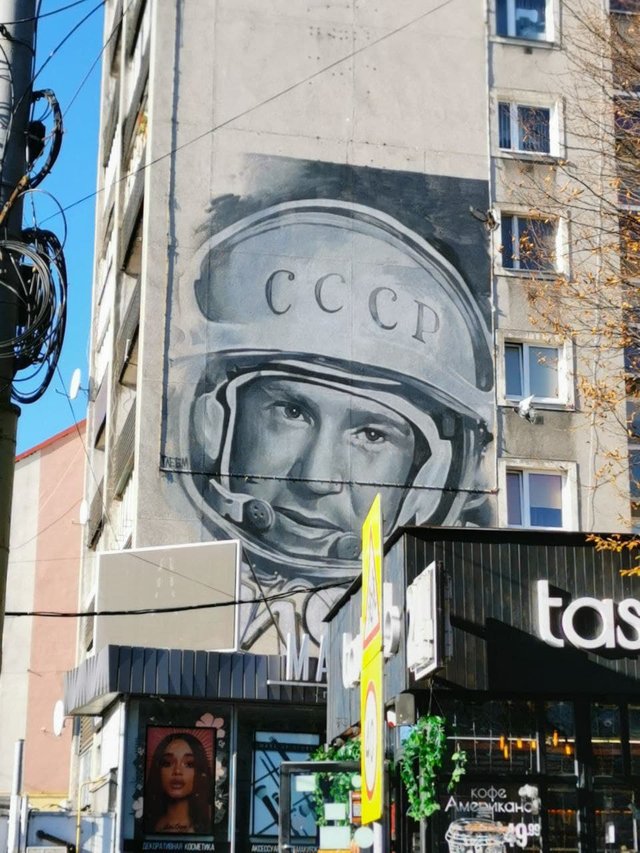 Дмитрий Менделеев
Портрет учёного Дмитрия Менделеева разместился на стене дома №58 на проспекте Мира. Автор рисунка калининградский художник Г. Михайлов, заказчик предприниматель, владелец находящегося поблизости кафе.
The portrait of the Russian scientist Dmitry Mendeleev is located on the wall of house no. 58 on Prospekt Mira. The author of the drawing is the Kaliningrad artist G. Mikhailov, the customer is an entrepreneur, the owner of a nearby cafe.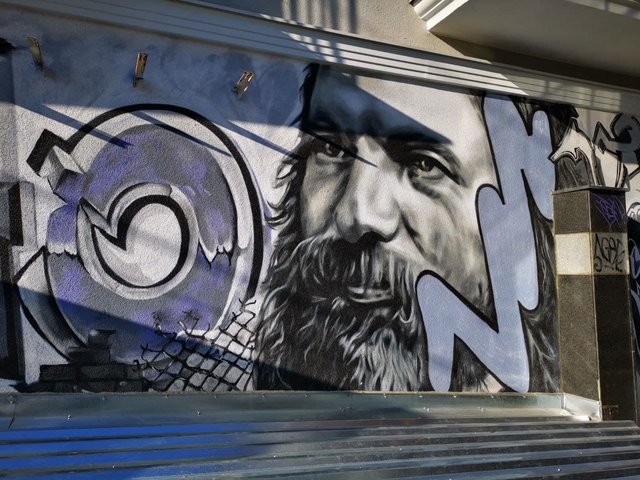 Иосиф Бродский
Портрет поэта разместился на фасаде библиотеки имени Чехова, авторы работы художники М. и Г. Гущян подарившие это изображение на 40-летие с момента объединения калининградских библиотек.
Портрет писателя выбрали неслучайно, Бродский неоднократно (1964 и 1968 годах) бывал в нашем городе и даже посвятил Калининграду стихотворение, в общем не чужой нам человек!
The portrait of the poet was placed on the facade of the Chekhov library, the authors of the work, the artists M. and G. Gushchyan, presented this image for the 40th anniversary of the unification of the Kaliningrad libraries.
The portrait of the writer was not chosen by chance, Brodsky repeatedly (1964 and 1968) visited our city and even dedicated a poem to Kaliningrad, in general not a stranger to us!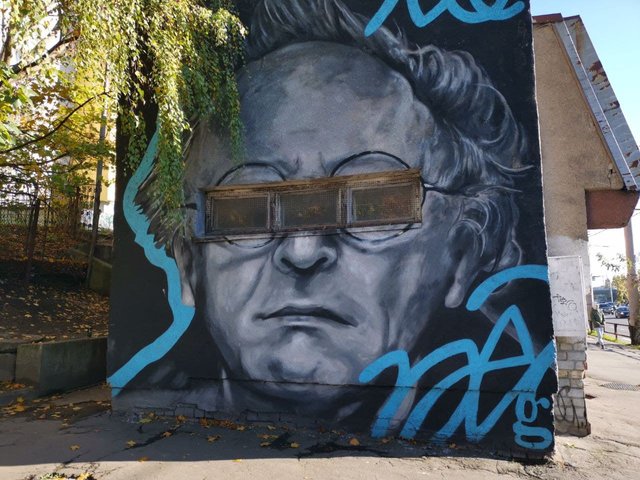 Открытка из города К.
Развалины есть праздник кислорода
и времени. Новейший Архимед
прибавить мог бы к старому закону,
что тело, помещённое в пространство,
пространством вытесняется.
Вода дробит в зерцале пасмурном руины
Дворца Курфюрста; и, небось, теперь
пророчествам реки он больше внемлет,
чем в те самоуверенные дни,
когда курфюрст его отгрохал.
Кто-то среди развалин бродит, вороша
листву запрошлогоднюю. То – ветер,
как блудный сын, вернулся в отчий дом
и сразу получил все письма.
Антон Чехов
Портрет писателя разместился на торце здания одноимённой библиотеки по Московскому проспекту, информацию об авторе найти не удалось.
The portrait of the writer was located at the end of the building of the library of the same name on Moskovsky Prospekt, no information about the author could be found.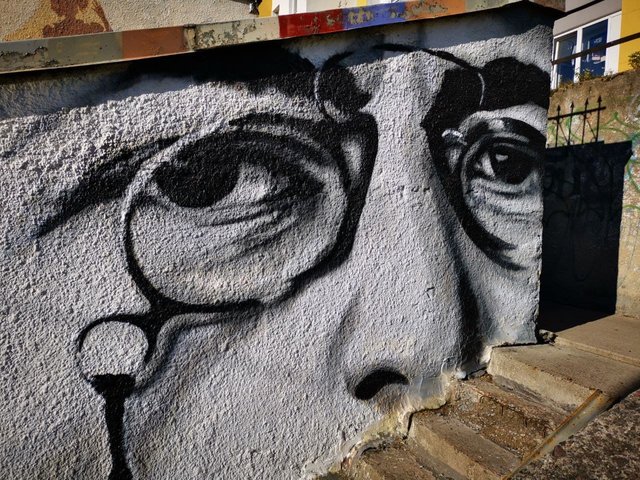 Леонид Быков
На торце жилого дома на улице Красносельской разместилось изображение актёра, кинорежиссёра и сценариста Леонида Быкова, информацию об авторе найти не удалось.
At the end of a residential building on Krasnoselskaya Street, there is an image of an actor, film director and screenwriter Leonid Bykov, information about the author could not be found.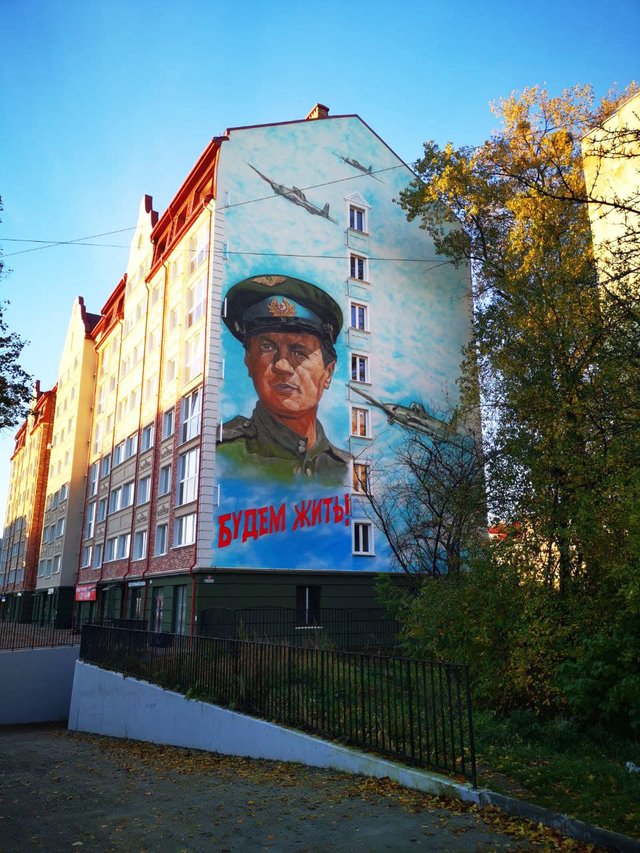 Список моих прошлых работ
Спасибо всем кто поддерживает и курирует мои посты!