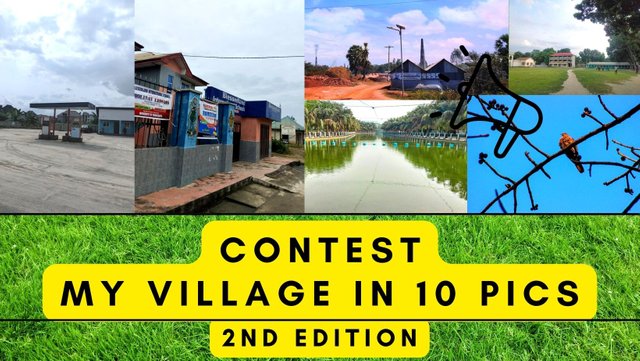 Cover Created On Canva
---
After the success of first edition, this is the 2nd edition of My Village 10 Pics Contest. I will organize this kind of contest for you from now on. Hope your participation will increase the brightness of the contest.
---
---
CONTEST CONCEPT
---
---
A village has All kinds of beauty flow. There are villages in different parts of every country full of natural beauty. A beautiful society developed around the village. We want to see the environment of your village. Present your whole village to us with 10 beautiful pictures. Share with us various beautiful scenes and important spots of your village through today's contest.
---
---
WRITING HINTS
---
---
Maybe it's a view of the street environment, Road, or Bridge of your village.

Maybe it's pictures of your village school, college scene, and university.

It may be the view of your village field, yard, canal, or river.

May be the view of the mosque, temple, or market of your village.

Maybe it's a view of your village travel spot.
---
---
Contest Requirements
---
---
You have to Subscribe & publish your post in Steem For Bangladesh community.

Post must be unique and more than 300 words.

You have to share 10 different pics of your village. Photographs should be your own, If found collected photos then the entry will be disqualified.

Write a short description of each of your pictures.

User must be at least part of #club5050 .

The first 4 tags in your post should be #myvillagein10pics, #steemexclusive, #yourcountry, and #clubstatus.

Invite at least 3 active steemit friends to join the contest and comment on each entry post.

User must be bit bot free and verified.

If anyone is caught doing Plagiarism he/she will be disqualified from the contest

You are allowed to write your post in any Language.

Submit your entry post link in the comment section below.

This contest shall run till Monday, October 02, 23:59 PM UTC.

Be original and resteem this post.
---
---
Post Grading System
---
---
Thank you for sharing posts, improve the quality of your posts and stay original.
| Description | Information |
| --- | --- |
| Plagiarism Free | ✅ |
| #steemexlusive | ✅ |
| Bot Free | ✅ |
| Verified User | ✅ |
| Support #burnsteem25 | ✅ |
| Voting CSI | XX.X |
| Period | August X to September X, 2022 |
| Transfer to Vesting | X STEEM |
| Cash Out | X |
| Result | Club X |
---
---
WINNER REWARDS TOTAL: 20 TRX
---
---
3 winner will be selected
1st Winner Will Get: 8 TRX
2nd Winner Will Get: 7 TRX
3rd Winner Will Get: 5 TRX
Besides this, each qualified entry will get a 100% upvote from me (@ ripon0630) and the @steem4bangladesh community account. Gladly waiting for your entry. Wish you all the best.Vote is not guaranteed from @ steemcurator01 , @ steemcurator02 .
Regards,
@ripon0630
---
---
[BNG]
---
---
প্রথম সংস্করণের সাফল্যের পর, এটি আমার গ্রাম 10 ছবি প্রতিযোগিতার ২য় সংস্করণ।। আমি এখন থেকে তোমাদের জন্য এই ধরনের প্রতিযোগিতার আয়োজন করব। আশা করি আপনাদের অংশগ্রহণ প্রতিযোগিতার উজ্জ্বলতা বাড়িয়ে দেবে।
---
---
প্রতিযোগিতা ধারণা
---
---
একটি গ্রাম সব ধরনের সৌন্দর্য প্রবাহ আছে. প্রাকৃতিক সৌন্দর্যে ভরপুর প্রতিটি দেশের বিভিন্ন স্থানে গ্রাম রয়েছে। গ্রামকে ঘিরে গড়ে ওঠে সুন্দর সমাজ। আমরা আপনার গ্রামের পরিবেশ দেখতে চাই। 10টি সুন্দর ছবি সহ আপনার পুরো গ্রামটি আমাদের কাছে উপস্থাপন করুন। আজকের প্রতিযোগিতার মাধ্যমে আপনার গ্রামের বিভিন্ন সুন্দর দৃশ্য এবং গুরুত্বপূর্ণ স্থান আমাদের সাথে শেয়ার করুন।
---
---
লেখার ইঙ্গিত
---
---
হয়তো এটা আপনার গ্রামের রাস্তার পরিবেশের দৃশ্য।

হতে পারে এটা আপনার গ্রামের স্কুল, কলেজের দৃশ্য এবং আপনার নিজের স্কুলের ছবি।

এটা আপনার গ্রামের মাঠ, উঠান, খাল বা নদীর দৃশ্য হতে পারে।

আপনার গ্রামের মসজিদ, মন্দির বা বাজারের দৃশ্য হতে পারে।

হতে পারে এটা আপনার গ্রামের ভ্রমণ স্পটের একটি দৃশ্য।
---
---
প্রতিযোগিতার প্রয়োজনীয়তা
---
---
আপনাকে সাবস্ক্রাইব করতে হবে এবং স্টিম ফর বাংলাদেশ সম্প্রদায়ে আপনার পোস্ট প্রকাশ করতে হবে।
*পোস্টটি অবশ্যই অনন্য এবং 300টির বেশি শব্দের হতে হবে।
আপনাকে আপনার গ্রামের 10টি ভিন্ন ছবি শেয়ার করতে হবে। ফটোগ্রাফ আপনার নিজস্ব হতে হবে, যদি সংগৃহীত ফটো পাওয়া যায় তাহলে প্রবেশ অযোগ্য করা হবে।

আপনার প্রতিটি ছবির একটি সংক্ষিপ্ত বিবরণ লিখুন।

ব্যবহারকারীকে #club5050 এর অন্তত অংশ হতে হবে।

আপনার পোস্টে প্রথম 4টি ট্যাগ হওয়া উচিত #myvillagein10pics, #steemexclusive, #yourcountry, এবং #clubstatus.

প্রতিযোগীতায় যোগ দিতে এবং প্রতিটি এন্ট্রি পোস্টে মন্তব্য করতে কমপক্ষে ৩ জন সক্রিয় বন্ধুকে আমন্ত্রণ জানান।

ব্যবহারকারীকে বিট বট মুক্ত এবং যাচাইকৃত হতে হবে।

যদি কেউ প্ল্যাজিয়ারিজম করতে ধরা পড়ে তবে তাকে প্রতিযোগিতা থেকে অযোগ্য ঘোষণা করা হবে

আপনি যেকোনো ভাষায় আপনার পোস্ট লিখতে পারবেন।

নীচের মন্তব্য বিভাগে আপনার এন্ট্রি পোস্ট লিঙ্ক জমা দিন.

এই প্রতিযোগিতা সোমবার, অক্টোবর 02, 23:59 PM UTC পর্যন্ত চলবে।

আসল হোন এবং এই পোস্টটিকে রিস্টেম করুন।
---
---
পোস্ট গ্রেডিং সিস্টেম
---
---
পোস্ট শেয়ার করার জন্য আপনাকে ধন্যবাদ, আপনার পোস্টের মান উন্নত করুন এবং আসল থাকুন।
বর্ণনা
তথ্য
চুরি মুক্ত
✅
#steemexlusive
✅
বট ফ্রি
✅
যাচাইকৃত ব্যবহারকারী
✅
সমর্থন #burnsteem25
✅
ভোট CSI
XX.X
সময়কাল
আগস্ট X থেকে সেপ্টেম্বর X, 2022
ভেস্টিং এ স্থানান্তর
এক্স স্টিম
ক্যাশ আউট

X

৷
ফলাফল
ক্লাব X
---
---
মোট বিজয়ী পুরস্কার: 20 TRX
---
---
4 বিজয়ী নির্বাচন করা হবে
1ম বিজয়ী পাবেন: 8 TRX
2য় বিজয়ী পাবেন: 7 TRX
3য় বিজয়ী পাবেন: 5 TRX
<কেন্দ্র>মোট 20 টিআরএক্স</সেন্টার>
এর পাশাপাশি, প্রতিটি যোগ্য এন্ট্রি আমার (@ripon0630) এবং @steem4bangladesh কমিউনিটি অ্যাকাউন্ট থেকে 100% আপভোট পাবে। আনন্দের সাথে আপনার প্রবেশের জন্য অপেক্ষা করছি. তোমাকে শুভ কামনা।
---
---
Best Regard,

@msharif | ADMIN - FOUNDER
@ripon0630 | ADMIN - FOUNDER
DELEGATION
We are invite everyone to receiving delegations who wants to support the community.It's will be helpful to grow up.If you are interested in becoming a delegator of Steem4Bangladesh you can give any delegation you like :
Easy Links to delegate @steem4bangladesh quickly