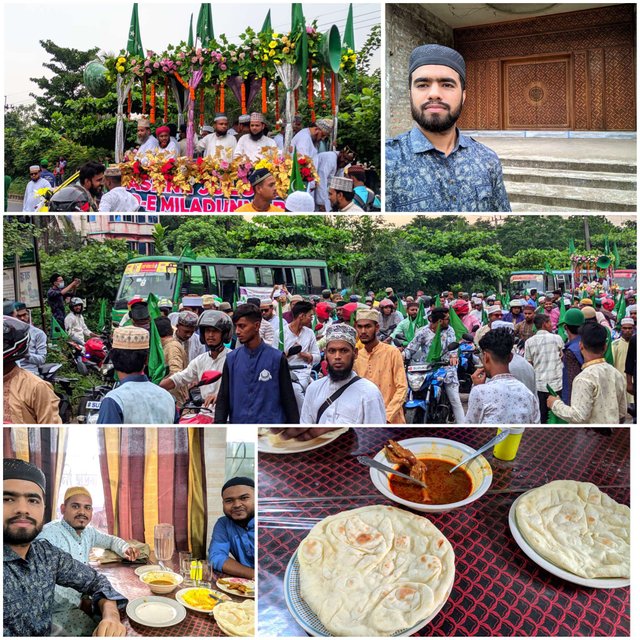 Created via Incollage
I woke up a little late this morning. Waking up late makes it a little late to start work. Today is Friday so there is no heavy work plan. But today I will attend a religious festival for which I have made preparations in advance. This festival comes only once a year. Hello friends, I hope you are all well. So I woke up like everyday and had breakfast. Then I opened my laptop and started working on all my responsibilities on Steemit.
I worked on the laptop until 11:00 A.M in the morning. Today, as I have to go for Friday prayers, I took a quick bath. After bathing, I went to the mosque at 12:30 P.M and prayed my Friday Salah. After today's Friday prayer I have to go to Sitakunda upazila because there we will celebrate our religious festival. Which is popularly called Zulus. Every year in the Arabic month of Rabiul Awal we celebrate this festival to mark the birth month of our beloved Prophet.
So I came home early and finished my midday lunch. Then my friend came in front of our house and called me saying that he is standing in front of our house with his personal bike. It will take a long time to reach the place where we will be celebrating the festival so we have taken the bike to reach early. At 3:00 P.M in the afternoon, we three friends left for the purpose of celebrating the festival by bike.
---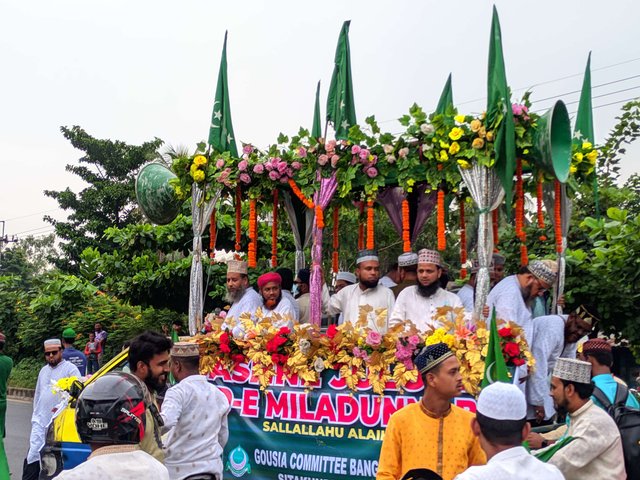 Dignitaries are celebrating the festival/ Location
After about 30 minutes we reached our desired location. Muslim brothers have come from different places to celebrate the festival. This time, more number of people have gathered in the julus than last time. About 7 to 8 thousand people were present in this festival. Everyone comes here every year to celebrate the festival. I have been coming here for the last three years to celebrate the birthday of our beloved Prophet.
The festival started at 3:30 pm. The festival started at the exact time that was given earlier to start the festival. Many of our religious dignitaries are present here. Today's entire festival is organized by a religious committee of Bangladesh called Gausia Committee Bangladesh. This committee has branches in every area of ​​Bangladesh. I am also a member of this committee.
There we were being given various religious slogans and I also chanted along with everyone. We have a specific place to celebrate the festival. Where we all had to walk together from one particular place to another particular place and on the way we chanted our various religious slogans. After walking for about an hour, our whole festival ended. After everything was over everyone prayed to the creator there.
Many people attended in the festival/ Location
It was about 5:00 P.M before the end of the festival. Then I went to a nearby mosque to pray Asr Salah. I went to the mosque and offered my Asr prayer. I have never been to the mosque before. I saw a very calm atmosphere inside the mosque. Next to the mosque was an orphanage for young children where the children were given free religious education and their education expenses were met.
The construction of the mosque building is still going on. The entrance gate of the mosque was very beautiful. I took a selfie with it. Besides, there was a very big field outside the mosque, if extra people came to the mosque to pray, if there was no space there, people prayed in this field.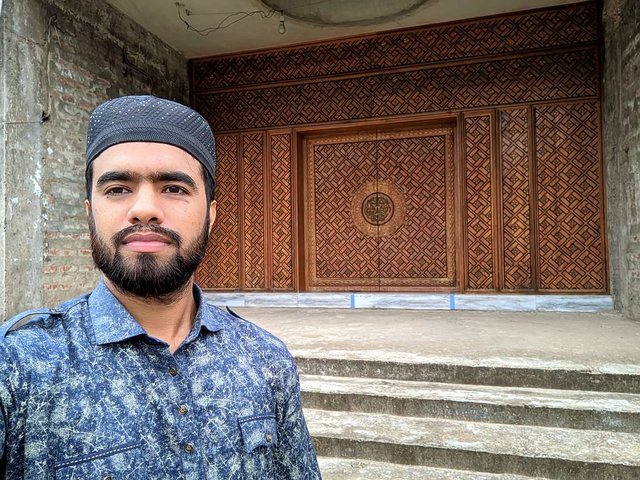 It is both a mosque and an orphanage/ Location
After praying, I left there at 5:30 P.M.Me and my friends were very hungry. Because we have walked for about two hours and come here after a long journey to celebrate the festival. So we went to a nearby restaurant for something to eat. Very good nehari available there so we ordered nehari and naan roti. About five minutes later our food order was brought.
The nehari was very tasty and the naan rotis were very soft and fluffy. It took many tests to eat naan roti with Nehari broth. We ordered nine naanrutis for three people. Food prices were very reasonable and food quality was good for the price. Finally after paying the bill we leave the place.
We have come to eat after celebrating the festival/ Location.Quantity for 3 people.Total Bill 210 BDT/2.06 USD
| FOOD | PRICE BDT | PRICE USD |
| --- | --- | --- |
| Nan ruti (9 Piece) | 90 BDT | 0.88 USD |
| Nehari | 120 BDT | 1.18 USD |
I returned home around 6:30 P.M. Back home I was feeling pretty tired so I rested for a bit. After finishing resting I prayed my Isha Salah.
Around that night I attended the community discord meeting of our country. The meeting lasted for about 45 minutes.I share my important opinion in the meeting.Then I finished my dinner and started writing my diary blog about today's whole day's activities.Good Night.
---
Thank You So Much For Reading My Blog