How are you all Steem For Bangladesh friends!!
Three days ago I made an announcement to organize a meeting in the community. Yesterday Friday night 9 we all attended that meeting. It was a wonderful time for us. About 14 of us users gathered in an online meeting where we discussed some important things from the admin panel and took some suggestions from the users to move the community forward.
That's why I thank everyone who attended the online meeting. Also, to those who could not attend, you must read this post carefully, then you will know everything that happened in our meeting.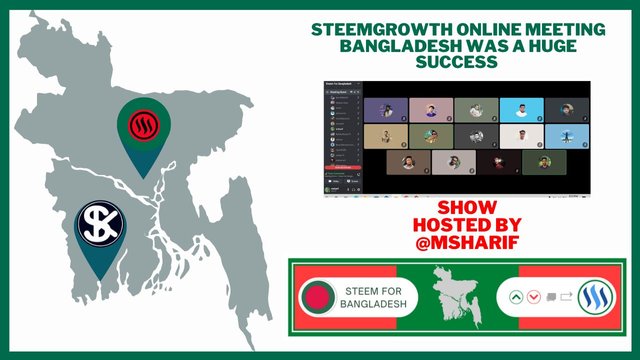 ---
Below the list of attendance
A total of 14 users attended our Steemgrowth online meeting in Bangladesh.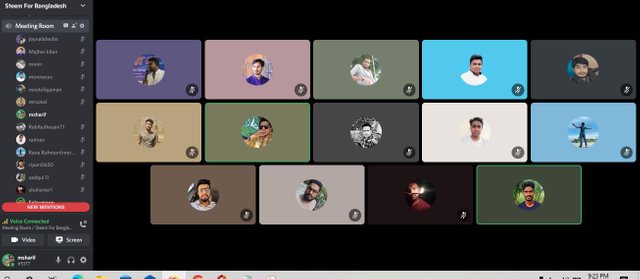 ---
---
All the issues that have been discussed with everyone
Post Quality
Steem Power Up
Community Delegation
Burnsteem25 campaign
Engagement in the community.
Answer & Question part
Post Quality: I have tried to encourage users to maintain the quality of their posts. I have tried to make them aware of the fact that they should keep the post quality as per the instructions from the Steem team. I told them to keep the title of their post correct and not add any unnecessary stuff. Also encouraged them to use Markdown well. Besides, I talked to them about other issues of the post.

Steem Power-up: We encourage everyone to grow their own steem power. Told everyone that through this one can increase one's capacity. Because those who will love this platform and want to move forward with this platform should increase their power and talk to everyone about these issues. We also encourage everyone to join club status, especially club75 and club100.

Community Delegation: We encourage everyone to delegate to the community account. All of our moderators and admin panels have asked users to play their part in growing community accounts and work to move the community forward.
Burnsteem25 campaign: @ripon0630 is the admin of our community and we are all try to encourage all users to participate The burnsteem25 campaign. Tried to give them proper knowledge in this regard. And told them how to set up the beneficiary to null.

Engagement in the community: We asked users to increase everyone's engagement in the community. I told everyone to read and understand each post and support by giving nice comments and upvote. This will increase community engagement and encourage others to post well.

Answer & Question part: After we explained everything nicely, we gave the users an opportunity to ask questions. Let them ask us questions about anything. They then told us that they understood everything pretty well and if there were any questions they would let us know later. Then @joynalabedin told us that if we organize such meetings again and again it would benefit them a lot and they would learn a lot through it. Then we told them that we will definitely organize such meetings and all the time we who are in the admin panel will try to help the users with any problem.
---
---
Finally, I would like to say to all Bangladeshi users that you must try to attend the next Steemgrowth online meeting . We will discuss important issues. I would like to thank everyone and end up here like today.
---
---
Stay Safe, Stay Happy