Greetings Everyone!
I shared a new platform a few days ago that I thought was very interesting, especially for traders and investors. Check out my blog about Zignaly for more information on this platform.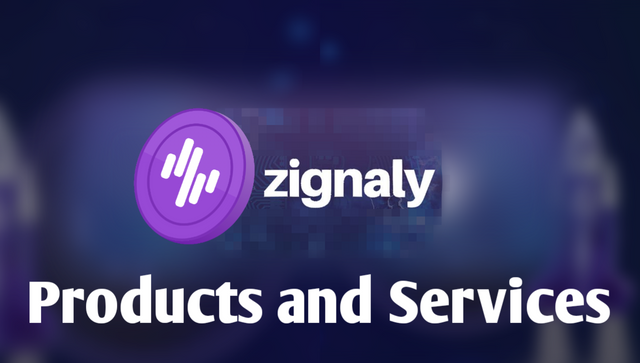 Any platform will not be a successful one without it products and services that would benefit its clients. For this blog, we will be know more about the Zignaly's Products and Services.
Crypto Profit Sharing
The first product we'd like to learn about and talk about is Crypto Profit Sharing. Crypto Profit Sharing is one of Zignaly's major products that provides excellent service to its customers. This product will allow investors to invest in top-performing traders approved by the Zignaly Team without paying any fees, and only a percentage of trading fees will be deducted from the trader's profit.
This product is simply, find a pro traders on the Zignaly platform to manage your Crypto, let them handle your trading and only pays fee when you profit.
Crypto Copy Trading
The next product of Zignaly will be Crypto Copy Trading. Zignaly assured its clients that the traders are pro and will benefit each one on the platform. Clients using Crypto Copy Trading will be able to select from all of the pro traders available on the platform based on their performance. Simply copy the trader's trading activity in the following manner.
Connect Exchange - Connect your Zignaly account with your exchange using the secure API/Secret keys.

Select a trader - No settings needed, no position edits, all is 100% managed by the trader you're copying.

Set max fund - Just set the funds you want to invest in total, and it will use them proportionally.
As you can see, we can connect our existing crypto exchange account; this is secure because it does not allow the platform to withdraw any funds from our exchange account; it is only used for trading services.
Crypto Signals
Another great product Zignaly offers is Crypto Signal. This product is typically suitable for trading beginners because it only allows us to configure our account on Zignaly based on the best recommendations from traders. This is only done by some of the most important factors in purchasing any cryptocurrency as it signals what to buy and invest in. News, speculation, technical analysis, and current market conditions are all factors to consider when selecting a great cryptocurrency for our investment.
Zignaly offers a lot of different Signal Providers that each clients may consider and it is verified by the Zignaly team.
Zignaly Bridge
Another great and useful product of Zignaly is Zignaly Bridge. There were many products and services available on various platforms that could swap a specific crypto coin from one Blockchain to another, and a Zignaly Bridge was created with the goal of assisting and making it easy for all Zignaly clients to convert or swap Zig Tokens from different Blockchains.
This is done by choosing a Zig Token based on one Blockchain to a Zig Token based on another Blockchain. It is simply, to convert ZIG from Ethereum, Binance Smart Chain or Polygon to Solana and vice versa.
This are just four of the major products and services of Zignaly and when we explore the platform, we will discover it more. In coming post, I will be sharing more it too.
This would be all for today and wait for more informations soon.
For more information about Zignaly, feel free to contact us on Telegram.
ZignalyPH
Facebook Group
https://www.facebook.com/groups/1043870262907162/?ref=share
Twitter
https://twitter.com/zignaly
https://twitter.com/godlovermel258
Register Here:
https://zignaly.com/app/signup/?invite=godlovermel
NOTE: As we all that Cryptocurrency Investment is too risky and this is not a financial advice, so please DO YOUR OWN RESEARCH before entering any plaform and used their products and services.
To God be all the Glory!
@LOLOY2020
Achievement Task 1 | Facebook | Twitter