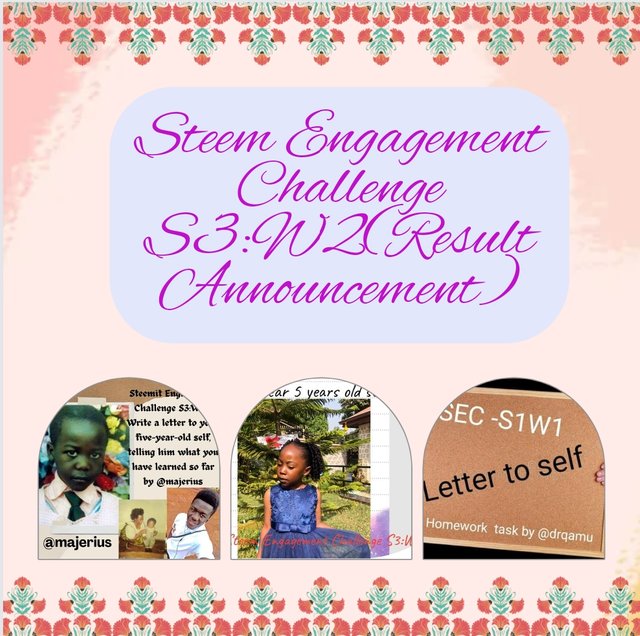 Hello Steem Family,
Steem's Season 3 of the Steemit Engagement Challenge already going on and we are one of the communities selected for this season announcement to host the engagement challenge. It's been a pleasure to went through several outlandish posts shared inside the community.
We completed the second week of this season 3 on (31th of July). We are ecstatic to see 112 participants which was the third highest number of entries among all steemit engagement challenges.
We are appreciative of all participants for their worthwhile entries and engagement.
The topic for last week was
write-a-letter-to-your-five-year-old-self-telling-him-her-what-you-have-learned-so-far
The engagement challenge topic was preferred to explore how people could bond with self-conscience to scrutinize themselves to find one's self. Through this contest, people spend some time with their past and find the do's and don'ts which they need to follow in the future.
We are glad to see that almost everyone meets the criteria mentioned in the contest post, but we only selected three posts and that was a quite tough job;
because there was a neck-to-neck challenge among a few posts and between the winners.
The topic for this week, What different animals can teach humans?" is one we believe will tempt more submissions since the topic is relatively interesting and informative.
By following some criteria and on their basis we choose the winners for the S3:W2 and those are engagement, club, writing skills, and presentation.
---
Steemit Engagement Challenge S3:W2 Results Announcement by

@steemindiaa
---
Position
Author
Club Status
Post Link
Post Entries

1.

@majerius
#Club100
Majerius's Post

2.

@chant
#Club100
Chant's Post

3.

@drqamu
#Club100
Drqamu's Post

---

Reasons Why They Were Chosen

1. Majerius.

---

You're destined for greatness and greatness you shall accomplish only if you subdue the flesh and leave pride and arrogance aside and carry on with humility and unconditional love.

There are several reasons why we have chosen the @majerius post for the first position. because he executed every criterion and explained his journey with some inspiring facts about life. We all have some stories but the foremost challenge is how we inspire ourselves to face them.

---

2. Chant.

---

Life = Vision + Goals = Solutions to ALL Problems of Life.
When you have a vision, you are determined to set goals and work towards achieving them.

The reason behind the selection of the @chant post for the second position;
When our words help to motivate not only us but some other people who are attached to us, it means a lot. We all experienced several things in this life journey but the fact is the manner conveyed them in society matters the most.

---

3. Drqamu.

---

you are a bit rigid in your decisions and you want life to move as you desire. You are yet to inculcate flexible behavior.

The third winner of the contest @drqamu mentioned a few points that were quite impressive. We all try to portray ourselves that we are perfect but while visiting his post we can learn we need to find out our drawbacks and foremost we work on them before analyzing others' flaws.

---

Conclusion

---

We are thankful to see that the majority of authors who contributed to the assignment yielded to the subject provided.

The community would like to congratulate all the winners and participants. We hope that in the next engagement challenge we will get several other winners.

The community wishes to facilitate engagement, as well as recommend posts that are well written and cohesive with the topic.

Best Of Luck to everyone for the future contest from the entire team of

@steemindiaa

.

---