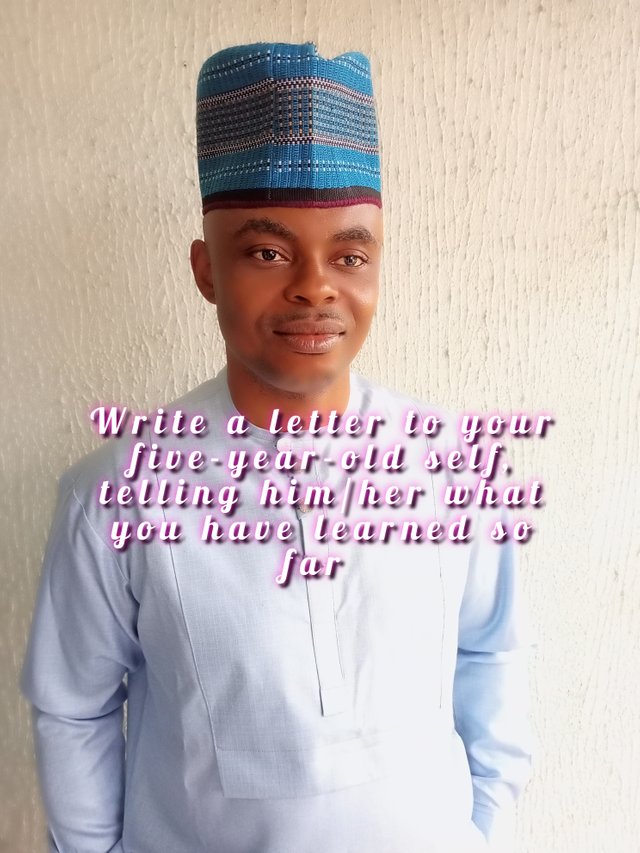 It is once more time to participate in another steemit engagement contest. Hope, all of you, my friends are doing great.
I will be engaging in the contest of this wonderful community with the topic Write a letter to your five-year-old self, telling him/her what you have learned so far.
This is by far the most humorous contest I have ever seen and also a kind of telling yourself lessons you have learnt from life.
Steemit. Inc
23 Douglas road
Minnesota
28-07-2022.
Dear benton3
It is a great pleasure to write you this moment. How are you doing? How is mommy and daddy? Hope you all are doing great. How is school going? I know you will not relent in doing your home work. They are very essential for your development.
You know as an older self, I am interested in you as a child and would want the best for you. So I want to let you know a little of what life is all about as a grown up.
You see when I was small like you, I always have a vision of what I want to be, had so many dreams, aspiration, and desires . I usually want to do things by myself not wanting someone to tell me no in most situations. Sometimes, I also wished I was a grownup so that I can be independent but daddy and mommy would keep on restricting me, now I know why.
I have learnt a lot as a grown up. First is that most of the instructions and guidance provided for me then was for my own good.
Having grown up, I realized the need to develop wonderful qualities that will make me a better person. Qualities like
Patience
Tolerance
Accommodating
Compassionate
Loving
etc.
I just mentioned few of those qualities, there are many more. You know, when I was this your age, I never appreciated the importance of those qualities, but now I definitely do know why mom and dad keep on hampering on them.
I have also learned the importance of hardwork. You know sometimes dad and mom would ask you to do something and get rewarded for doing so, they are doing this to impress in your mind that you need to work hard to take of yourself and earn the respect of other people. Life in the real world can be stressful. This I have learned. So never fail to carry out the little task they give you to do. It is for your own benefit.
I have also learnt to be more appreciative of others for their acts of kindness whether little or big. You know they don't really Owe you anything. As a small child, people would like to buy toys and sweets for you, but when you grow up, they would not even care whether you have eaten or not. No wonder a recent music lyric says that Adulthood Na scam.
I have also being taught both in the good and hard way the importance of savings when things are going well financially. You know as a child you have the tendency of spending whatever little pocket money given to you on sweets and ice creams. But as an Adult, I have learned that such money could be saved and used for more meaningful things later in the future. Infact during financial difficult times, such saved funds will come in handy to provide things like food and clothing for you.
There are many other things I will still tell you, but I will be doing so little by little through other incoming letters.
However, promise me that till I come, you will still be the best child to mom and dad, be obedient and respectful. You know what, I will get that your lovely chocolate brand of your choice.
I love you dearie.
Love from
benton3.
I invite @fortwis02, @eliany, @ngoenyi to join in this contest.
Thank you @steemindia for this great contest.