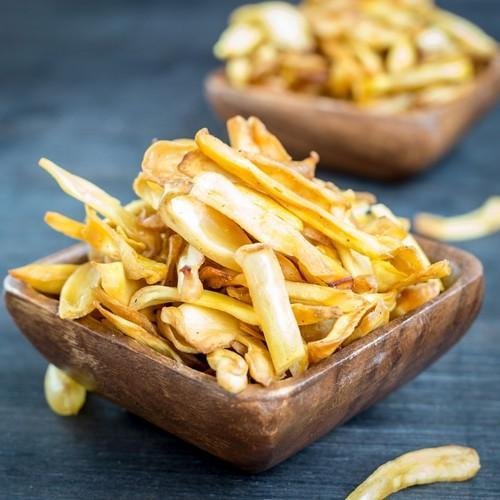 Image Taken from the Original Author
You know Jackfruit Chips? Jackfruit chips are snacks made from the basic ingredients of jackfruit. Jackfruit is widely found in various regions. The chewy texture and sweet taste make this fruit popular with everyone. Jackfruit can be processed into chips for a healthy daily snack. How to make jackfruit chips is also easy. You can make your own, how to make jackfruit chips simple. You can process it at home without having to buy it at a gift shop. The deliciousness of jackfruit made into jackfruit chips is increasingly loved by the whole community as a healthy snack every day. The flesh of this fruit has a distinctive aroma that is very thick and fragrant, suitable when used as a fruit ice mixture or a compote mixture. In addition to its fresh and delicious taste, this fruit is also very beneficial for health because it contains B vitamins, folic acid, niacin, iron, and magnesium. The substance is quite good for the body, bone health, and immune system. But do you know how to process your own jackfruit chips?
Ingredient:
Fresh jackfruit, not too ripe 1 Kg
Banyu 1½ Liter
Lime 100 Gram
Salt 75 grams
Sugar 150 grams
2 Liter Cooking Oil
Steps and How to Make Jackfruit Chips:
Peel the jackfruit and clean the skin along with the straw, the flesh is cut, the seeds are discarded and the ends are cut off.

Soak the jackfruit in water with a solution of lime for 5 hours.

Jackfruit is washed and then frozen until dry.

To achieve slightly fluffy results, it is best if the washed fruit is dried in the sun for 5 hours.

It is then placed in a vacuum frying machine (vacuum frying machine) with oil heated to a temperature not exceeding 90 ° Celsius.

Fry until cooked through and bubbles in my oil a little or less, lift and drain. You can use an oil thinner, so it doesn't smell easy.

Store in an airtight container or plastic so that the crunchy and savory taste is more durable.
Easy, huh? Jackfruit chips are ready to be served, these chips are perfect for everyday family snacks and casual friends. In addition, this meal is very suitable to be served during big days or religious celebrations such as Eid al -Fitr, etc. So you already know how to process jackfruit, which was previously only consumed as such. In addition to being delicious, these foods can last a long time without the use of chemicals or preservatives.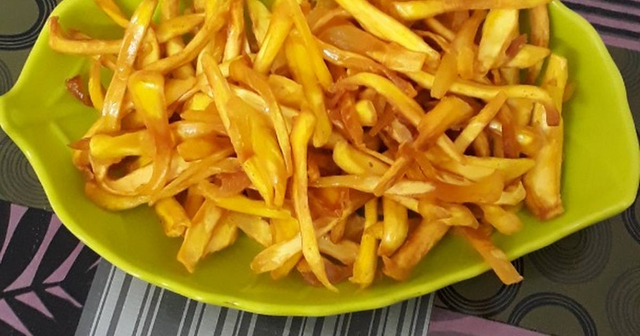 Image Taken from the Original Author