Hello everyone, I didn't want to miss this week without writing anything on @steemalive contest. Meet one of my closest friend who has helped me in school very well.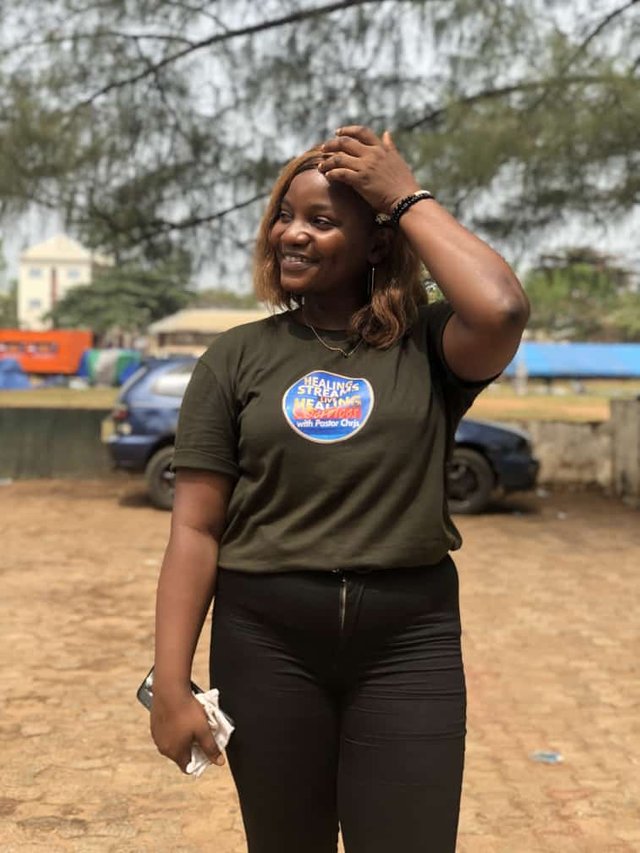 Introducing my friend
The name of my closest friend is Gift Onwuka but I fondly call her Gifty. She is from my hometown Ohafia which makes everything sweeter because we also get to see ourselves during the Christmas holidays. She is the 3rd daughter and the fourth child of seven children made up of 6 girls and a boy.
I met her during our first year in school as we were both confused JJC in the tertiary institution; together we paid some of our fees.
Early this year was a tough one for her because she lost her dad in November. She and her sisters had to go through the rigorous exercise of burying her father. It was during this period that I knew some uncles can be the devil in sheep clothing. They didn't care that their father was late, they only cared about the properties and money they would be getting from them. Thankfully, their elder sister took matters in her own hands, though their uncles got some money, it was not what they were expecting.
Her marital status
Gift is still single and searching. Though, we are praying for to right one to come along.
Her Occupation
One thing I know about Gift is that she is never idle, she is always doing something anything you see her. Gift is receptionist at a media house in Umuahia. She informed me the last time I called her that she is now part of a Nigerian's party campaign team, they will be in charge of one of the governorship aspirant campaign across the state.
Her Religion
Gift is a devout Christian, who is up an doing when it comes to the things of God. She is a member of the Christ Embassy (LoveWorld Ministries).
Gift is very kind who will give you her last kobo if it gets to that to ensure that you partake in something. She does not like someone suffering; she must do something to salvage the case.
Gift is very emotional person who cries at the slightest thing, sometimes it gets annoying because we see it every day. She is likely to cry if we write exams and she perceives that it is not written well. Or when a result comes out and it is not what she expected.
She is also outspoken and very friendly, she is a friend that will let you get away with anything you do without drawing your attention to how bad or good it is. If your friends cannot tell you when you erred, what is the essence of having such a friend? She does not support evil, no matter who is involved and will let you know that what you did is not good.
Being helped by my friend
A friend in need is a friend indeed. Once, I didn't have money to pay for a practical and buy a certain textbook. The lecturer was not playing around and told everyone to buy it or we would not be part of the semester exam. I didn't know what to do and everyone I asked told me they didn't have money to give. As I searched for who would give me the money, Gift gave me her practical money to get the textbook which was more important than the practical. Because of her, I was able to pay the fees and write my exam the next day.
Conclusion
Gift has helped me a lot more than I can count. She is that friend who is there to support your every decision and not judge you. She would guide you but still leave you to make your decision.
#lifestyle #pets #steemexclusive #steem #prowrit-w8 #nigeria #club75