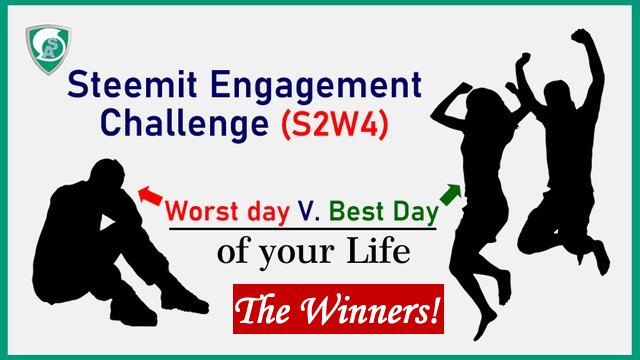 Introduction
What an engagement challenge Month and week it has been. We wish to start by thanking you friends for always seeing our contests as interesting and worthy of your time. This last week of the contest was actually our second best as we saw another big number of entries - an amazing 99 entries from all participants.
We have carefully gone through all the entries and the stories are not just beautiful, but really touching. Now its time for us to make the announcement for the top 3 performers of the contest.

The Contest winners
We are delighted to announce the top 3 winners as follows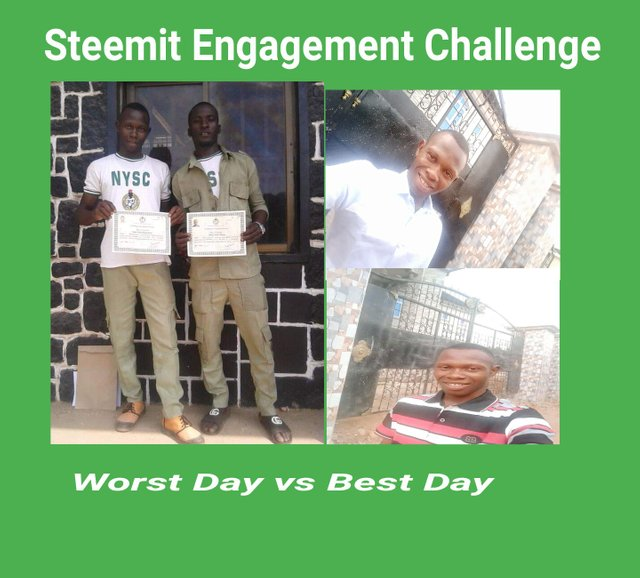 Steemit Engagement Challenge Season 2||Worst and Best Day of my Life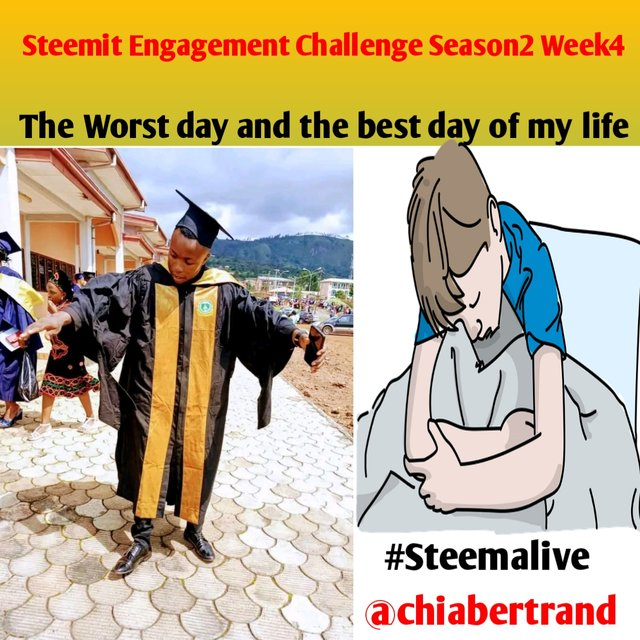 Steemit Engagement Challenge Season 2 (Week 4)| The Worst day and the best day of your life - A true life story!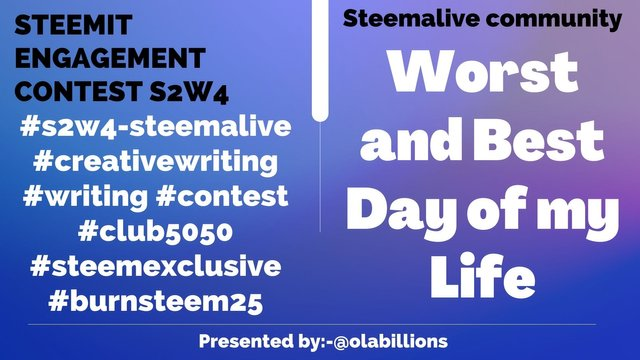 Steemit Engagement Challenge Season 2||Worst and Best Day of my Life

How the winners were selected
It was not easy to pick these top 3 winners, but we are really confident of our choices. They gave it all their best, which is why they have emerged top winners. Here is how we arrived at this conclusion.
1. Quality and Quantity of engagement: The contest is all about engagement. We had to check the number of quality engagements made by everyone. These top 3 winners actually made the most engagements. Here is how they scored:
4. Quality of Publication: They answered all the questions. They used original images of the events described in their posts. They also used formatting to beautify the appearance of their article. They were detailed too. Excellent work by all of them.
3. Following other rules: We checked and saw that they all followed the basic rules, as well as additional rules for the contest. For example, non used bid-bots. They all participated in at least club5050, and other rules
Because of the above and more, we had no choice than to award them the top 3 winning positions. We once again say congratulations to all winners. We also say a big thank you! to all of us that participated in this contest. We hope you will continue publishing in SteemAlive community

Our Contest Prize
Congratulations to our top 3 winners. Your prizes have been sent.


Our Contest for this Week
Our community always hosts weekly contests each Monday. For this week, we have already published the contest. You can find the details below: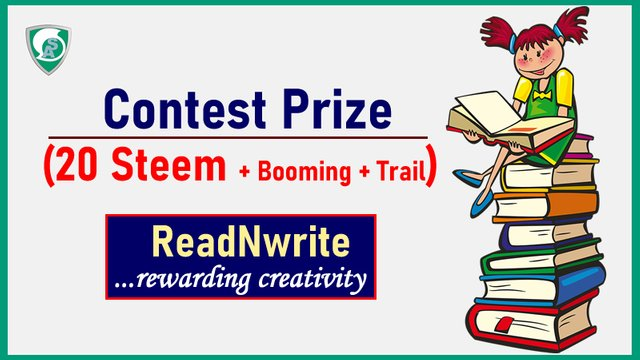 SteemAlive Presents: ReadNwrite - A 7 day writing Challenge. Contest Prize: 20 Steem (+booming, trail)
c: @disconnect