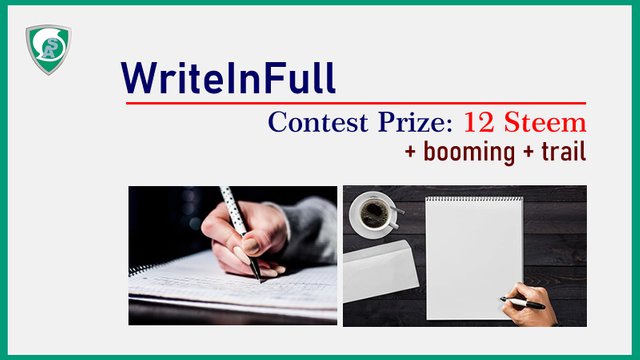 Introduction
It has been a while, we have not done any writing challenge due to the ongoing Steemit engagement challenge season 2. We hope you are enjoying the challenge. This is the last week of the challenge and we would like to restart our weekly contests, and that is the essence of this post. Our contest for this week is called WriteInFull. Before we tell you the details about it, here are the winners of our last contest.
Our last contest is a 3-day writing challenge called Write2Live. We wish to apologize for being unable to announce the result earlier. Here are the winners:
| Username | Total Score | Position/Prize |
| --- | --- | --- |
| @ijelady | 33 | 1st/5 Steem + 2 booming + 3 trails |
| @chichieze | 30.2 | 2nd/3 Steem + 2 booming + 2 trails |
| @luchyl | 22.7 | 3rd/ 2 Steem + 2 Booming + 1 trail |

This Week's Contest: WriteInFull!
WriteInFull is a writing challenge that will require you to publish at 5 posts within 7 days. We will provide up to 7 topics so you can choose from the topics and write. It will bring out your creativity and help you publish consistently for the next 1 week
What you need to do
From the 7 topics below, choose 5 from them and write.
Topic 1: Meet My Dad - appreciating what he has done for me
What you need to do: Tell us about your father. Start from his background, career, marital life, and struggles. What special sacrifices has he made for the family and for you in particular. What is so special about your dad?
tags to include: lifestyle, steemexclusive

Topic 2: Understanding entrepreneurship and qualities of a good entrepreneur
What you need to do: Explain what you understand by entrepreneurship. Give examples of entrepreneurship in your city. Who is an entrepreneur. State 4 or more qualities of an entrepreneur. What are some mistakes that new entrepreneurs make?
tags to include: business, steemexclusive

Topic 3: Weekly Food Diary: Here are some of the meals I enjoyed this week. Take a look!!
What you need to do: Show us some of the foods you have eaten this week and give us enough background information about them. It must be at least 4 different meals. For example, you can include the following: What makes up the meal? Why do you love the meal, Who prepared it and what is the cost (in steem)? Is it breakfast, lunch or dinner? etc. Click here to see a good sample
tags to include: food, steemexclusive

Topic 4: Learn with Steem: A tutorial on how to .....(e.g cook some meal)
What you need to do: Teach us some skill. Make sure to demonstrate steps. It could be how to cook a meal, play guitar, do knitting, or other things. Just teach us a skill
tags to include: learnwithsteem, tutorial, steemexclusive

Topic 5: Stay Healthy: The Importance of Good personal Hygiene!
What you need to do:What is Hygiene? State reasons why we should maintain a good personal hygiene. Tell us some of the things you do as part of your hygiene routine.
tags to include:health, steemexclusive

Topic 6: My Town in 10 Pictures
What you need to do: We want to see what the hospitality industry looks like in your city. So capture hotels, guest houses, recreation center like children's playground, Open Parks, etc in your city. 10 in total and include what3words coordinates.
tags to include:mytownin10pics, steemexclusive

Topic 7: Steem Promotion - Your recruitment and mentorship activities
What you need to do: If you promoted Steem this week, write about it. What are your methods. What are your challenges. How did people react? Tell us everything about your Steem promotion activity.
tags to include:steemgrowth, steemexclusive

The rules
Make sure you are at least in club5050. You must be verified in SteemAlive community
After publishing each post, drop the entry link as a comment on this post.
Please Subscribe to our community.
One of your entries should all4one to support our community
You must Vote and resteem this contest post.
Each article should be at least.
One of your first 3 tags should be contest

Important Note
Remember to use #contest as one of your tags. Make sure to include the link of this post in your entry so that curators will recognize the post as a contest

How winners are selected
Quality is King: Be detailed. 350 words is the minimum, but you can do much more.
Number of quality Comments: Try to make at least 20 comments.
Formatting: Justify alignment and centered headings make your work neat.
Originality: You will automatically be disqualified if you are found plagiarizing.

Here is the Contest Prize 20 Steem + Booming + Trail!
1st Position: 4 Steem + 2 booming + 3 trails
2nd Position: 3 Steem + 1 booming + 2 trails
3rd Position: 2 Steem + 1 Booming + 1 trail
4th Position: 1.5 Steem + 1 Booming + 1 trail
5th Position: 1.5 Steem + 1 Booming + 1 trail
Contest Date: Monday 27th June- Sunday 3rd July, 2020

Support this contest.
You can help us increase the contest prize by sending us any cryptos used here on Steemit. Send Steem or SBD to @steemalive.
c: @disconnect

Delegate to SteemAlive


Subscribe::Discord
::join trail