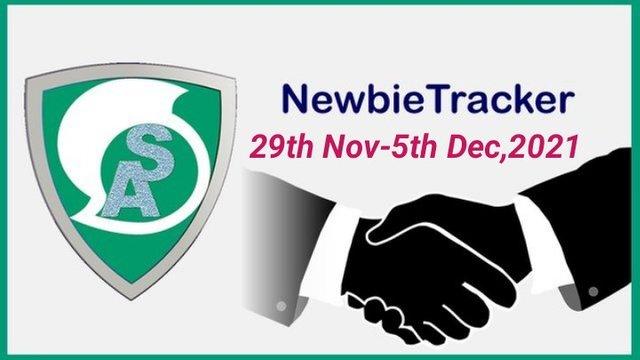 Introduction
Wow another new week of promotion is here in SteemAlive community. Its important to be able to track newbies and support them adequately. SteemAlive newbie tracker is a post that help us know the new people that our promoters recruited for the week. These are the new people whose introduction post is yet to be verified. So we try to see them and support them the best way we can

Important Reasons to Track Newbies
To Welcome them Officially: The importance of a good first impression cannot be over-emphasized.It matters a lot to us. So when we collect the new people from this post, we try to make them feel at home by welcoming them officially and letting them know that they belong to us. That is one reason why we do this post.

Organized way for Admins to support Newbies: The admins are doing their best to support new people in our midst. The best way to help them is by having an organized way to help them see the newbies. So through this post, Steemalive admin members are able to see the new people and support them in some arranged manner.

Record Keeping: Record keeping is also important to us.We will like to know how far our community is doing in terms of recruitment. So this post will help us to make and keep a record of the newbies that join us.

How To do it
This tracker will be used strictly by SteemAlive Promoters club volunteers, state representatives and team coordinators. The links will be dropped in the comment section of this post by verified promoters. We will not attend to any random links dropped by other people. When dropping a link, the Promoter must include this two vital information:
Recruiter username
Date of achievement 1 post
Link of achievement 1 post
Other achievement posts by steemalive verified users: Our discord channel is used to keep track of the subsequent posts made by Newbies. So all promoters are encouraged to submit their posts to their Team Coordinators who will in turn submit them in the appropriate discord channel for attention.
Admin will always come to check this post for updates. We will try to support our new members.
Note: After making an introduction post, Promoters should insure that their recruits should make a diary post in the next few days and publish it in our community. They need to join our curation trail as well so that we can verify the newbies. In this way, we are able to support them to grow.

Conclusion
As a community that is fully into recruitment and mentorship, we are really eager to keep track and support them. So we encourage all promoters to take full advantage of this post so that we will discover and support their recruits. We thank you so much for all the work you do.



Subscribe:::Discord.
:::Telegram :::join trail