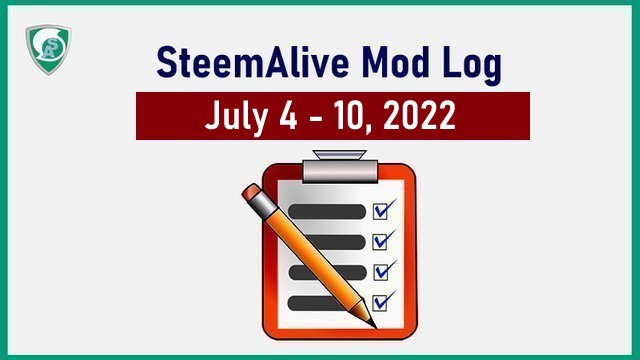 Introduction
Its a brand new week! we welcome you mods to this week after our engagement challenge month of June. We wish to once again express appreciation for the tireless efforts you made checking all the many entries and verifying them. we say a big thank you. Once again, we welcome you to another work week in our community.
The work this week is as usual and we are using this post to track your activity for the week on daily basis. What you need to do is to drop the links of any posts you verify here so that the curators can easily find posts to vote.

How our Mods will Keep record now
We will make one post for each week like this one. Our Mods will drop links of their verified post. From there, the we will find it easy to curate only verified posts. We know this method will be better because:
It will provide a single place for curators to find all verified posts.
Secondly, it will help us track the daily activities of our Moderators
Before moderators drop a link, they will check to see that the post has passed the following criteria and more:
Should be plagiarism-free
Did not use Bidbots
Must belong to club5050 at least
Is steemexclusive
Additionally, mods should add useful comments to appreciate the auhtor's effort. If there are areas to improve such as use of images, post formatting, content length, etc, the mod should not hesitate to point it out.
At the end of each week (Sunday), each mod will still make a post to show their activity for the week. They will make observations and any suggestions as they always do

Conclusion
We are really confident you will do the work promptly the way you always did. We will appreciate if the posts are verified as fast as possible. This will assist us as we vote the posts or recommend them for booming support. Thank you once again dear mods. Lets get back to work
cc:
@samuel20
@ijelady
@chichieze
@marajah

Delegate to SteemAlive


Subscribe:::Discord.
:::Telegram :::join trail