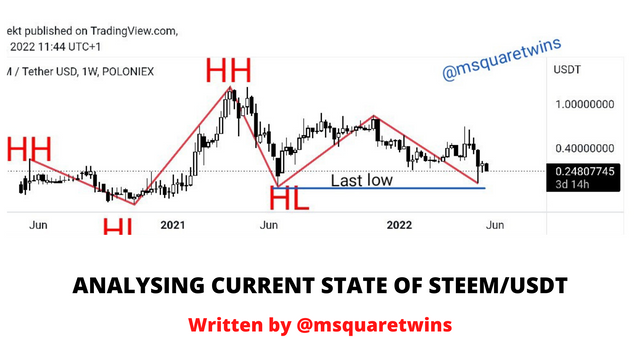 Image Created on Canva App
---

Introduction

Hello Steemians!
It is another wonderful day again hereon this great platform. I hope you have been having a great moment. I am Kehinde Micheal and my username is @msquaretwins here on this great platform. Today I have decided to analyze the current state of STEEM on the trading view platform. Therefore I want you to watch and check my analysis. I hope you find it useful. Thank you.
---

ANALYSING THE CURRENT STATE OF STEEM/USDT

Weekly Timeframe
Let take a look at the weekly chart 📉 of STEEM/USDT uploaded below in a screenshot which was taken on trading view platform.
Overall on weekly timeframe, price has been making a series of Higher Highs (HHs) and Higher Lows (HLs). Now as we can see, we have the last high recorded on this time frame and shortly after this high, another low was created. Now after the last low, price rallied upward ⬆️, but could not break the last high.
Although the last high was not broken for us to be certain of trend continuation, but the last low recorded has not been broken as well for us to think that market might turn to the opposite direction, downward direction ⬇️.

---
Daily Timeframe 📈
The chart uploaded below is a chart of STEEM/USDT on a daily timeframe. As we can see, price is making a series of lower highs and lower lows. But at a point, the structure got broken as indicated by a red arrow in the screenshot. However, the structural break has not really given us the upward movement on this timeframe as we can see that it does not continue the rally up.

---
However, looking at the broader view of STEEM/USDT on a daily timeframe, I believe that it will still rally up. This is because, I see the inducement of several lows that were previously created by the price as indicated in the screenshot below.

---
4 Hour Timeframe chart 📉
The chart of STEEM/USDT is uploaded below on a four hour timeframe. As we can see here, the price is currently on a downtrend on this time frame 🖼️ as well. But lately, there seems to be strength to the upside. Let's check two hour timeframe as well.

---
2 Hour Timeframe
The picture uploaded below is a chart of STEEM USDT on a 2 hour timeframe. As we can see in this picture, we can see that price is now gathering strength to push to the upside direction. I believe if the last significant low created on this timeframe is not broken, price may rally up from this point.

---

Conclusion

In this post, I have analyzed STEEM/USDT on a trading view platform taking into account the weekly timeframe, daily timeframe, 4 hours and 2 hour timeframe. This analysis is just my opinion of what this asset my probably do. Therefore, it not a trade order or signal at all. Thank you for reading this article to the 🔚.