IS INVESTING IN STEEM WORTH IT?
The question above is possibly some investors enquiry. The general reply to such enquiry is that steem just like every other cryptocurrency is a volatile market and requires good knowledge of the asset before one can consider investing. Therefore approach like fundamental analysis of the said asset is recommended.
Aside from the general knowledge, there are compelling reasons to say yes- steem is a good investment come the end of 2021 and early 2022. In this post, we will be taking a look at some expert's predictions.

EXPERT'S PREDICTION OF STEEM PRICE
Digitalcoin predicts that steem price will increase in the following months. The forecast stipulates that steem price will average $1.37 in 2021, and will rise further to $1.63 in 2022 and $2.54 in 2025. In 2028, the price will average $3.95.
Reference


source
Technewsleader.com predicts steem price to be $1.18 by the end of 2022 and slightly above $2 by 2023. By 2024, steem price will be $3.21, and $5.13 by 2025.
Reference
Another steem price forecast comes from CryptoGround. It suggests that steem price could rise and trade at around $1.07 in six months and $1.12 within a year from now. CryptoGround predicts possible steem price crash in 2022. Then it predicts price to recovery and climbing to $3.69 in 2023 and $5.66 in 2025.
Other platforms different from the ones mentioned above predict similar result for steem price. The simple understanding would be that long term investment could be a profitable venture. For users of steemit platform, investing in steem by retaining steem power might be considered. The general idea is more steem accumulation.

Steem #Club5050 Working to Accelerate The Steem Price.
Recently steem users receive an announcement of another internal move by steemit community to encourage investment in the steemit platform by it's introduction of #club5050.
The concept is a policy of retaining 50% of distributed tokens instead of cashing out 100%.
#Steemit is a platform paying out content creators and curators on their contribution to the platform. For creating a content or curating it, a certain amount of coin is distributed to these players which can be sold or swapped for other cryptocurrencies. The club5050 allows users to power up or invest 50% of their payout to steem. This concept could create more demand for steem since "powering up" requires buying steem or converting steem dollar to steem ( steem dollar, SBD is a coin pegged to one dollar and used as a reward for content creators).
As we already know, crypto price is affected by the power of supply and demand. When there are more supply than demand, crypto price drops and conversely, when there are more demand than supply crypto price rises. The club5050 concept could accelerate steem price.

TECHNICAL DATA.
Steem price as at today is $0.598927 USD.
It's 24-hour trading volume is $29,543,345 USD. Compared to last 24 hours, Steem is down 2.55%. It is currently ranked #280 in CoinMarketCap ranking , and with a market cap of $235,101,475 USD.
Tradingview.com today's prediction.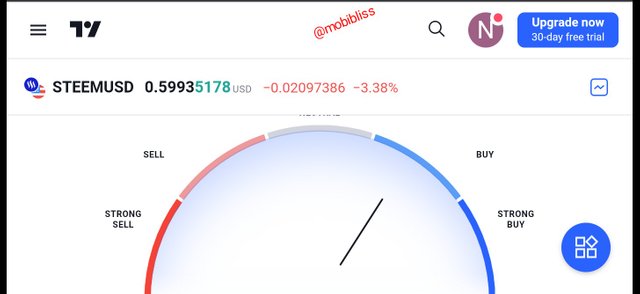 source

SUGGESTIONS.
The pointers shows, that it may be time to accumulate more steem.
If you consider buying, target holding for long.
The analysis made here are for longer period, predicting possible price by 2025. Prices of steem may go further down sometime along the line, but it will be all for good especially when one hopes to massively accumulate the coin. Steem prediction shows possible rise afterwards.
Remember, cryptocurrencies are highly volatile, don't keep your hopes so high up, don't break the bank.
CONCLUSION.
steemit coin (steem) price is predicted high come 2022 and beyond. One of the undisputed fact that attracts investors to a crypto asset is it's project and use case. Steem is among the strong innovations of recent times. It is a platform allowing content creators monetize their contents on the platform. Being a Blockchain project is another plus as compared to it's many centralized competitors. The more people get to learn about steem and it's capabilities, the more the interest to venture into and invest in the project.
There many other projects springing up following the model of steemit but steemit popularity and clear evidence of payouts makes it stand out from the crowd.
In my opinion, while Club5050 program has other benefits, it is an internal approach to spike the demand of steem. As the demand soar higher, other external investors will be attracted to the project.
@focusnow
@meymeyshops
@bright-obias
@sapwood
@kouba01
@ngoenyi
@stephenkendal