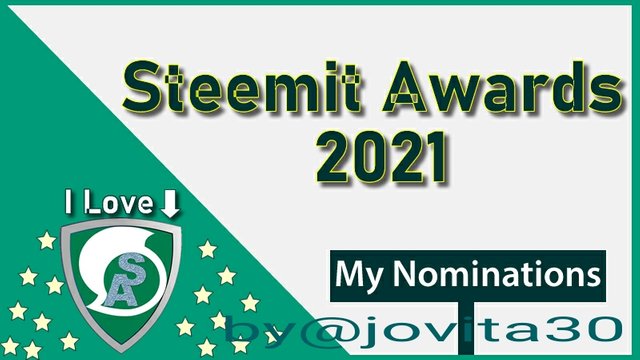 Introduction
with the call by the steemit team for us to nominate a community as best community of the the year for the steemit award 2021.
I hear by nominate @steemalive.
I am @jovita30 a member of club75.
I joined steemit march this year and i had visited more than ten communuties and also writen in them, it is for this reason am about to state that convinced me beyond reasonable doubt that steemalive is the community for the job.
SUPPORTING NEW USERS
PROMOTION
SUPPORTING OLD USERS
@steemalive also has a way of keeping old users through there daily seleaction of quality post. They pick from there verified and active member who has produced quality post meeting all the qualifications including club5050.
They also suppor with the steemalive communuty curation train whuch presently can vote up to 4$.
A link to the post nominated for today
conclusion
It is not just about numbers of members, but about community activity such as
running contests
encouraging and rewarding quality posting
retaining existing members
welcoming and helping newcomers
Building sustainability and self-reliance through growing a community curation account is also important
With this above listed am convinced @steemalive meets the qualities for best community of the year.
@ngoenyi is very good at her Job as an author. She has written post almost every aspect and notable community and also Promotion in Promo steem, mentorship in steemwoman and supporting newbies in @steemalive.
She is also a Country Representative from Nigeria. She has greatly helped me understand alot about steemit through her writtings.
For this reasons I have choosen her as best author.
Quality: @ngoenyi writes high quality post with attensions to details.
Her works are always be very interesting and descriptive with a very clean text formation with approprate markdowns that is so easy to read and understand by everyone.
Originality: Another thing i admire about @ngoenyi's post is her originality and her she properly reference her sources, if she ever gets it else where.
Her works are full of her personal creativity and inspirations.

Consistency: This lady has unsual zeal for writting. She was told me that she makes one post at least everyday, no matter how tired she is.
She is a married woman with kids but has never failed.
This is an example of her posts.
https://steemit.com/hive-167622/@ngoenyi/752kb4-club5050-or-or-steemalive-state-representative-report-for-akwaibom-state-and-every-other-state-without-state-representative-the
https://steemit.com/hive-188403/@ngoenyi/thediarygame-season-3-or-or-i-attended-my-christian-meeting-via-zoom-i-hosted-a-zoom-meetup-with-the-african-women-spent-some
https://steemit.com/hive-188403/@ngoenyi/announcing-african-women-summit-or-or-ne-the-woman-you-dream-of-or-or-zoom-video-conferencing
@focusnow - Best Contributor to Community
I would have loved to say much about @focusnow.
He is the brain behind all the projects in @steemalive. He has selflessly contributed to the community and in so doing paved way for many to raise.
Some more his many inovations are
The Steem Road Show,
Save2soar,
@steem-alive curation trail,
State Representatives
Team Coordinators Project, etc.
To know a good learder is the ability to duplicate yourself. Among the few be has helped through his selfless contribution to the community.
@ngoenyi, @beckie96830, @talktofaith, @whitestallion, @jovita30 and several others.
Like the Igbo tradition would say if you acknowledge a king for his previous good works, he would do more.
I know very well that this award would give him more multivation to do much more.
Thank you all for this great previllage for us to make our nominations.