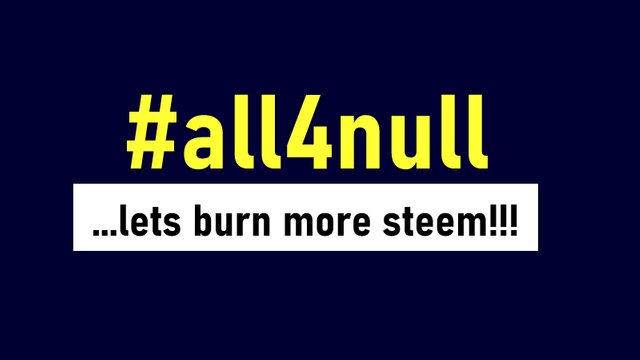 Introduction
Following up on the many proposals and the discussion about making steem great again, many ideas have come up. That is the beauty of crowdsourcing ideas. If you have missed the recent conversation which was prompted by my suggestion to always visit steemcurator01 comments page, here is the link again. Check the comment section:
Lots of ideas and discussions was done about the #club200 which steemcurator01 raised. It remains to be seen how that project will run. Am sure the steemit team will be looking at all the suggestions and would come out soon with the project proper #club200. While we wait on that, can we have a discussion on something that SC01 picked up from the preceding discussion between me and @jueco.
@jueco suggested we borrow a project in Steemalive community called #all4one and implement it on Steemit as a whole. I supported that and suggested we call it #all4null. You can see SC01 comment below showing they would like it:

Source


#all4null would be a project that encourages participants to burn steem 100%. ALL the rewards for that post goes to @null. - hence the name #all4null. That would be amazing considering that the more steem we burn, the healthier steem price would be sooner or later in the market. If we can get many people to support this project, then we would greatly reduce the amount of steem in circulation and positively influence the price of Steem.
It is very easy to do #all4null. Just make at least one post each week - or preferably more, and set the rewards 100% to @null. Just like the burnsteem projects, votes will probably not be guaranteed. But those that support this and other Steem projects stand a greater chance of being supported by the steemit team.
Suggestion on how to use the tag
Use the #all4null tag on all posts that you have set the reward 100% to @null. I encourage us to make as many #all4null posts as we can per week. The more the better, maybe the steemit team will know how to support your other posts if they wish.
Suggestion on Post Quality
I do not feel that the steemit team will just vote any posts because they are #all4null. They will likely not compromise post quality. We do not compromise quality too in our all4one project. So make sure your post has great quality. Engagement is very important. Encourage your friends to engage your #all4null posts with quality comments. And do not forget to use #all4null among your first 3 tags.

What do you think about this project. How can we make it better? Will you like to support #all4null and help Steem to grow faster in the crypto market? How far can you go in supporting #all4null per week? Lets talk in the comment section of this post.
Thank you @steemcurator01 for loving the #all4one idea. I will fully support it starting from this article. SteemALive community is solidly behind it too.