Tips for Writing a Good Diary Game and My Town In Ten Pictures are two learner guides.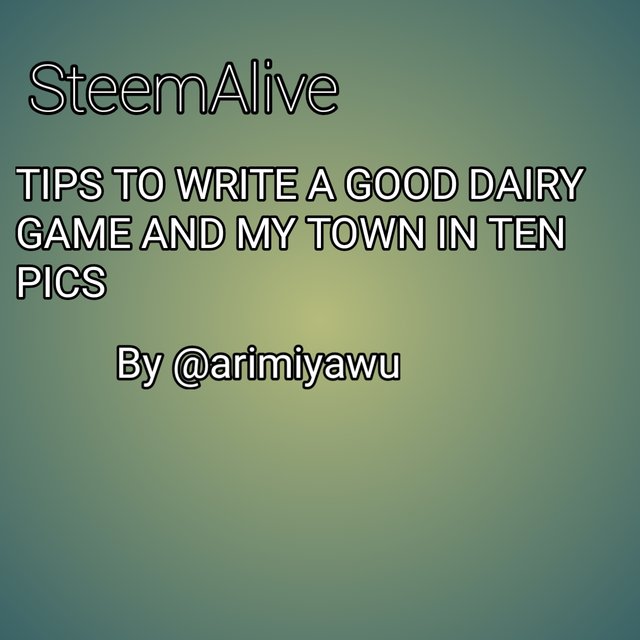 Good day, Diarists! We're really excited to have you share your Diary Game and my Town in Ten photos with the @steemAlive Community on a regular basis. The Diary Game has become a part of our life, according to @steemitblog, which means we can publish every day in as much as we continue to live, reflect on so many activities as our usual work, and discuss what we did for the day. But keep in mind that we're on the Steem Blockchain, which is a decentralized blockchain that prioritizes content. As a result, whatever we post on the Steem Blockchain must be sieved or synthesized to remove extraneous data.
In this situation, the Diary Game and my hometown must be included in the ten photos we upload on Steem Blockchain. We must keep you updated as we continue to receive more entries from those who are new to Steemit. We should maintain the status quo, despite the fact that some of the rules controlling the writing of the diary game have become optional. We should try to improve our writing skills if at all possible. Everything in the Diary Game should be double-checked and well-edited, from the title to the conclusion.
Some important points to consider:
Markdowns are used in a variety of ways.
In our Diary Game, we must consider the importance of markdown usage. There are a variety of writing styles that might make your posts stand out.
One of the most essential aspects of markdown is that it provides a better presentation of work than someone who does not utilize it. Consider using justification markdowns to justify your post: This effectively makes your work nicely organized and spacious for your readers. If you don't use markdowns, your work will constantly be disorganized. In this scenario, we strongly advise all newcomers to learn how to use markdowns from Achievement Task 4, which contains a wealth of information regarding this lesson.
Leaving tags on your Diary Game photos and 10 photos of my town
It's critical to leave captions on the photographs we utilize to make explanations of actions easier to understand for your readers.
This provides further information about the images. It can be tough to tell what the author is doing or portraying in some photographs. It's a good idea to caption all of your photos so that they're easy to understand.
The title should be relevant to your content and follow @steemitblog's pattern.
The format of the Diary Game is as follows:
Date-Create your own title for The Diary Game.
My Town In Ten Pictures is also available in this format:
Date-Your-Own-Title-My-Town-In-Ten-Pictures Even if the order of any of the titles is altered, the format must not be altered totally. The diarists will occasionally change the title entirely, but the diary game will remain the same.
Make sure your post has the right tags.
The tags that should be utilized for each piece of material, whether it's a writing a diary game or a My Town In Ten Pics game, are crucial. more, particularly the first five tags. If you're playing the diary game, use #thediarygame and double-check your spelling.For curators to find your post in the case of my town in ten photos, the hashtag #mytown10pics must be used. Because the project is solely about Steem, "#steemexclusive" must also be included in the tags.
Presentation, editing, and content quality and quantity are all important.
By neglecting to display their pieces well, many authors take things for granted. It's not uncommon to notice that all of the text is on one side of the page.
The photographs are on one side of the page, while the text is on the other. Every image should, in theory, be accompanied with text, and vice versa. You have the option of writing the text and excluding the image. So you leave the picture of that message every time you talk about it.
Make sure the post is well-edited. After you've finished writing the conclusion, proofread it and make any required changes.
We aren't limited to a set amount of postings, even though the journal game is optional in terms of post size. However, we do not believe it is fair to write only two lines and then quit. At the very least, we should broaden our work so that readers can enjoy the environment of reading.
In conclusion
On Diary Game and My Town In Ten Pics, we hope to see more growth in our writing skills, especially with all of these recommendations. Because the diary game and My Town in Ten Pictures have become a part of our lives, we must make them more fascinating by maintaining their values in order to ensure their long-term viability.
Thank you for taking the time to read this, Steemians!