Good day great Steemians. I wish to say you are all welcome to my blog. I will be presenting my first diary post today after so many weeks, because of some technical issues.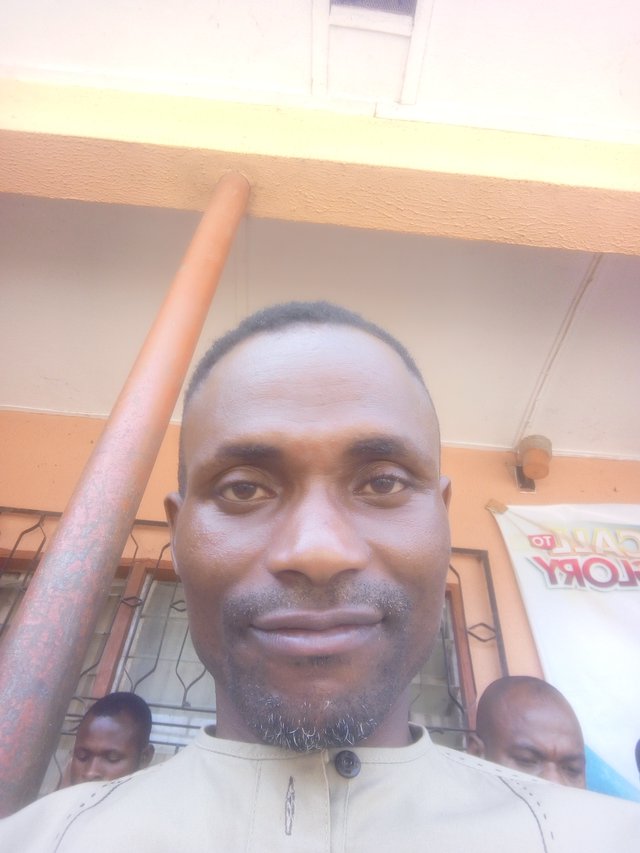 Morning Section
I didn't start my morning my usual way because I travelled to my village. I had travelled to attend a burial of an uncle and it turned out to be a family reunion at last. Many family members whom I haven't seen for many years returned. And it was very interesting.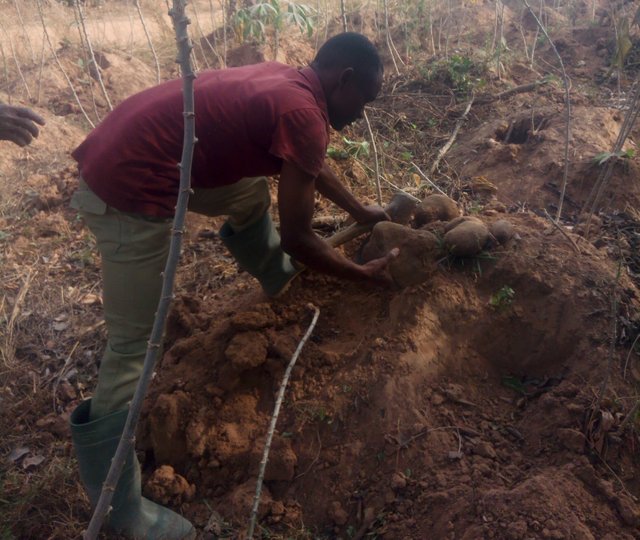 We had a family prayer led by an Auntie who is a prophetess at about 5.15am. It was rather a long section that stretched till 6.30am. I became very uncomfortable with the duration, but I didn't have any option than to wait.
After the prayers, my grand mother requested that we help her in her harvest. She saw it as an opportunity to harvest all her crops as soon as possible given the number of her grand and great grand children around.
We didn't have any option but to do it as soon as possible. So, we set out as early as possible because we must finish before 12.00pm. This is because we needed to move to the uncle's compound where the burial would hold.
Initially, it was a hell of a task because I'm not skilled in the art of harvesting yam. I actually hurt a lot of them until after sometimes before I learned a little bit of the art. Then it became more interesting.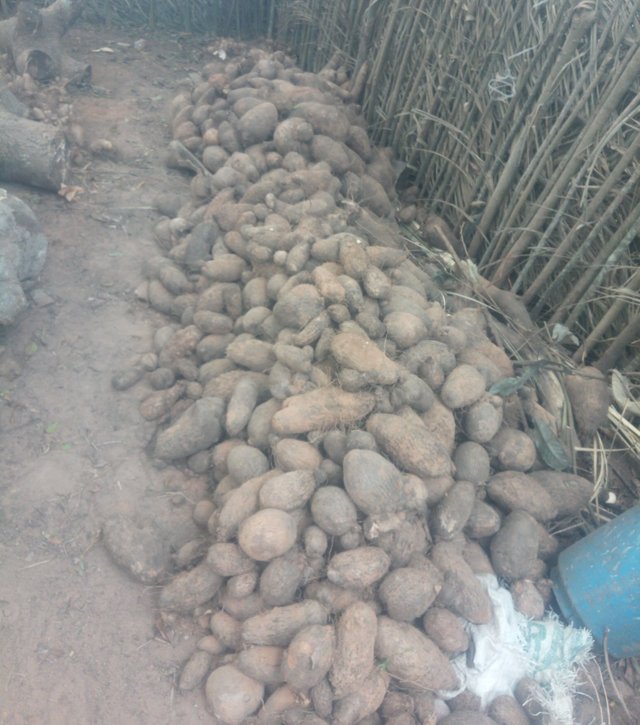 We were so engrossed in the work discussing a lot of topics, joking singing and all what not. With that, nobody knew when we finished one portion of the harvest, and moved to another.
We maintained our pace and method, and before, 11.45am, we had finished the second portion. That was a big progress, so, in order to meet up our uncles burial, we stopped there, with the plans to continue the next day. That's for those that will be around, anyway.
Afternoon Section
Like I said earlier, we all prepared and land at our uncle's compound. By the time we got there, the remains of the man had arrived. But the burial proper was yet to commence.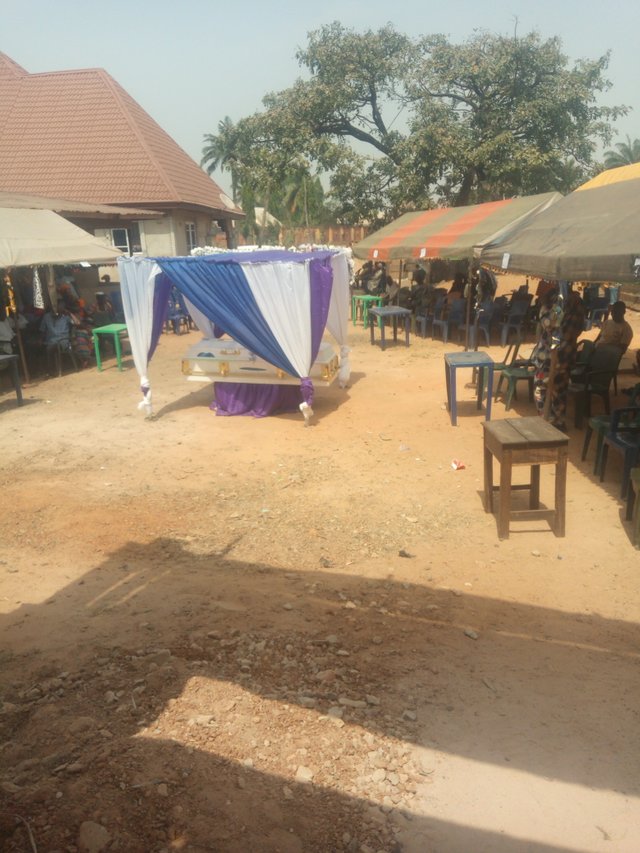 We joined in the preparation from the point we met. I quickly picked a task, allotting canopies to different groups, tagging their names on them.
The idea nobody considered. Soon enough, the burial activities began. And because he wasn't a Christian or rather, a backslided Christian, there were no church service session for him. This factor quickened the process to advantage of the attendees who came for afar.
Consequently, in less than 45 minutes, his remains were laid to rest. Since he was an elderly great grandfather of 92 years, his burial attracted a lot of people from far and near. It was a celebration of life well spent.
So, a lot of entertainment was prepared and served. They ranged from food, drinks, music, dancing. Most of the youths of the family, like I'm, served our visitors food and drinks. None of us were allowed a dull moment by our strict uncles and aunties.
Evening Section
The entertainment continued until evening. New groups arrived every moment of the time. And as they come, we had the obligation to entertain them to the fullest.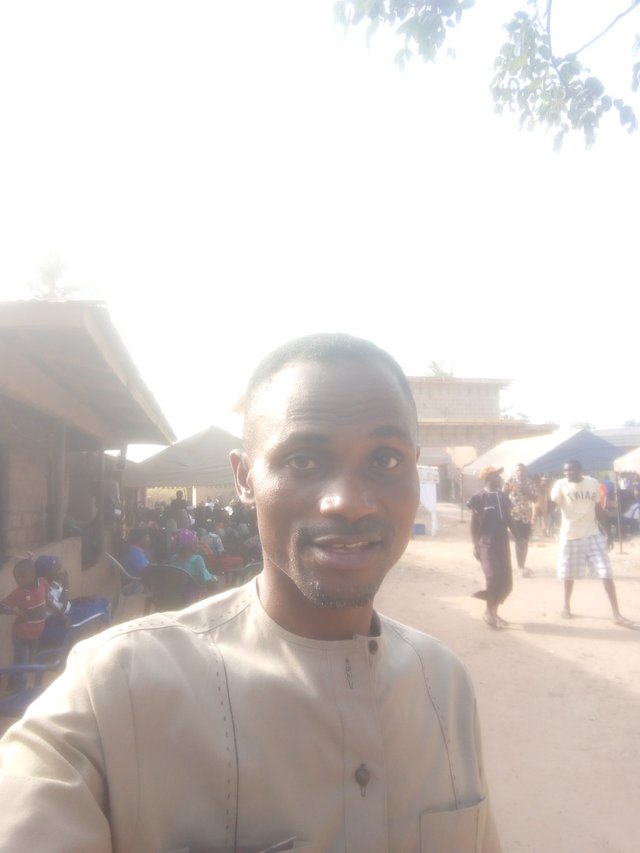 However, the climax of the whole event was the traditional dance group who accompanied my uncle's first daughter. They danced like no other, as they displayed acrobatically to the amazement of all that were present.
I regretted not having the photos from this moment because my phone battery had been exhausted. However, you can relate to such moment
That activity took us deep into the night as I was part of the group that should clean up and tidy everything. At around 11.00pm, we had finished almost everything and headed home.
Before we got home it was past 12.00am. So, I went for a quick warm wash and retired straight to bed.
Special Mention
@ngoenyi
@focusnow
@ijelady
@beautybb
@udylicious
@peterabagi
@caleb-marvel
@misterfab