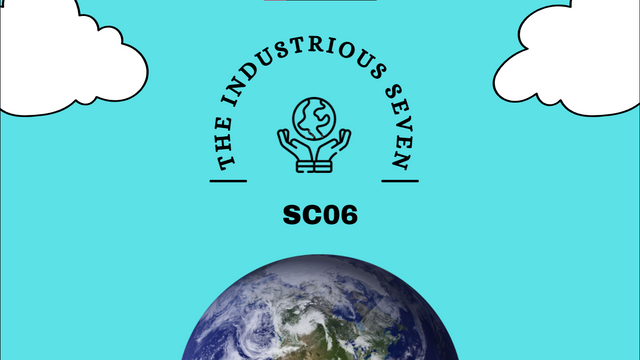 ---
---
Hello to the members of steemit the team industrious seven is ready to curate the quality posts. We hope you have read the update regarding the April curators. We hope we will serve the steemit members with wholeheartedly. The team Industrious seven includes @heriadi, @ispin, @vvarishayy, @leonelb, @franyeligonzalez. @goodybest and @chant. We 7 will be serving as the steemit curators of @steemcurator06. This post is exclusively for the guideline and regulations so you can avail the opportunity to get voted.
---

---
TAGS YOU CAN USE
---
You can use the following tags to get the vote from the account steemcurator06. If you use them properly and use proper markdown, your unique work will be curated. If someone will use the wrong tags, it would be of no use to them.
---
| tags | criteria |
| --- | --- |
| #thediarygame | you can use the following tag in your diaries. |
| #charity | if you post something related to the charity you can include this tag |
| #actofkindness | you can use this tag when you do something beneficial for others. You can also include it with the charity post |
| #mytownin10pics | use this tag when you are making a post in which you are showing different areas of your town. |
---
---
There are some secondary tags that we have decided are;
---
---
IMPORTANT INSTRUCTIONS RELATED TO TAGS
Use tags accordingly, only if your post is about it. For instance, if you are making a diary then there is no need to include the tag #mytownin10pics. And it is important for all the members to use the tag #steemexclusive in their all posts.

---
---
Mandatory Clubs
---
Only the members of #club5050, #club75, #club100 will be entertained through the votes. It does not matter how much your post is unique and appealing but if you are not in the clubs you are wasting your time and efforts. So please assure your club status. Our voting support would be according to the club status of the authors.
Note: the above-mentioned percentage mana would be given to the deserving one, whose post will be worthy enough.
---

---
CURATION TIMETABLE
---
Note: We will be following the UTC time and the timetable can vary.

---
---
SOME IMPORTANT INSTRUCTION
We will not be supporting the cross posters and all the posts must be #steemexclusive to get the vote.
Proper citation of the images and will not be supporting any kind of plagiarised posts.
Quality Content producers will be supported
The post length must be at least 250-300 words.
You must not be using any bid bots
---
---
TEAM INFO
---
---
---
THANK YOU FOR VISITING