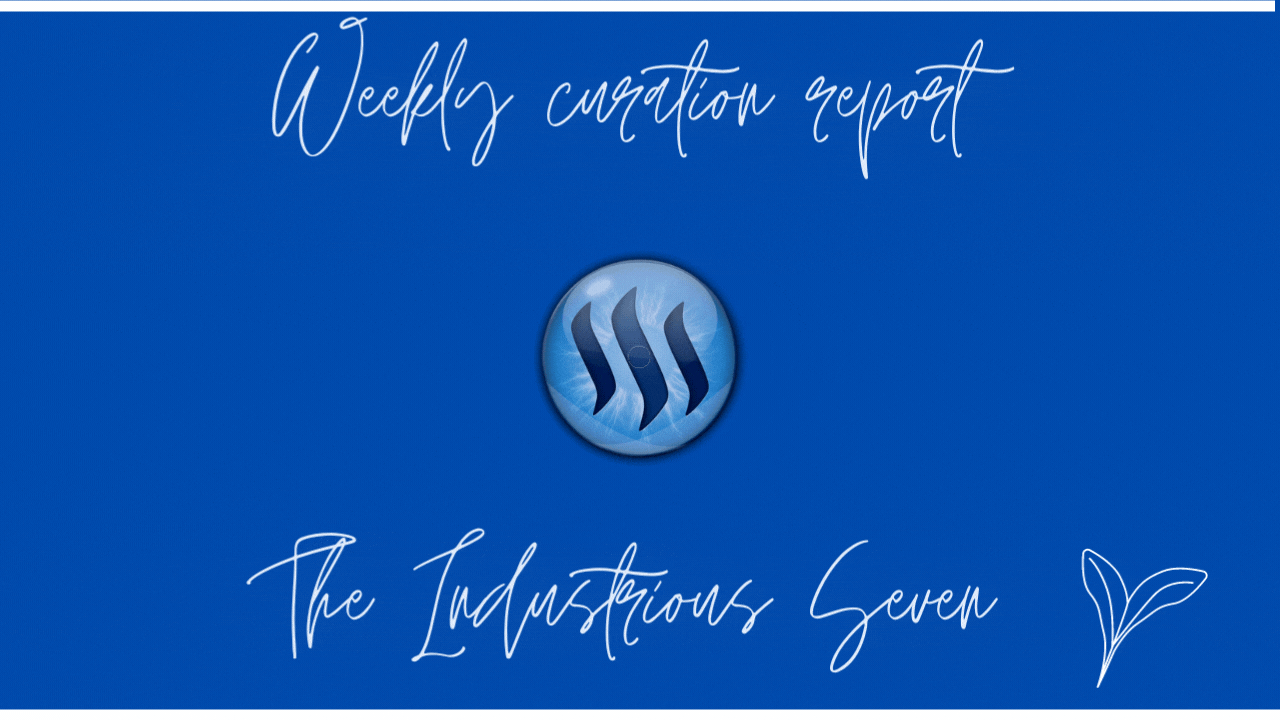 HELLO STEEMIT MEMBERS!
---
This is the second report of the MY LIFE theme managed by THE INDUSTRIOUS SEVEN TEAM. We curated several posts this week. We curated posts from 14 countries and 34 communities and in total 196 votes have been distributed among the steemians through steemcurator06.
the minor plus-minus can happen in the stats.

| TOTAL POSTS CURATED | 196 POSTS |
| --- | --- |
---

POSTS OF THESE COUNTRIES CURATED


POSTS OF THESE COMMUNITIES CURATED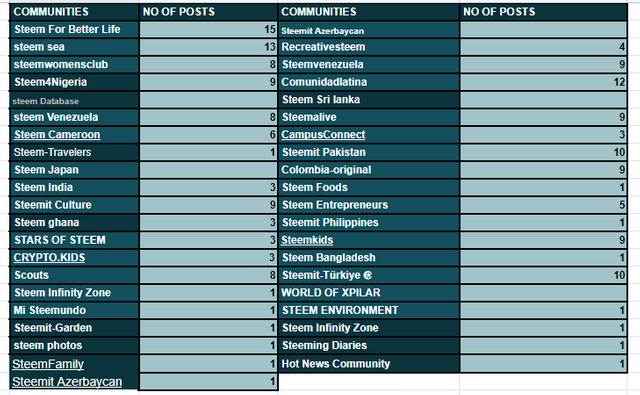 POSTS CURATED ACCORDING TO CLUB STATUS
| CLUB5050 | CLUB75 | CLUB100 |
| --- | --- | --- |
| 92 posts curated with 30% mana | 44 posts curated with 40% mana | 35 posts curated with 50% mana |
---
users supported this week per day

7 FEATURED POSTS
---
Author: @teukuipul87
Club Status: club5050
Featured by: @chant
REASON: @teukuipul87 publication is about him taking care of 17 orphans who are his students. this kids need loce and care which he has has been doing his best and following up on their scholarship disbursement.
---

Author: @bircan
Club Status: Club100
Featured by: @ispin
REASON:"@bircan wrote a busy day with all the details. The images used are his own. He started the day early. He told about a traditional meal he prepared for the upcoming holiday. She did her daily routine and also cleaned and went shopping. He also took photos during these moments. He also visually enriched his diary with these photographs."

Author: @rafaelcmontero
Club Status: Club5050
Featured by:@franyeligonzalez
REASON: A very well written publication, the quality of the images is very good, it takes care of the details in terms of description, each photograph has its respective location and the layout of the publication is very original. I think you have done a great job in showing us part of your city in 10 photos.

Author: @abialfatih
Club Status: Club100
Featured by: @heriadi
REASON: carry out routine charity activities in the form of one thousand rupiah alms every morning and distribute basic necessities to the poor by attaching several photos of charity activities along with clear descriptions

Author: @muthmainnah
Club Status: Club100
Featured by: @leonelb
REASON: In the muthmainnah diary game, we can observe the busy day that a mother has with different occupations, these include being aware of the payment of certain debts, doing cleaning tasks, taking care of her children, preparing food and helping her parents with the paperwork of some papers. Without a doubt, mothers are usually very busy.

Author: @arshani
Club Status: club75
Featured by: @goodybest
REASON: It's a perfectly written diary by a lady who describe her day for us, she started with visiting the hospital for medical checkup, in order to get a medical report to add in her file and summit in her new university. The results show that she's fit and healthy, not ending here she also relates to us about her online lesson on pharmacy, and she shared what she learned that day. it's an educative diary of which she doesn't focus only on herself, I personally learned a new recipe from this post, the Mango plus chilli power and salt for taste enhancement. I feel she deserves more Reward.

Author: @kunwal
Club Status: Club5050
Featured by: @vvarishayy
REASON: She sticthed her eid dress and went to the haidri market for shopping and bought beautiful pair of shoes. Her day was spent in preparation of Eid.

TEAM INFO
---
---
---
THANK YOU FOR VISITING

With best regards,
The industrious seven!