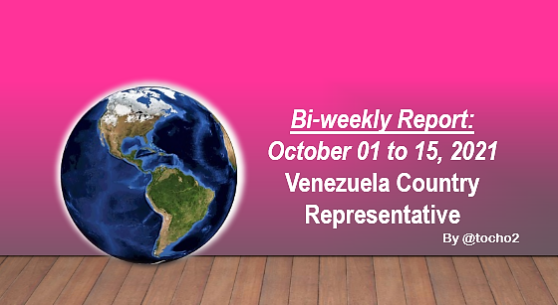 Created with free use resource from pixabay, and edited with PowerPoint by @tocho2.
Greetings friends and colleagues from Steemit ..!
I present for you my bi-weekly report from October 01 to 15, 2021 as Country Representative for Venezuela and Curator.
This is the bi-weekly summary of my curatorial tasks for the first two weeks of October 2021, during this period I made a total of
698
votes cast with the assigned curator accounts:
@steemcurator03
of the Newcommer Community Program,
@steemcurator05
corresponding to the
#betterlife
and
#thediarygame
program for Latin America, the community account Steem Venezuela (
@hive-193637
) and my personal account
@tocho2
, this has been a great month, I have managed to cover more posts with votes than the previous month.
1) Newcomer's Community
These first 2 weeks of October I have dedicated myself to looking for some expired publications, it is necessary to encourage these users to continue publishing their achievements in the Newcomer's Community. I also put special interest in the users who have published achievement 1 because there are many new users who are entering daily.
During these first 15 days of the month of October I have verified 52 posts of achievements from the Newcomer's Community.
3) Curation with Steemcurator03 account
In this period, I voted for 30 publications, allowing other RC colleagues to use this account to vote as well. This curation procedure consists of voting for the oldest posts that are still in the curation window..
4) Curation with Steemcurator05 account
It is always necessary to clarify that the account
@steemcurator05
is used to support users from Latin America who participate in the
#betterlife
and
#thediarygame
projects, for this the Representatives of Venezuela take turns every day of the week (2 curators per day) to cast the votes for such programs.
My turns as curator were on October 05 and 12, for a total of 39 supported publications.
5) Curation with the Steem Venezuela community account
With the Steem Venezuela community account (
@hive-193637
), we support Top-5 posts every day of the week, we support posts about the Steem Venezuela trail and also users who have delegated to the community.
My manual curation turns with this account were on October 03 and 10, during which I supported a total of 34 Top 5 #sv-recreacion posts.
6) Venezuela Country Representative
Using my personal account
@tocho2
I made 543 votes in support of users from different communities on Steemit.
7) Contributions for the growth of Steemit in this period
8) General summary
As evidence of the goals achieved in the first two weeks of October, I show you a small graphic summary of my activities as Country Representative of Venezuela, Curator and Greeter: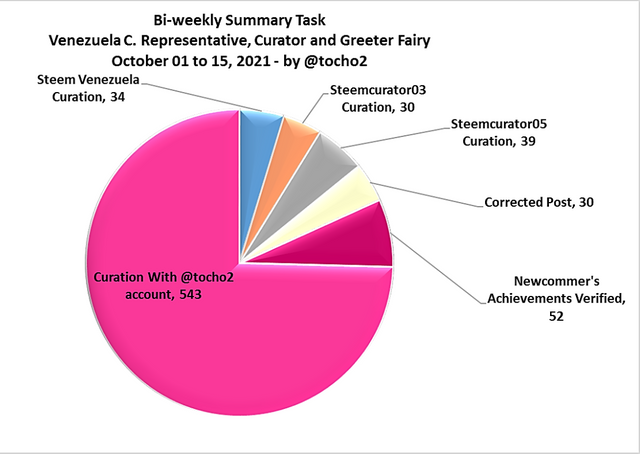 Bi-weekly Summary Task - Venezuela C. Representative, Curator and Greeter Fairy
October 01 to 15, 2021 - by @tocho2. Graphic created with Excel.
---
I reiterate my thanks to the great team of which I am a part: @ anasuleidy, @ adeljose, @ edili24, @ inspiracion, @ albenis, @ wilmer1988, @ saracampero, @ rypo01 and @ miyexi and I for Venezuela; @ fendit, @ belenguerra and @ graceleon for Argentina; and @ nahela for Colombia, we are a great team ..!
Again my thanks to the Steemit team: @ cryptokannon, @ steemcurator01, @ steemcurator02, @ steemcurator03 and @ steemitblog, thank you for supporting the great Latin American family present in Steemit.