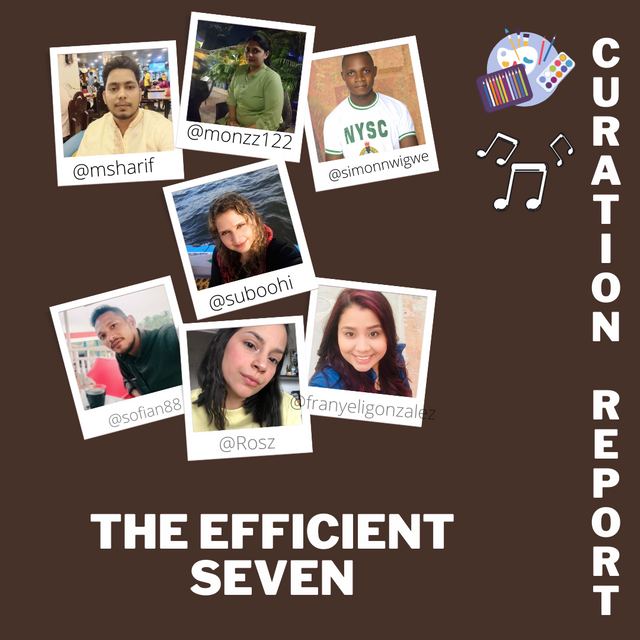 HELLO STEEMIT MEMBERS!
---
This is the 4th report of the ART Theme managed by THE EFFICIENT SEVEN TEAM. We @suboohi, @sofian88, @simonnwigwe, @franyeligonzalez, @msharif, @monz122, and @rosz work together the whole week to heal quality content at Steemit. We curated several posts this week. We are trying to support with maximum diversity and curated posts from 16 countries and 34 communities and in total 142 votes have been distributed among the steemians through steemcurator04.
the minor plus-minus can happen in the stats.

| TOTAL POSTS CURATED | 142 POSTS |
| --- | --- |
---
POSTS OF THESE COUNTRIES CURATED

---
---
POSTS OF THESE COMMUNITIES CURATED
---
| Club5050 | Club75 | Club100 |
| --- | --- | --- |
| 83 posts | 34 posts | 25 posts |
---
7 FEATURED POSTS
---
Author: @arcayart
Club Status: club5050
Featured by: @franyeligonzalez
REASON:"An excellent publication where we can appreciate the art of our friend, she is undoubtedly a great artist and we can appreciate it in all her publications. On the other hand, a very inspiring publication because it tells us about the love of parents, something unique and invaluable. I invite you all to appreciate her artistic creations. It complies with a good layout and with all the standards established by the curing team. "

Author:@arshani
Club Status: Club75
Featured by: @msharif
REASON:"This is a very good publication. Where this user very nicely reveals how Steemit has influenced his life during Covid-19."

Author: @aaliarubab
Club Status: club75
Featured by: @suboohi
REASON: "a woman explains how to make beautiful wall decoration at low cost, she makes a craft design for it, the post is very well detailed step by step I think that anyone with this guide could achieve it, you could give this if you have a low budget"

Author: @jdta.art
Club Status: Club5050
Featured by: @rosz
REASON: "This user makes a digital art using Photoshop cs6 , he shows the step by step and notes the time and dedication he put into the drawing , he makes good use of markdown , finally he poses with his work of art "

Author: @deepak94
Club Status: Club75
Featured by: @sofian88
REASON: "In this post author showed his photographic skills and shared beautiful views that really eye catching"
---

Author:@mato445
Club Status: club100
Featured by: @simonnwigwe
REASON: "The author wrote in detail about an experience where he saw grace playing in action in his life. After loosing his phone to a taxi he bored which looks the same with ever other taxi within the town. He finally spotted the very taxi after some search due to flat tyre which occured to the taxi he initial bored."

Author:@sualeha
Club Status: Club75
Featured by: @monz122
REASON:Something interesting, she uses old jeans and then turns it into something very beautiful hand bag and has a valuable value. With creative content like this, we hope that more users will take advantage of used goods and then turn them into products that have a high selling price, creativity has no limits!

Team Info :
---
---
---
---
---
THANK YOU FOR VISITING

With best regards,
The Efficient Seven !