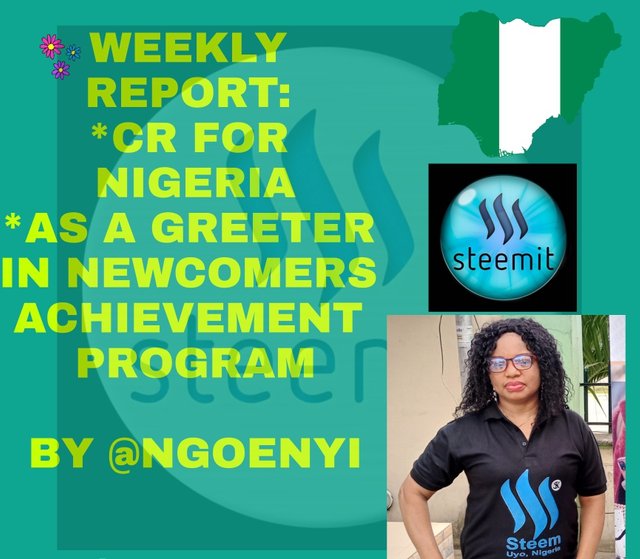 Dear Steem POD Team
It is another wonderful wee for me. I hereby present my report as a country representative for Nigeria. Below are my

AS A GREETER IN THE NEWCOMERS ACHIEVEMENT PROGRAM
Being a greeter is not just by word of mouth. I participated fully in greeting newbies, making suggestions to them for improvements and verifying their achievement posts in newcomers community. Bellow are the report links of the daily reports I made for the achievement posts I worked on.
You can check in this links above and see that I worked on 30 achievement posts in each of the reports. When totalled, it will give 150 post links in all. It is my pleasure to do the work.

I used SC03 to support achievement posts this week on the days i am assigned to do so. See the screenshot of the spreadsheet where I had dropped all the links to the posts I curated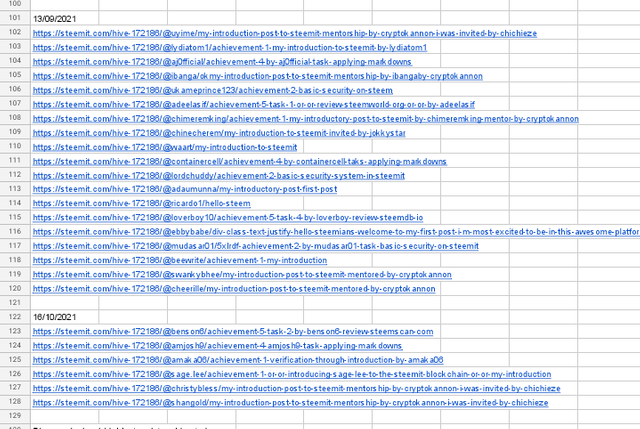 MY PROMOTIONAL ACTIVITIES
✓ I promoted steem on Thursday and Friday, putting on different brands of steemit T-shirts. See some pictures below
This is my Thursday steemit promotion while on promo-steem community t-shirt as a Promoter.
Check the link below for more details
I joined steemalive community road show as a cordinator for Uyo and others where I promoted steem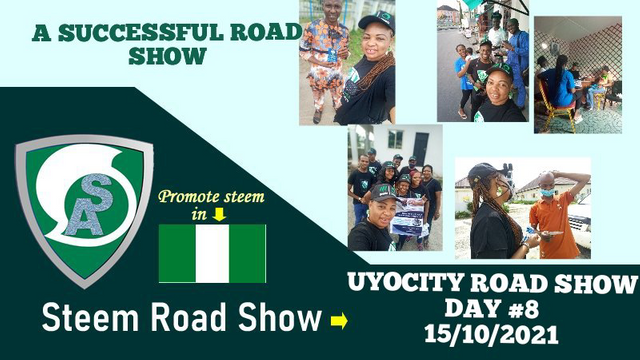 Link
MEET UPS WITH THE AFRICAN WOMEN AND ANCHORING NIGERIAN RADIO SHOW IN PROMO-STEEM COMMUNITY
For the first time as an African representative for the steemwomens club community, I organized a zoom meetup with the African women in order to encourage them and help them understand the club5050. We were all thrilled to understand it and to have the previllage to see and hear ourselves. It was awesome.
I made my weekly report where in I identified and rewarded the most active posters in steemwomens club community.
Here is the post I made about it for more information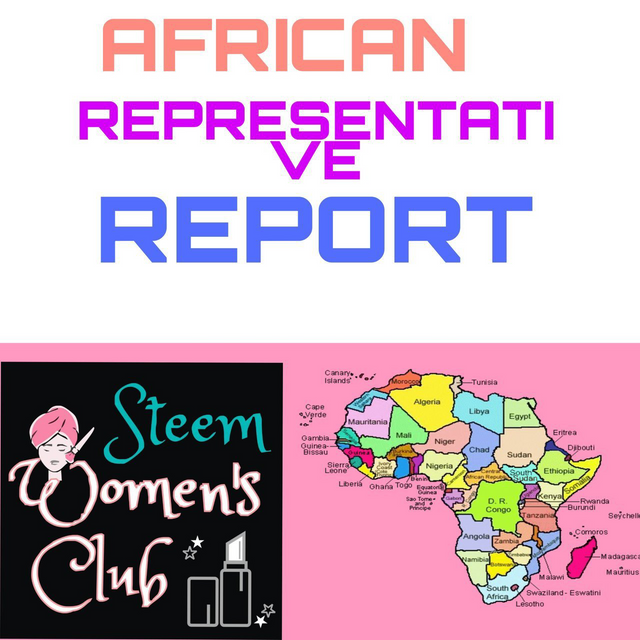 The Nigerian Radio show recorded a huge success. Our promo-steem community identity card was adopted, mine and that of @talktofaith had been designed already courtesy of @nattybongo and @mcsamm. Here are the designs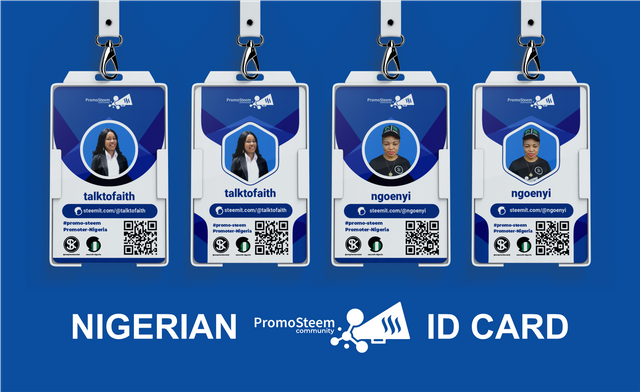 Here is the link to the report I made after the radio show for more details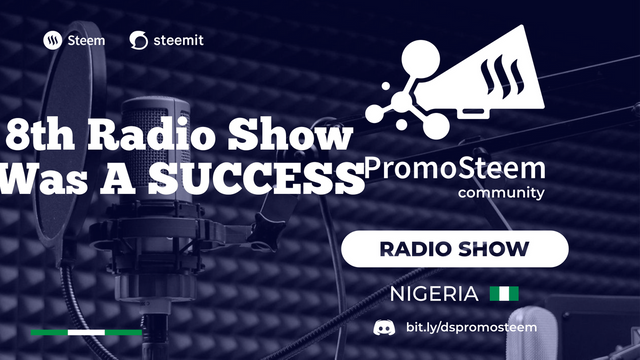 MORE FLIERS FINALLY PRINTED FOR MORE PROMOTIONAL ACTIVITIES
Finally, I have gotten the hard copies of my fliers printed out which now is assisting me with my promotions.
I have started using them already for my promotion
MY POWERUP PROMOTION/#CLUB5050
Having expressed my interest to join club5050, I did powerups this week upto 2 times,
First, I powered up 386.721steem, and then 600 steem during #savebypowerup contest.
Link to my first power up post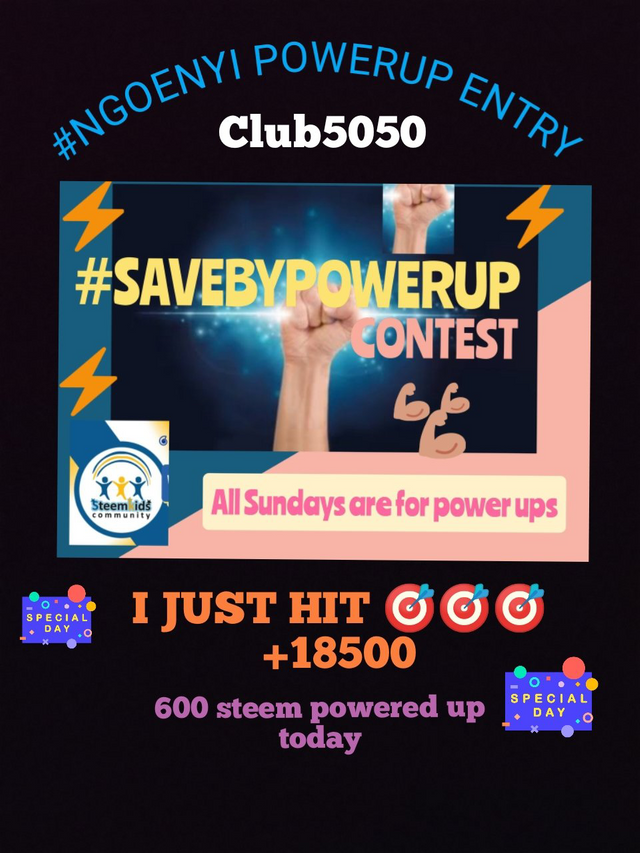 [Link](to my second powerup post](https://steemit.com/hive-139765/@ngoenyi/ngoenyi-has-nust-hit-18552-422sp-after-powering-up-600-steem-club5050-all-the-way-or-or-10-to-steemkidss)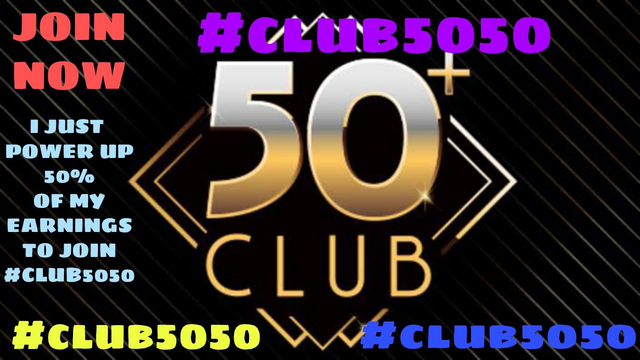 Steemkids community did her power up as well. 1000 steem was powered up during the announcement of it's #savebypowerup contest and it has expressed interest to join #club5050. The members are also encouraged to do so.
At the end of the contest, a total of 3513.785 steem were powered up and even the kids have learned this custom. Please visit the post link above for more information.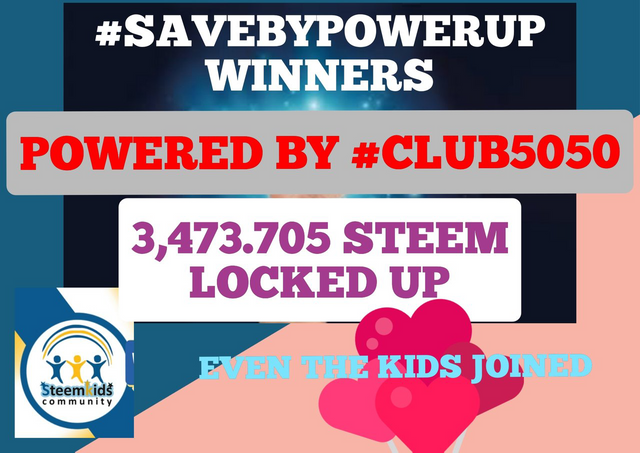 S-kids corner is a project I started in steemkids community which encourages the kids to engage with each other. The season 2 of it has been announced and below is the link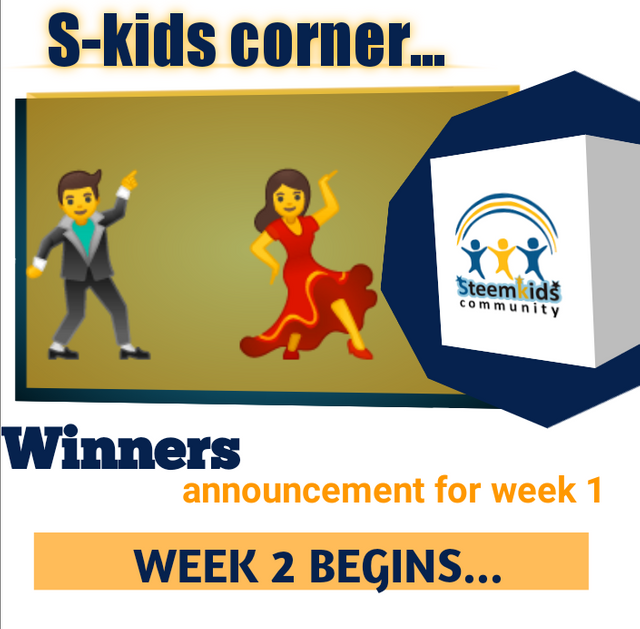 ##MY ONGOING CONTEST
I hosted a contest this week and it is going to be 80 STEEM price award contest in steemkids community.
Link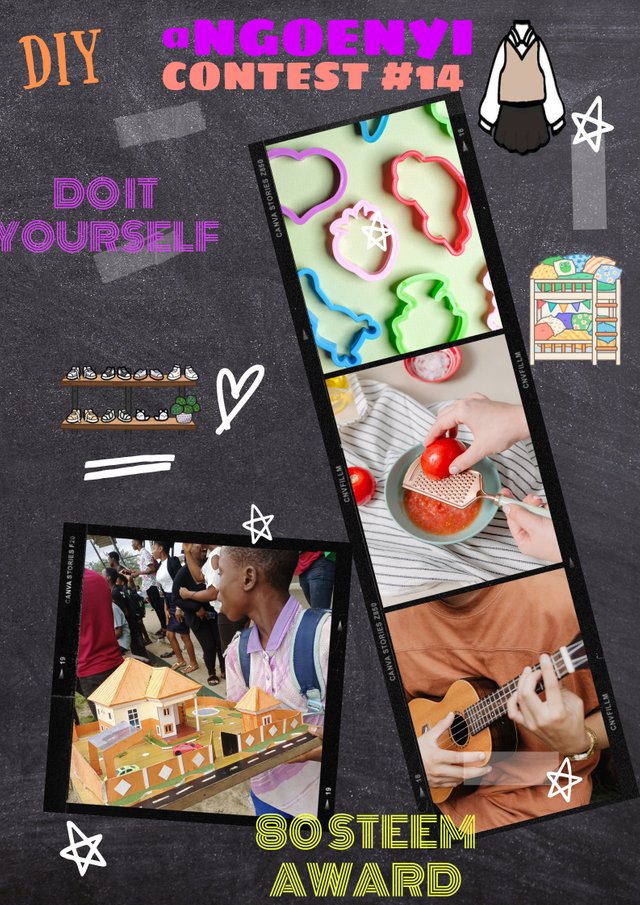 MY PLANS
I will also participate in the the coming week's promotion, do my work as a representative for my country and pioneer the affairs of steemkids community.
To the best of my ability, I will also do my work in other communities I am moderating.
CONCLUSION
I am glad to work in my capacity as a country representative for Nigeria.
Thank you @steemitblog and @steemcurator01 for all the supports.
Best regards from me
@ngoenyi
Nigerian representative
This is my introductorypost here

Support us by delegating STEEM POWER.