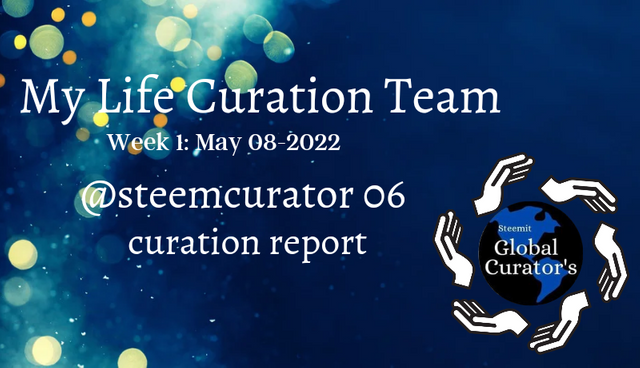 Greetings Steemit Team, on behalf of the Steemit Global Curators Team, I am submitting our first curatorial report for the "My Life" category tag using the
@steemcurator06
curation account for the period of May 01-2022 until May 07-2022.
Our team is still in the stage of adjustment because some of our team members have no curatorial experiences yet. There were minimal errors, but I believe everything can be learned if everybody works together as a team and present all the skills that can be used for the group's success. Our team leader, @anroja is actively guiding and giving us instructions on what to do on our Discord channel.
As an assistant team leader, I am the one who is encharged to managing the list of curated posts on our Google sheet, reminding team members curation schedule, and helping in guiding our teammates, especially on how to prevent the possible abuse of the @steemcurator06 upvotes.
---
Curation Data
---
Different Countries covered: 15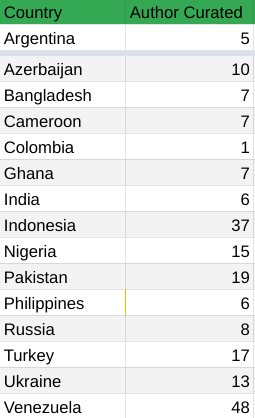 Users from Venezuela and Indonesia are the most active in using the My Life category tags, for this reason, they have a large number of curated posts.
Different Communities Covered: 29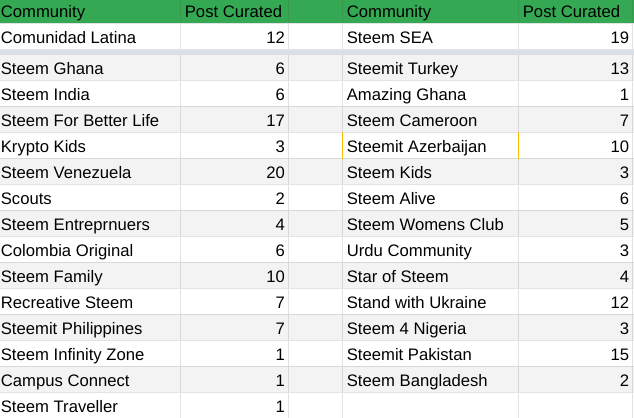 Total Number of posts curated: 206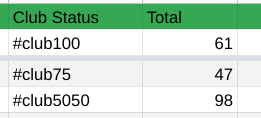 Based on our observation the #diarygame tag is frequently used. Therefore we decided that all team members will check the #diarygame tags daily to cater all quality posts.

---
Curator's Top Choice of the week
---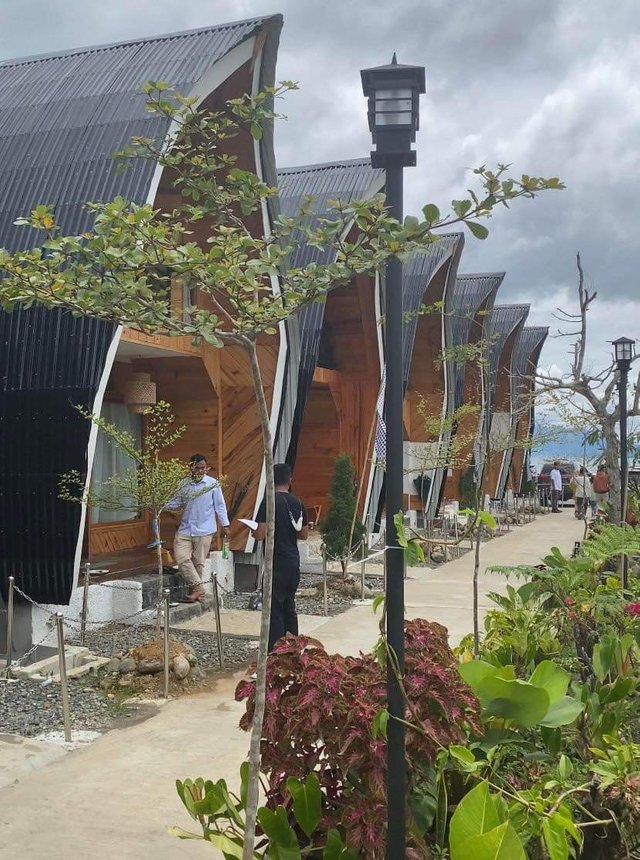 Author: @narasi
Club status: #club75
Post Link: The Diary Game Kamis ( 5 Mei 2022 )
I chose this content because he wrote his diary well about his travel activity in a tourist spot far from where he lives. He was able to describe well why that place is the best tourist attraction in Indonesia.
Nominated by: @anroja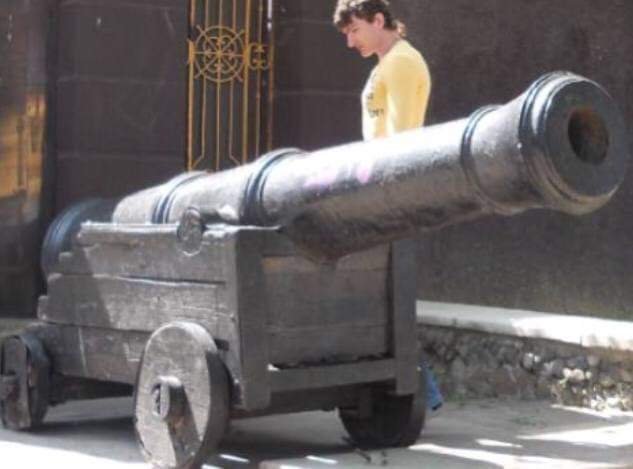 Author: @golden-rain
Club status:#club5050
Post Link: THE DIARY GAME: May 3, 2022 – тактична пауза через травму коліна
A touching story about children's images. Why and what a strong insult to the father. About the memories of their ancestor's grandparents. About the life trauma that haunts.
Nominated by:@olesia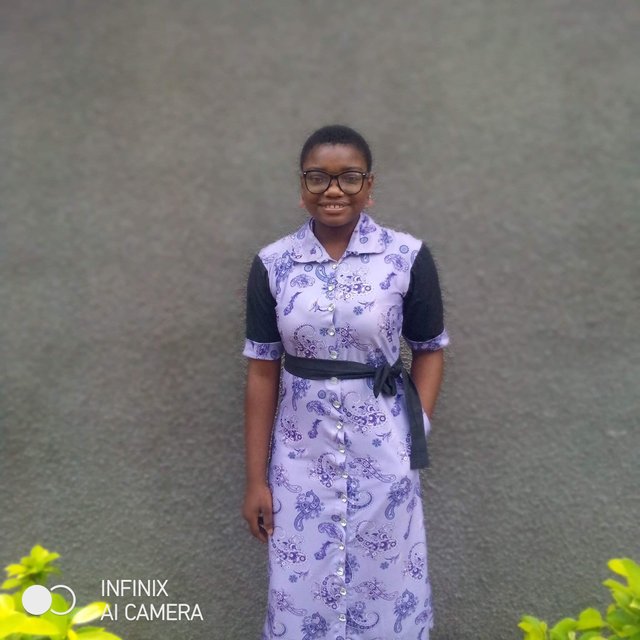 Author: @madilyn02
Club status: #club75
Post link:Club75|Thediarygame (01-05-2022):Happy Sunday as always 😍
She recounts her day of going to church to worship God and tells us that she learned the lesson that we should imitate Jesus in all our daily lives. She also shows us part of her African culinary and gastronomic culture. It is a very complete and well laid out and explained diary publication.
She is an exemplary blogger, participates in many communities, and has very versatile and fresh content.
Nominated by: @graceleon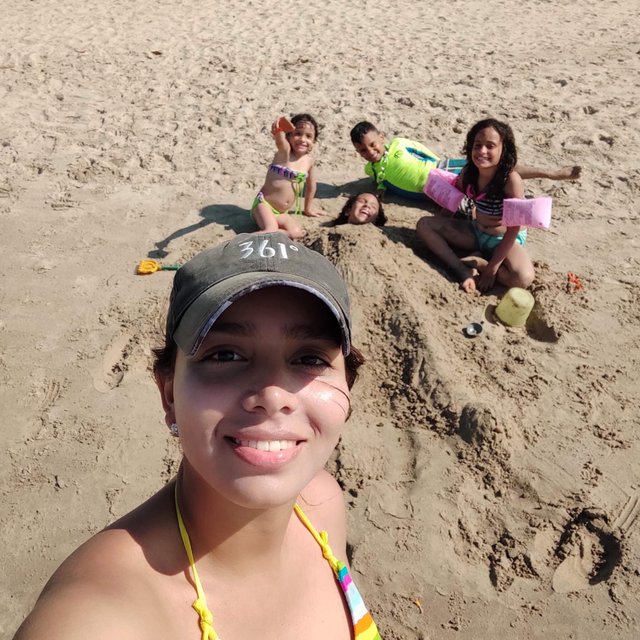 Author: @oneidaa
Club Status: #club5050
Post link:THE DIARY GAME: 01/05/2022. || Bendecido domingo de playa. 🌊🌴☀️ #Club5050
I have seen many Diarygame posts and all the authors write their dairies very well. But the diary game that I select has its own quality level. In this selected article a woman goes to enjoy a picnic at the sea beach for her cousin. She describes all its diary games with proper photos and paragraphs. She gives proper heading for each paragraph that impresses me more to select it. Besides, this markdown style of writing dairy game also impressed me a lot to select and its post has no plagiarism. So, these are some of my reasons for selecting this article.
Nominated by: @malikusman1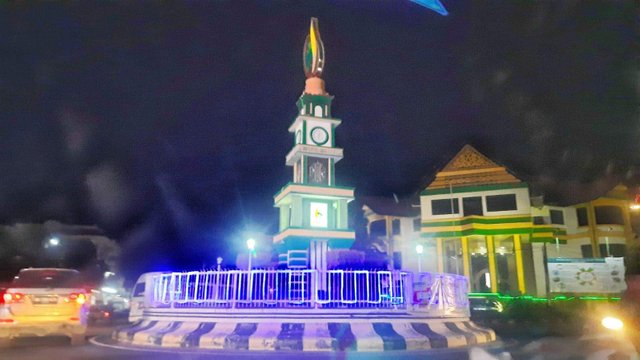 Author: @klen.civil
Club status: #club5050

Post Link: Night View of my area in #mytown10pics
This User has taken time to feature the night view of some useful locations in his city with a review of which can serve as tourist attractions, I consider it quality content because of the google locations maps he attached to each of the pictures. The word3word made it easy to track such locations. This is a good way to do mytownin10pics because many things that will be conveyed in this user's posts will later relate to tourist attractions that are not widely known by many.
Nominated by:@ubongudofot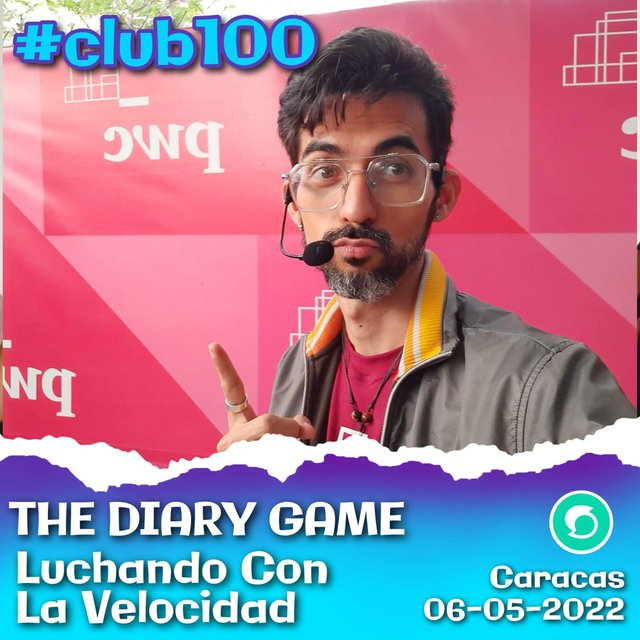 Author: @prometeo01
Club status: #club100
Post link: 🎨🎭 THE DIARY GAME III // CARACAS 06-05-2022 // LUCHANDO CON LA VELOCIDAD // #CLUB100 🎭🎨
While talking about the activities he did during the day and his abilities, our writer also talked about the problems he experienced and the solutions he found to these problems and tried to give good messages by presenting solution-oriented messages to his readers in his article. Provided readers with useful advice. At the same time, the font layout and markdown codes are used very well. It was one of the best articles I've read all day.
Nominated by: @baycan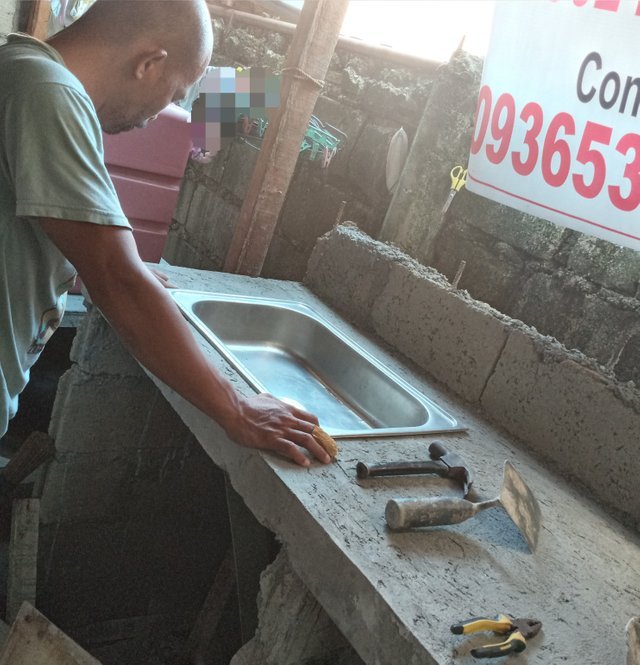 Author: @natz04
Club status: #club5050
Post link: The Diarygame Season 3: | May 03, 2022 | House Improvement Update #004
I chose this post because, for me, this man is an inspiration. Despite the needs of his family, he still maintained his #club5050 status.
On his dairy, he told us how he repaired his own house after being destroyed by the strong typhoon. According to him he mostly used his Steemit earnings to finance that said repair and to finance the needs of his family. Good thing that he is also a draftsman and knows carpentry works.
Nominated by: @juichi

The Steemit Global Curators Team,
Team Leader: @anroja -#club100
Assistant: @juichi -#club100
Members:
@olesia -#club100
@baycan -#club100
@malikusman1 -#club100
@graceleon -#club75
@ubongudofot -#club75