I send you a cordial and fraternal greeting, my dear colleagues of the Steem Pod Team.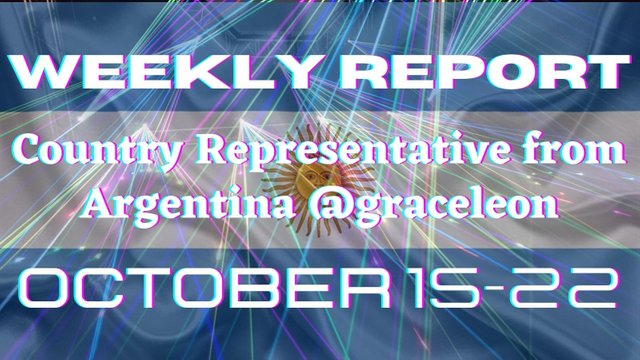 ---
I present to you my management of the first week of October as Representative in Argentina.
From 15 to 22 October, I report the following tasks
---
---
13 Posts produced this week with my personal account @graceleon :
| POST PRODUCCION | CANT |
| --- | --- |
| The diary Game | 06 |
| Weekly Report greeter and curation Sc03 | 1 |
| Weekly Curation Sc05 | 1 |
| Power up #club5050 | 3 |
| UPDATE LIST Argentinians users | 1 |
| Contest participations | 1 |
TOTAL POST PRODUCCIÓN ACCOUNT @graceleon:13 post Weekly October 15 to 22.
---
---
---
---
LATIN COMMUNITY:
RECREATIVE STEEM COMMUNITY:
---
Curation user latinoamérica:
---
Voting CSI


Tools created @steemchiller steemworld.org/@graceleon
Effective Power @graceleon 7,355.81 SP ( 8,296.57 PROPIOS + 5,078.14 - 6,018.91 DELEGATED )
I present to you the distribution of the votes I contribute.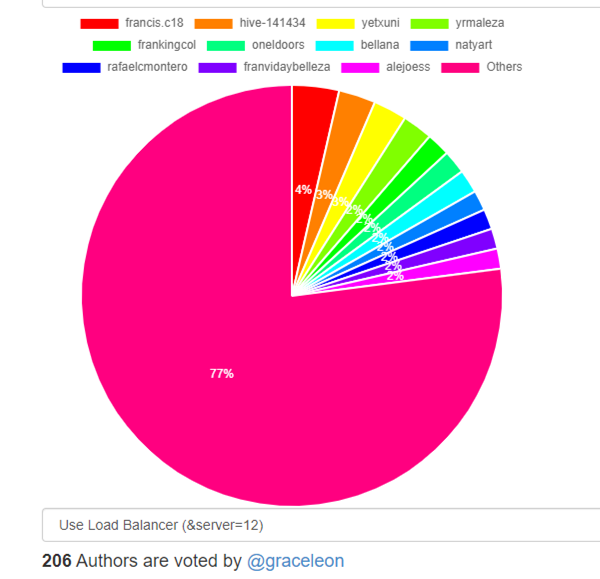 This weekly October 15 to 22 I have promoted contests on RECREATIVE STEEM.
With the RECREATIVE STEEM COMMUNITY that is @hive-141434 promoting the massive participation initiative in each of their contests.
We have had a wonderful response from bloggers all over the world and we are very pleased.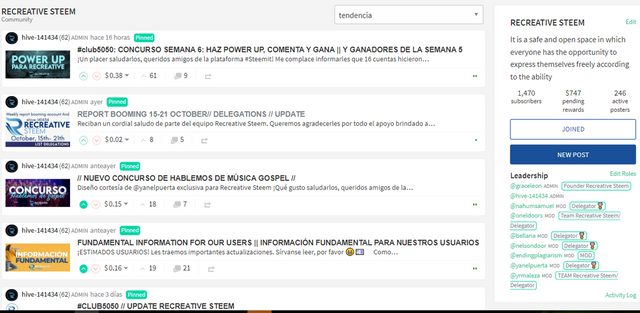 Capture RECREATIVE STEM
Effective Power 11,691.80 SP ( 3,204.36 + 8,487.44 )
Tools created @steemchiller Account community RECREATIVE STEEM steemworld.org/@hive-141434
I thank the curator accounts for all the support given to me, the community account this week and the bloggers who make RECREATIVE STEEM come alive. We are very grateful.
The Recreative Steem team is currently working on the application for the November Community Support program.
APPLICATION FOR THE NOVEMBER COMMUNITY SUPPORT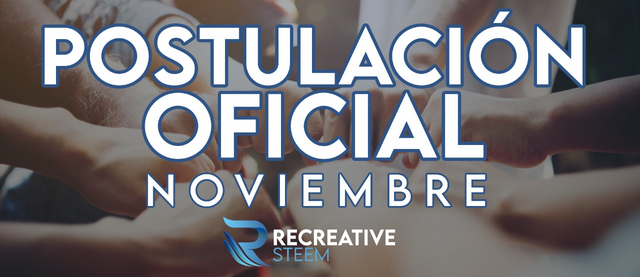 ---
Other activities as representative in Argentina:
I have funded the prizes of the Recreative Steem community contests with my personal account. You can see the outflows from my wallet to the various contest winners. I have set myself the goal of boosting the community account to the maximum, promoting the powerup massively. I have also managed to attract many delegating bloggers to the community, little by little we are growing a lot.
My personal account this month I have made 7 powerups of all my earnings so far, approaching my goal of 10k for this next month if possible.
I am currently part of the Steemkids community as a guest moderator friend of @ngoenyi CR Nigeria Founder of Steemkids. Where I support him with votes, comments and selection of quality posts. @steemkidss. I do this activity daily and work the community account on Thursdays giving votes and comments.
I also continue to work on steemit Nursery selecting posts to be awarded in the Minowsupport 500 SP support program account with the leader @cryptokannon and the CR team. This week I selected 18 posts for curation with the booming account.
I continue my work as a founding leader of RECREATIVE STEEM, promoting the participation, inventiveness, creativity and growth of the bloggers who make life in it. I make every day the selection of quality publications that will be awarded with the booming account assigned by @steemitblog.
This week my fellow CR Argentina @belenguerra and @fendit assigned me the role of moderator of Steem Argentina. We are waiting to receive instructions from you so that together we can make steemit grow in Argentina.
---
---
Grateful for the support you give us and willing to receive any support and suggestions for optimal growth.
---
I appreciate the support and trust that the @steemitblog and @steemcurator01 team have given me, as well as the support given to me by my colleagues @ tocho2, @ anasuleidy, @ edlili24, @ inspiracion, @ belenguerra, @ fendit, @ wilmer1988 @ adeljose @ albenis @ saracampero, @ nahela, @ rypo01 and @ miyexi.
Thanking you for all the support and trust that you have given me within the platform;
I say goodbye to you with affection;
---
CC.- @steemitblog @stemcurator01 @steemcurator02
---