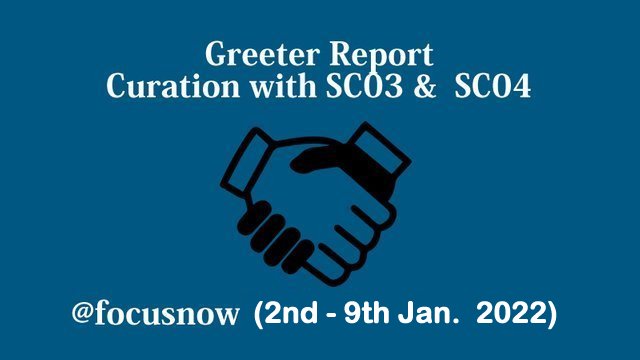 Introduction
This is my very first greeter post for 2022. Sorry I have not been able to make some reports since the last week of December 2021. So here is a collection of posts that I verified and labelled as a greeter in Newcomers community

Achievement 1
Total Achievement 1 Posts Greeted and Verified with @steemcurator03 = 10

Achievements 2 - 6
Total Achievements 2-6 Posts Greeted and Curated with @steemcurator03 = 2
All Achievement posts Greeted and Curated with SC03 = 12

We use the SC04 in rotation among the 4 Nigerian CR's. It was my turn to use it within the last 7 days. Here are the accounts I was able to support with it.
Supported with SC04
Total posts supported with @steemcurator04 = 10
I will make another post next week to show my greeter and curation work. I thank all the team members for the hardwork everyone puts in to welcome and verify newcomers. I wish us all the best.