---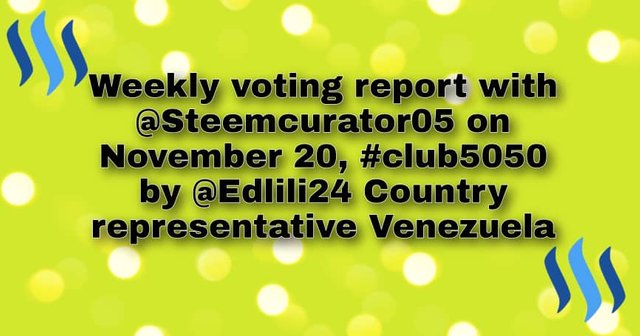 ---
Today I want to share through this publication the work done with the curation account @steemcurator05, which has been enabled to support the participation of South American users who participate in the #thediarygame and #betterlife initiatives.
The selection of the publications was made this November 20, 2021, after the account reached more than 96%, where a total of 20 publications were selected to receive a vote in favor in addition to the account @steemcurator05 and which have been participating in the #thediarygame and #betterlife, in addition to taking into account those users who have been active with the #club5050 initiative.
After having reviewed a total of 171 accounts through the list that corresponded to users from South America, there were 59 users active on the platform. Of those active users, only 31 users are participating in the daily games, but only the 20 selected are active with # club5050.
In summary: of the 171 users visited, 112 are inactive for at least 1 month, 59 users are active publishing on the platform, of which 31 are participating in the #thediarygame and 20 are turning on their steem power through #club5050.

List of visited and curated posts:
This is one of my activities and responsibilities as a country representative as mentioned in my weekly report:
| Report | Small picture |
| --- | --- |
| | |

This is my weekly contribution whit @steemcurator05 for the whole steemit community, made with a lot of love.
Grateful for belonging to this great team!
Sincerely
Servant Representative of
country of Venezuela @Edlili24
Thanks for the Love!
C.c @steemcurator01
---