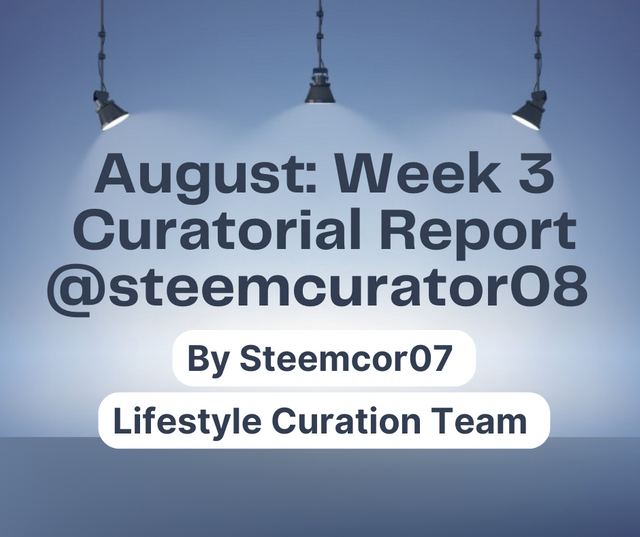 I am going to share the 3rd curation report of August, by the lifestyle Curation Team, steemcor07 through steemcurator08. My team members @f2i5, @samuel20, @juzkid, @marlyncabrera, @mrsokal, @deepak94, and I do my best to curate as many posts as we can. Each team member curate one day of the week following all the lifestyle theme tags.
We have covered 33 communities, 170 posts curated, 17 countries, and 9 languages. Our team tried not to upvote more than twice a user a week. Select best quality posts for nomination.
Account Statistics
---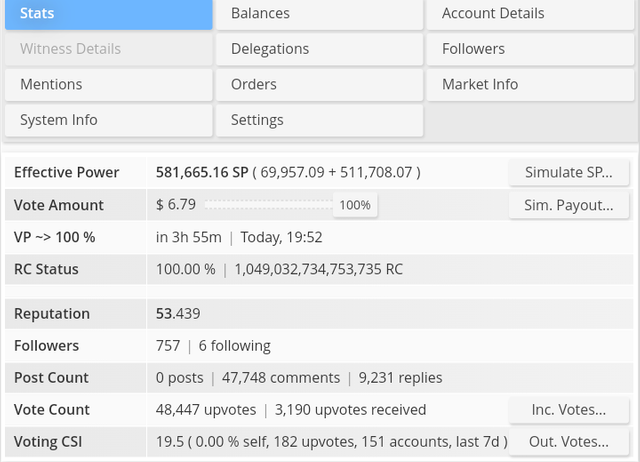 Total Posts Curated
---
| Total Curated Posts | Club5050 | Club75 | Club100 |
| --- | --- | --- | --- |
| 170 | 92 | 40 | 38 |
Communities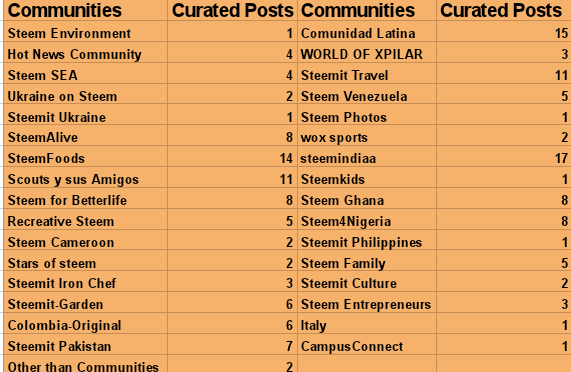 Countries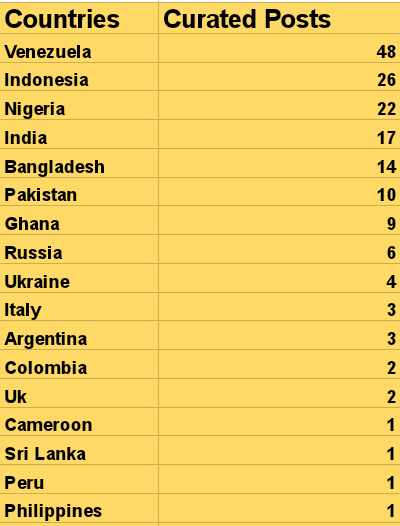 Languages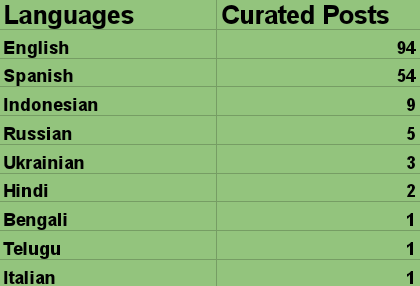 Categories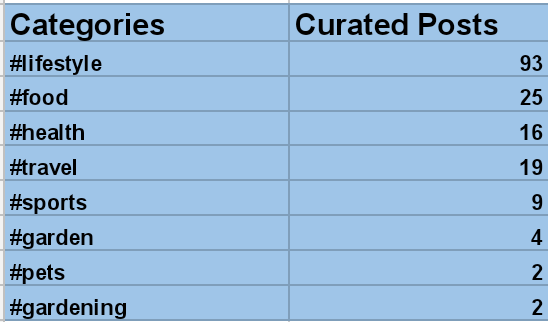 ---
Top 7 Nominations
---
Author: @junebride
Club Status: Club100
Selected by: @samuel20
In this post, @junebride tells us in an entertaining way about how she and her husband undertook a tasting of knick-knacks for their young son. The idea has all the sweet, family charm we want to me see on Steemit: a beautiful family afternoon on a day that was to end with a bonfire, a couple of parents trying to pass on part of their childhood to their firstborn. @junebride has illustrated her post with beautiful, neat photos she has taken herself. Her language is impeccable and in each paragraph, she is very skillful in spinning a simple story that will fascinate readers by @samuel20
Note: Curation Window Closed
---
Author: @alena-vladi
Club Status: Club75
Selected by: @marlyncabrera
@alena-vladi will not waste a single word. Each line in her post communicates an essential part of her message. This time she tells us about her experience in Veliky Novgorod, where she is supposed to spend 3 days while participating in the Business Forum from the TopBLOG project in Russia. In paragraphs 5 and 6 we can learn that she recognizes the exercise of publishing in Steemit as a training that helped her to write on the topic "Cultural Heritage", in a style she was not familiar with, and thus enter this project in which we wish her success. What made me choose this post is its light style, fresh and full of content in each of its short paragraphs; the text is very well supported by original photos of the author in which you can see the forum program, with information that also inspired some commentary. All in all, this is a post where the blogger demonstrates her efficiency to communicate her ideas about a great experience in her professional life while letting us feel the atmosphere in which she is immersed so that we can also live this moment by @marlyncabrera.
Note: Curation Window Closed in 5 days
---
Author: @ripon0630
Club Status: Club100
Selected by: @mrsokal
In this post author beautifully describe about his travel story. He properly used her own travel images and apply markdown styles. His pictures was very high quality. He took some beautiful photographs in botanical garden and write a good description about the place and his journey. He is also maintaining club100 by @mrsokal
Note: Curation Window Closed in 2 days
---
Author: @sduttaskitchen
Club Status: Club75
Selected by: @ashkhan
In this post, the author told about her experience in Varanasi pilgrimage. She shared all the pictures of her journey with her brother and family. Told us the reason of Fame of Varanasi or Banaras . She shared her visit to different temples or Durga at Varanasi and her shopping too. The images and markdown styling was also great. The picture presentation and logo attract me to choose her post by @ashkhan.
Note: Curation Window Closed in 3 days.
---
Author: @faran-nabeel
Club Status: Club75
Selected by: @juzkid
I choose this post as my best pick because he introduced himself as a food technologist.He shares theme recipe of pizza which is a delicious fast food and his favorite. Precisely it was a chicken tikka pizza that is very easy to make at home. With pictures and step by step process, he makes us know the ingredients for the pizza . I choose it as my best pick because one can easily learn and prepare pizza with the steps he uses by @juzkid
Note: Curation Window Closed in 4 days
---
Author: @yuliadi
Club Status: Club100
Selected by: @deepak94
The best thing about this post is that the author, while spending time with his children, has taken them out for a walk and is feeding the children their favorite meatballs. He also showed the price of all the edible food items in steem. He explore that day with his family and shared a wonderful diary by @deepak94
Note: Curation Window Closed in 1 day
---
Author: @liasteem
Club Status: Club100
Selected by: @f2i5
@liasteem is describing to the audience how he became a nature lover. Humans who live side by side with other living things that all need to eat, also need to balance the natural ecosystem in the life cycle like humans. I totally agree with his opinion that "everyone likes different kinds of living things to be friends with". Especially something to talk to. It looks like it will be more interesting to follow the story in the post by @f2i5.
Note: Curation Window Closed in 5 days.
---
Team members
---