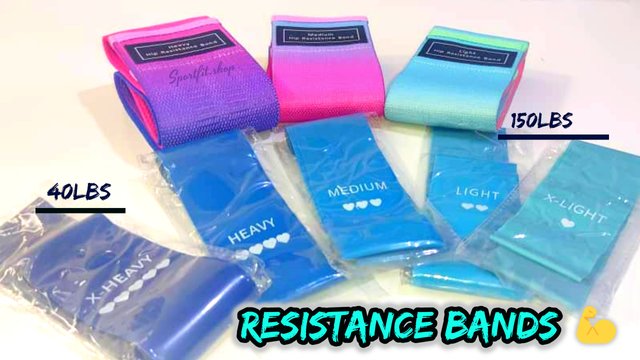 As a company we want our clients to feel comfortable, safe and confident when training.
The training sessions, no matter how simple or easy they may seem, require the correct use of the equipment, but these must be guaranteed, in terms of being a material of excellent quality, which covers the required demand.
In Sportfit shop we have different models of bands available to train; In this case, we will show two models in a single presentation, 150 Lbs fabric bands and 40 Lbs latex bands.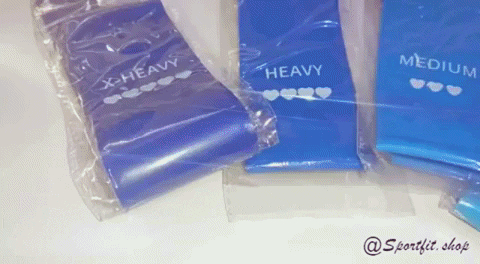 Although we have bands with higher Lbs, we only want it to be understood that the use of both is equally favorable, for what the client needs.
Each band does the same work, according to the needs of the client, however the work used in the exercise routines will depend on the practitioner.
As shown, there are bands of different resistances, in fabric and in latex, some exercises may be easier than others and everything will depend on the domain that the client has at the time of carrying out the activity.
These exercises can be for the upper and lower part, all contributing to the benefit of health and the figure that you want to obtain.
What would you like to start with?
The normally experienced client knows what he wants and the correct uses that he will give to the product and the one who still does not have enough knowledge, but who is on the way to learning and understanding how to use it and the benefits of training with the bands, little by little. It will be part of a successful routine.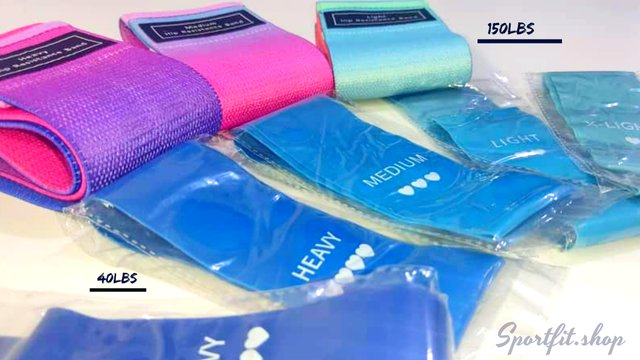 As sellers we can offer you all at the same time, but being a conscient it is good that the client takes into account the following:
💪 For clients, who still do not have enough knowledge or time in training, latex bands are a great ally to start.
💪 Latex bands are more controllable, for recent clients in training.
💪 Latex bands in their lower intensity, can be used in the upper part, to work chest, biceps and others, but take into account that at first the best is the minimum resistance band.
💪 The fabric bands are great, without a doubt, they also serve to work the whole body, however, to be mastered it requires an increase in muscle mass, because you must make strength, you must maintain balance, since these bands are not same to the latex ones.
Exercising with both bands brings unique results, but each client will learn to use them and get the most out of them.
Latex bands set
A set of five (05) latex bands that are practical, functional and versatile. Training has never been more fun and with a team with which you feel unique when training, because it makes you stand out and of course keeps you in shape.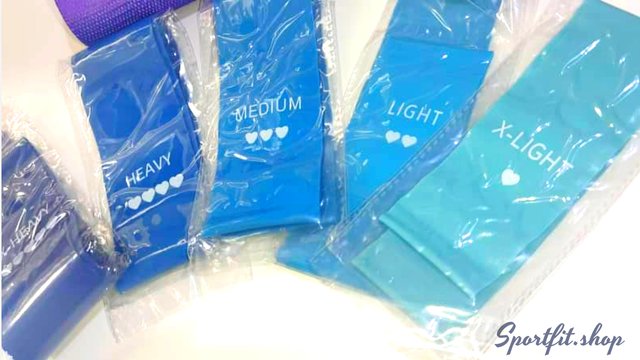 The latex bands can be worn alone or combined, as you prefer, but also according to the type of exercise you want to do.
In order to increase and knowing the resistance that is being had, the client goes from lower to higher in resistance, and increasing strength.
Each band is unique, the performance will depend on the client, who puts his maximum effort into getting what he needs.
The body needs movement, it requires elasticity, latex bands complement routines and keep the body in good physical condition.
fabric resistance bands
The resistance bands in fabric material, are currently the most sought after, these bands in 150 Lbs, help maintain the body as you have always wanted it.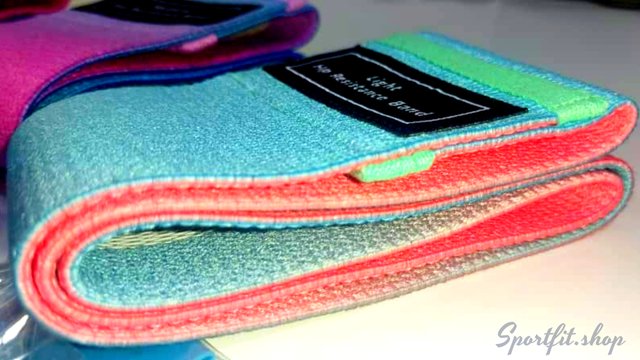 They can help:
💪 Sculpt.
💪 Mould.
💪 Reaffirm.
💪 Toning.
💪 Burning calories.
💪 Increased muscle mass.
Everything will depend on the training, the exercise and the needs of each client.
To get these results, whatever it is, you have to put yourself 100% into wanting it to happen.
One-day workouts do nothing, instead if you plan and perform varied routines that help each part of the body, you will get the results you always dreamed of.
Two unique options
Training bands, both in their different presentations are unique and with good results for those who choose the one that best suits their needs.
| latex bands | fabric resistance bands |
| --- | --- |
| | |
Each one will be the one that helps the body to be in good condition, to look like it has always dreamed of and to maintain its ideal weight and figure.
Characteristics of latex bands
Latex bands, in colors that make the client the sensation in looks and in the execution of the movements with each of the 5 bands, remember that they can be used alone or together, to intensify the training.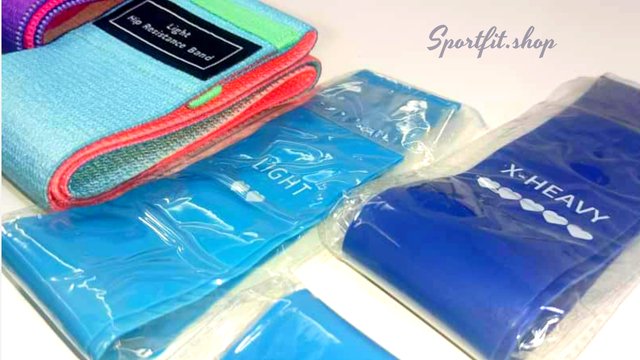 | 💪 Extra light = | 5 - 10 Lbs |
| --- | --- |
| 💪 Light = | 10 - 15 Lbs |
| 💪Medium = | 15 - 20 Lbs |
| 💪Heavy = | 20 - 30 Lbs |
| 💪Extra heavy = | 30 - 40 Lbs |
Uses and benefits:
Within its uses, it is found to be able to perform sit-ups, if we focus on this routine, the client is surprised how varied they can be and the results obtained.

Profits. They do not mistreat, they are resistant, they do not contain a bad smell, easy to handle, among others.
Characteristics of the 150 Lbs fabric bands
Fabric-type resistance bands, with a resistance of 150 Lbs, are strong bands, and may be available in higher Lbs, but these are adequate for the training to be, yes or yes, the best.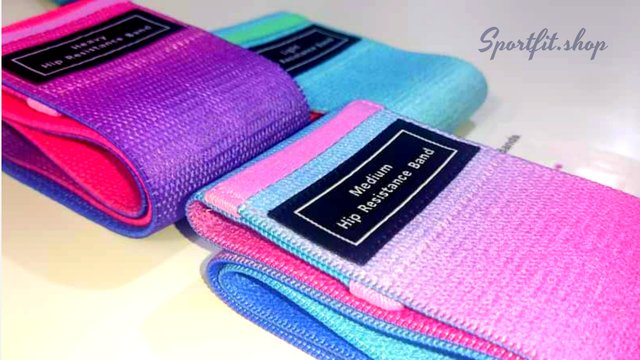 | Bands | 150 Lbs |
| --- | --- |
| 💪 Light = | 60 Lbs |
| 💪 Medium = | 90 Lbs |
| 💪 Heavy = | 150 Lbs |
Unimaginable results, satisfied customers all over the world because the 150 Lbs resistance bands are what they promise.
Uses and benefits:
Within its uses, if they focus on buttocks, they will be on another level, because it gives the necessary firmness, reaffirmation, and they will not be able to stop training.

The benefits of its use are short and long term, and these are consistent with the routines, because you cannot do a routine one day and spend a week to start again, you must be decisive, but the benefits They are amazing, each routine used shows you that if it is to lose weight little by little, it will be demonstrated and of course in the increase in muscle mass that is extremely necessary, so that the body looks and is well.
---
---
Product costs. 💪
Even in this month of January 2022, fabric bands are $25 and latex bands are $15. Coming soon new merchandise its prices will change the value, due to acquisition costs, it rises for new merchandise, transportation, remember that they are resistance bands of imported material.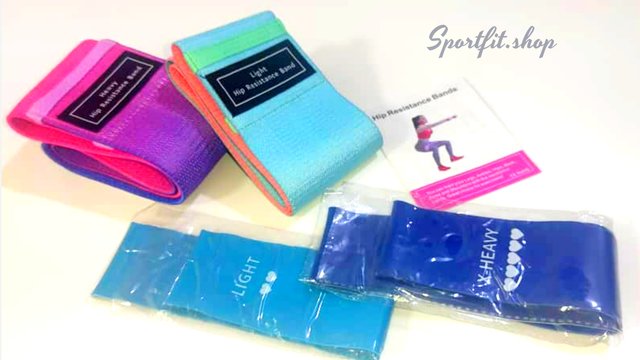 | 25$💪 | 6.641 Sbd | 67.683 Steem |
| --- | --- | --- |
| 15$💪 | 3.985 Sbd | 40.61Steem |
Each set corresponds to the quantity mentioned, latex bands 5 bands and fabric resistance bands, 3 bands. They are not sold separately.
They are available, you can contact through Discord or through any of our social networks.
---
---

---
Our business found what it needed to improve customers and stability, thanks community for the support!