I send you my sincere greetings, dear community. God make your businesses prosper in an impressive way.
Cupcakes and sighs
The best way to predict your future is by creating.(Peter F Drucker)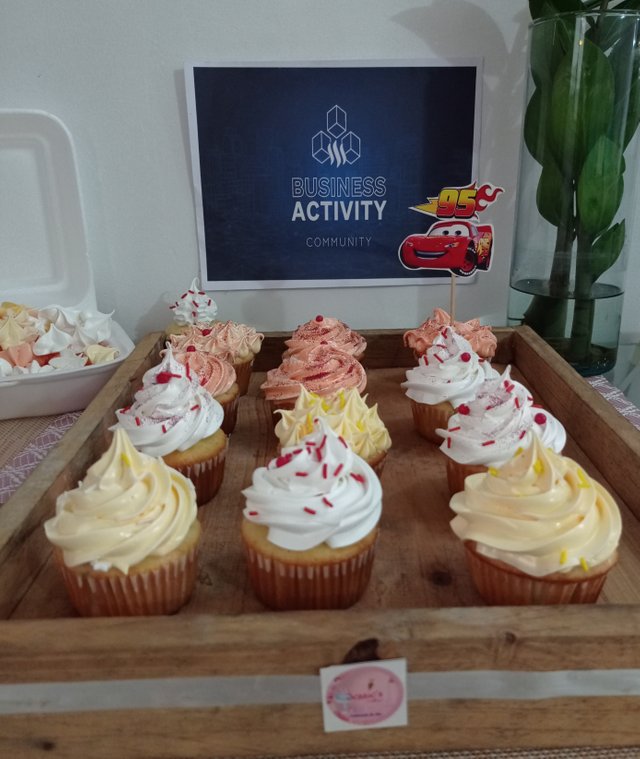 And here I am, as our friend Peter said, building my sweet pastry world. The world where I forget reality, the world and despite the circumstances I build my future little by little, and now hand in hand with #businessactivity, where our businesses will go beyond what we dreamed of.
Order of the day: 24 cupcakes topped with Swiss meringue.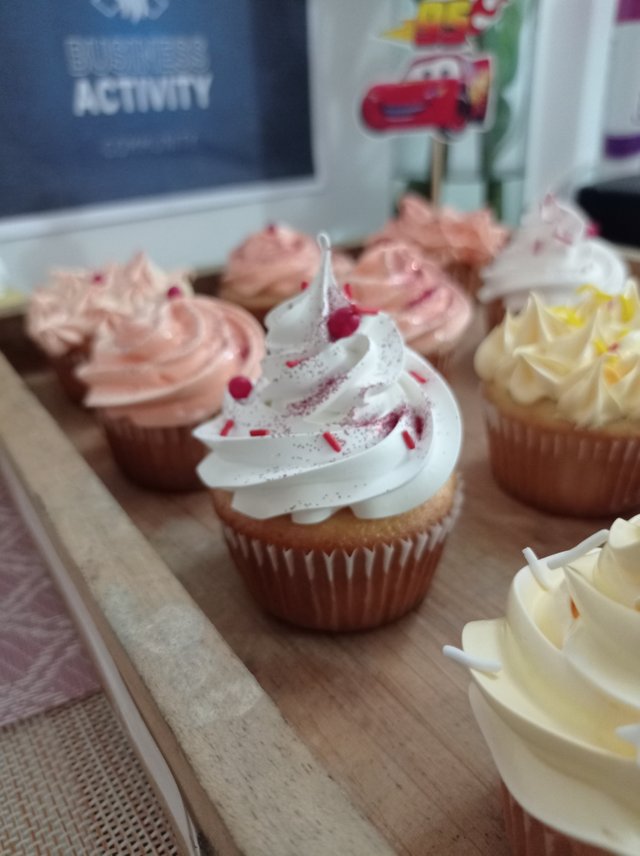 Today I delivered 24 vanilla cupcakes, topped with Swiss meringue, with colors alluding to the very famous Cars comic.
Price :
| | | |
| --- | --- | --- |
| 24 cupcakes for $ 8 | SBD 0.805 | STEEM 1.426 |
In just 5 simple steps, you can have delicious cupcakes, for your celebration or simply for your children's snack. I show you in the following photos the ingredients that I use and the procedure to make them.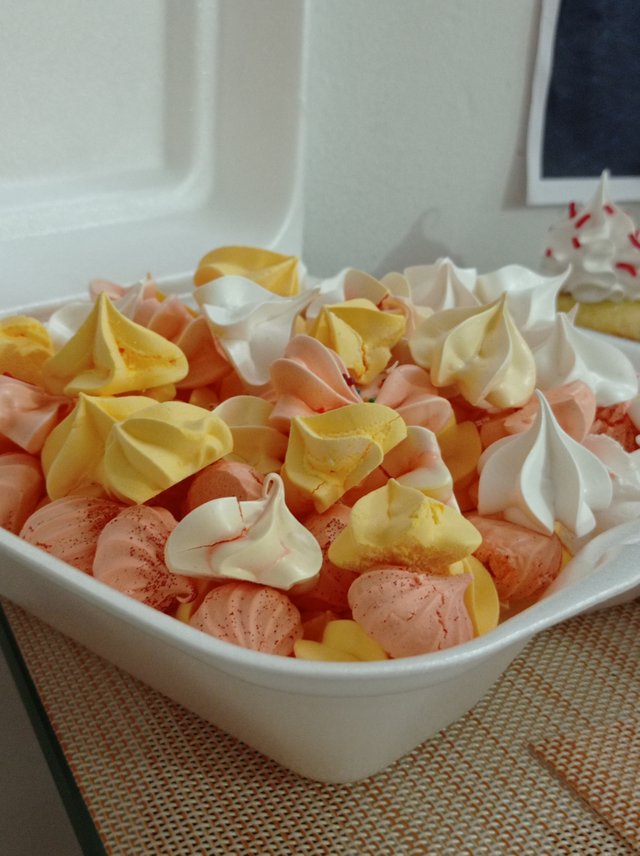 For this celebration they also asked me for 200 sighs.
Price:
| | | |
| --- | --- | --- |
| 50 sighs for $ 1 | SBS 0.106 | STEEM 1.44 |
Ingredients and procedure of cupcakes.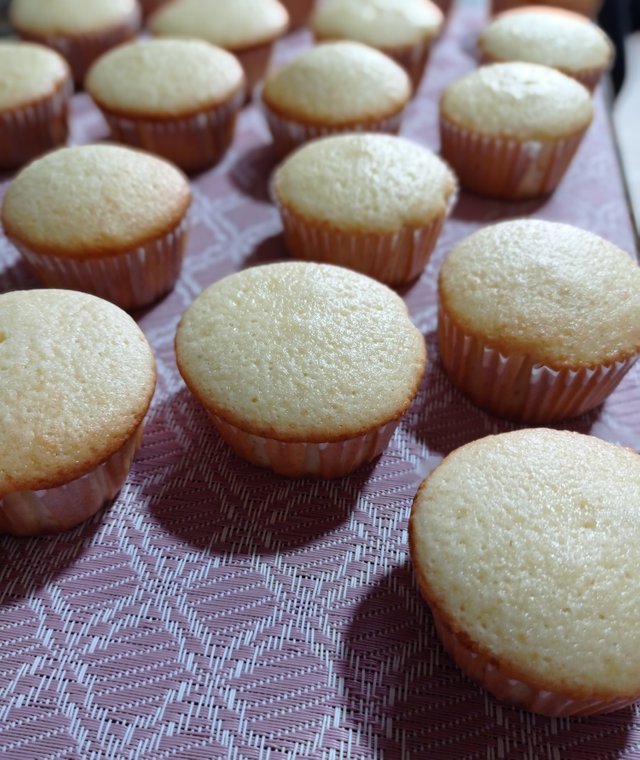 Freshly baked cupcakes.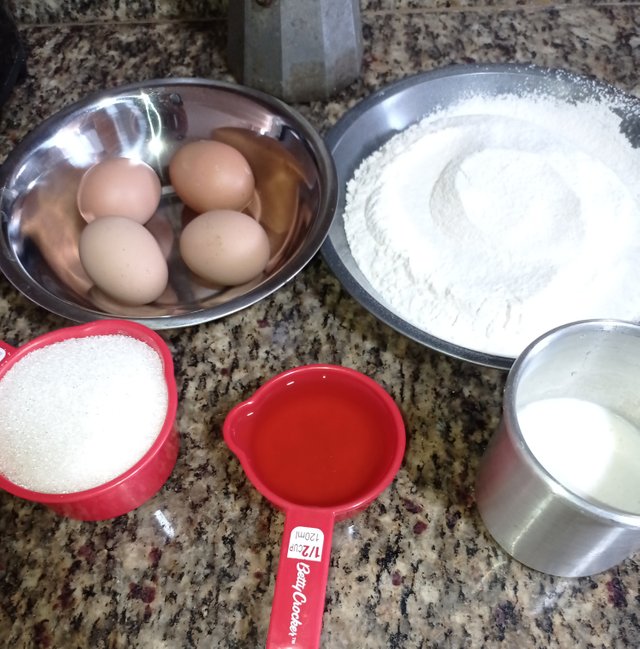 Ingredients:
4 eggs.
1 cup of sugar.
1/2 cup of oil.
2 cups of flour.
01/2 cup of juice or milk.
N 10 saucers.
You can prepare these delicious cupcakes in just 5 simple steps:
1 -Beat the 4 eggs until they are quite frothy and double in size.
2 -When the eggs have risen enough, add the cup of sugar little by little.
3 -Add half a cup of oil in the form of a thread.
4 - Then add the cup of flour, when it is well mixed add the cup of milk or juice.
5 - With enveloping movements and with a trowel add the rest of the flour.
Tips:
✨To make the cup cakes lie flat, and make it easier for you to decorate them, you should bake them at 160 degrees, more than this will make the belly inflate and it will be more difficult to decorate them.
✨Fill the basket 3/4 full, so it is flat.
Cupcakes are special and cute. Ideal for a snack or decorating your candy tables. These I made are vanilla, and although their preparation seems difficult, the truth is that achieving a light and fluffy cupcake mix requires the exact movements.
The spectacular and delicious tres leches.
I want to give you some tips so that your tres leches cake is perfect.
✨When the cake is ready, moisten it with the mixture of the warm tres leches so that it becomes more soggy because it absorbs more.
✨Before handing it over or eating it, let it rest for a whole night in the fridge. This way the flavors are more concentrated and it is super delicious.
✨After a night in the fridge before decorating, you can moisten it a bit.
✨And voila, you can decorate it to your liking with what you most want. Give it up or enjoy it.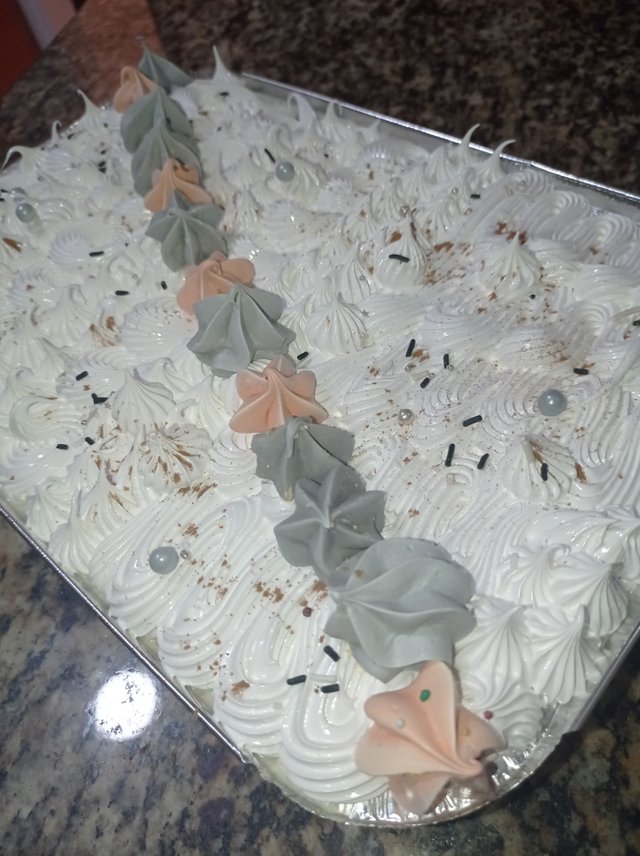 My new acquisition thanks to Steemit and Busibess Activity.
The * Saint Honoré * nozzle, I wanted so much to have it among my pastry utensils. Its name is very sophisticated, with it super beautiful decorations are made, there are different sizes. There is a cake of French origin, called * Saint Honoré *, and it is with this nozzle that they decorate it. The shapes that are made with this nozzle are varied from geometric to wheat ears. So soon I will be showing you a cake decorated with this nozzle.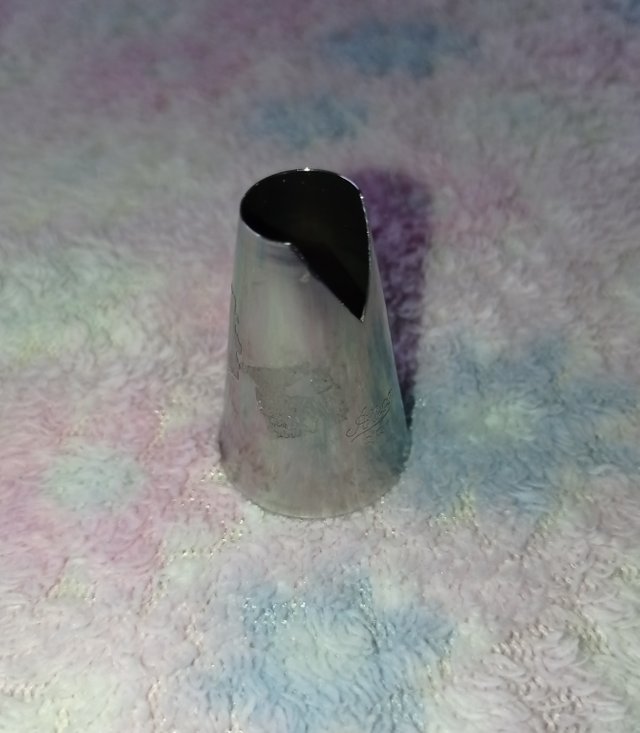 And this beautiful mold called Domo, I bought it to practice a cake that is in trend called * chocolate cake *. Soon I will be uploading a post about it.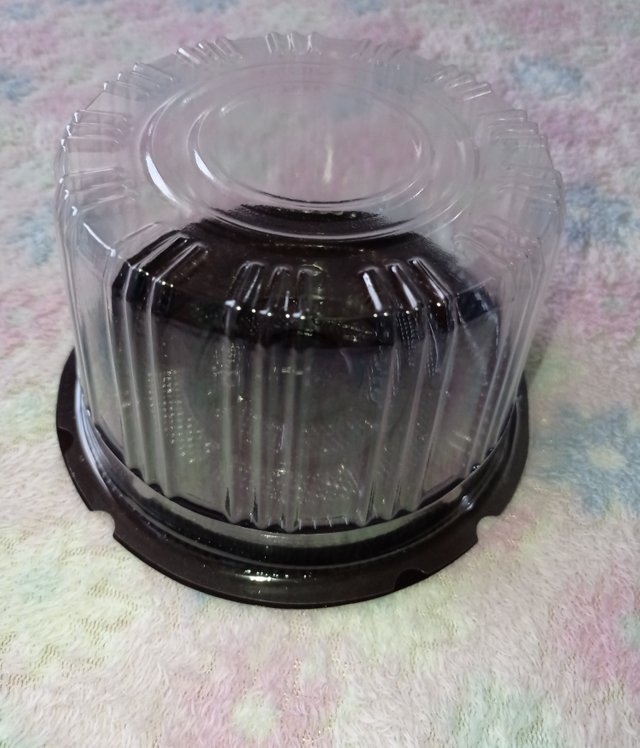 They all start out strong. Success comes to those who have an unwavering commitment to keep it that way until the end. (Howard Schultz.)
I know that circumstances are difficult and sometimes it causes you to throw in the towel, but stand firm and unwavering, and you will rise to the pinnacle of success. God bless you today, tomorrow and forever.
See you in a next post. God bless your business.