Happy day and many blessings to all my friends from #businessactivity. It is a pleasure for me to be here again, presenting my business activity.
Weekend business activity.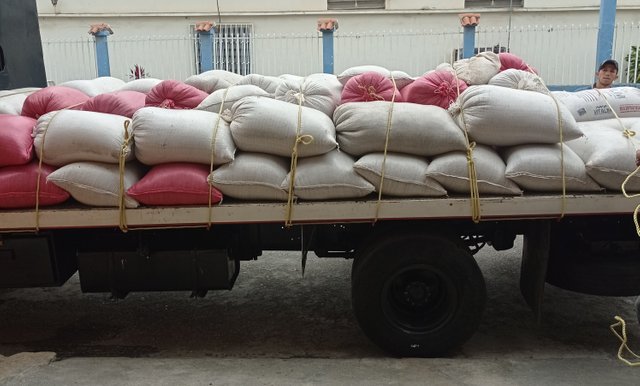 At the weekend I undertook a trip to Barquisimeto Estado Lara, to buy two racks of raw coffee. On this occasion I was accompanied by my wife @felyess my cousin Richard and my brother Miguel. As you know, my wife runs the store.
Distribuidora De Alimentos Y Servicio G.I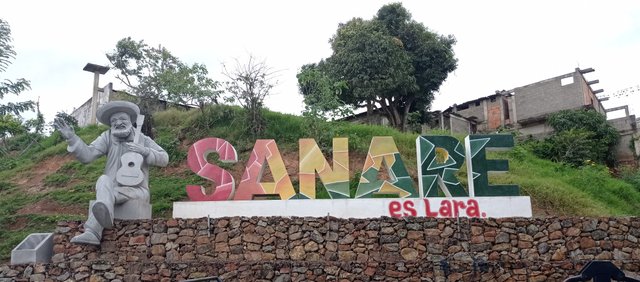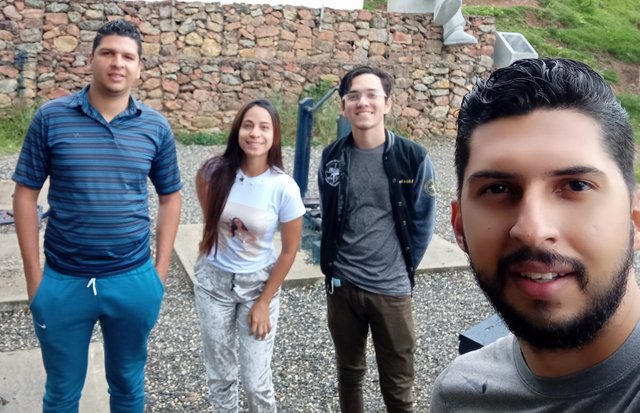 Our functions on this business trip.
And although it seems like a vacation trip, it really is not. It is a well-planned trip, with the logistics previously planned so that the desired objectives are achieved, which is to achieve the purchase of as much coffee as possible. Sanaré is a coffee-growing town that is dedicated to the commercialization of coffee in all its forms. In our case, we are buyers of raw coffee, because we have our roasting plant in the city of Puerto La Cruz and we process the coffee ourselves. We also do it according to the taste of each client. We have bakery-owning customers who like to roast light coffee and we have winery customers who like to roast rather dark coffee.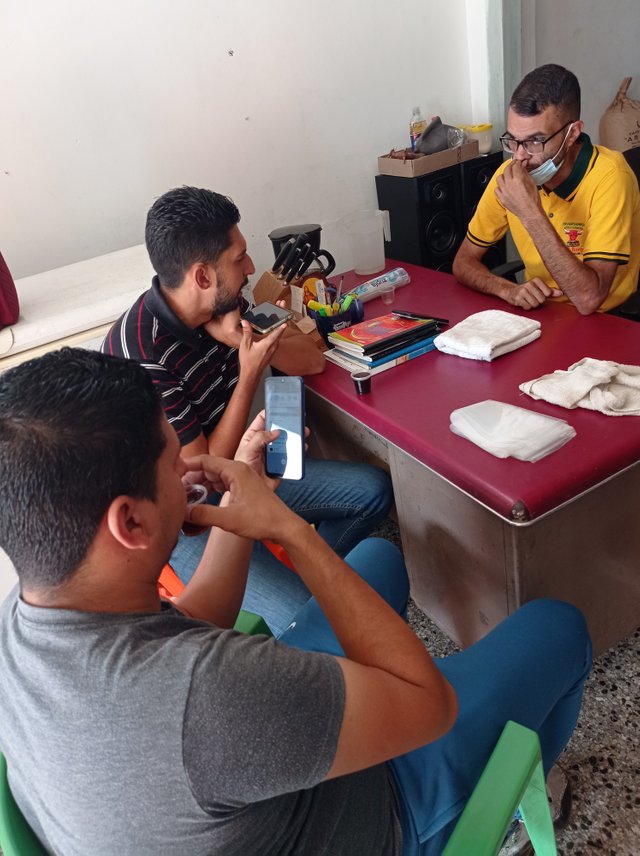 In Sanaré there are many businesses that sell coffee, we come to the producer Don Clemente, he knows all the producers and puts us in direct contact with them, and also helps us get good prices.
Upon reaching the town of Sanare we began to walk through the different coffee shops and do business. This tour can be done on foot, by motorcycle or by car.
---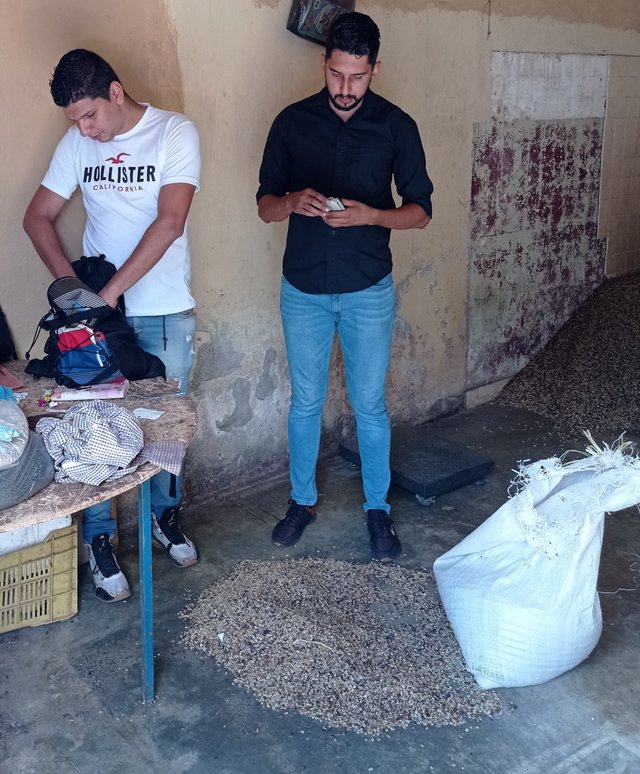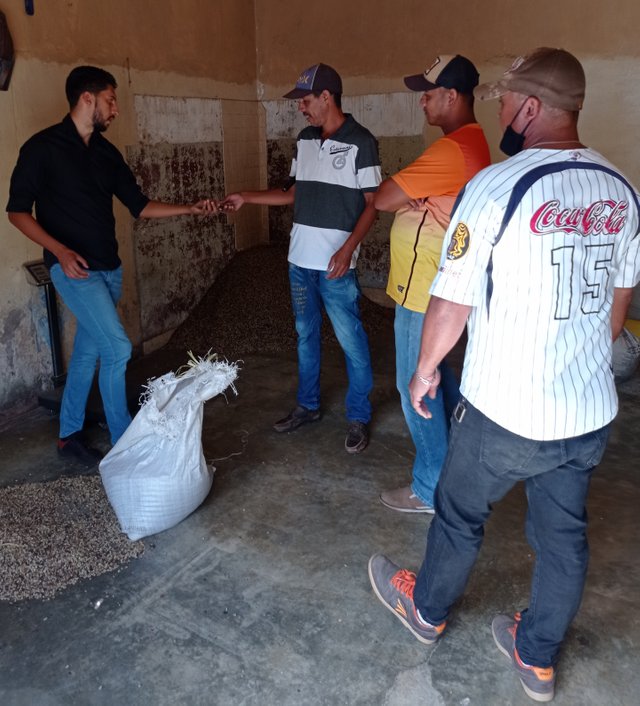 ---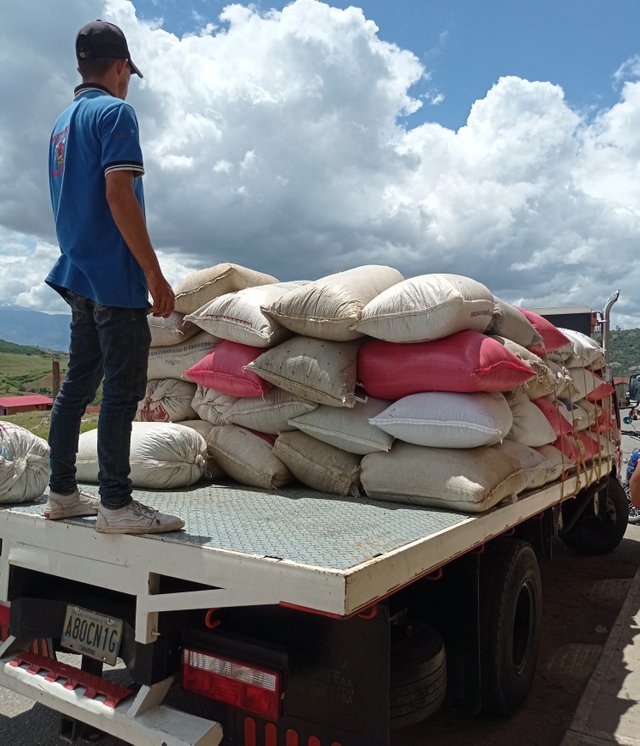 Once the coffee is canceled, they begin to get on the truck, and to move to the place where the gandola will be loaded to be transferred to the east, specifically to the city of Puerto La Cruz.
When visiting the different coffee shops, many vendors are always consulted to get the best prices, and make a good purchase that generates so much profit, recover the investment and cover the expenses generated by this type of trip.
The workers who help with the unloading of the coffee are called caleteros. These guys charge the following for each sack of coffee they unload and set up.
Price for loading and unloading the truck: $ 0.5 per bag, charged by each caletero.
| | | |
| --- | --- | --- |
| 0.5$ per bag. | 0.064 SBD | 1.057 |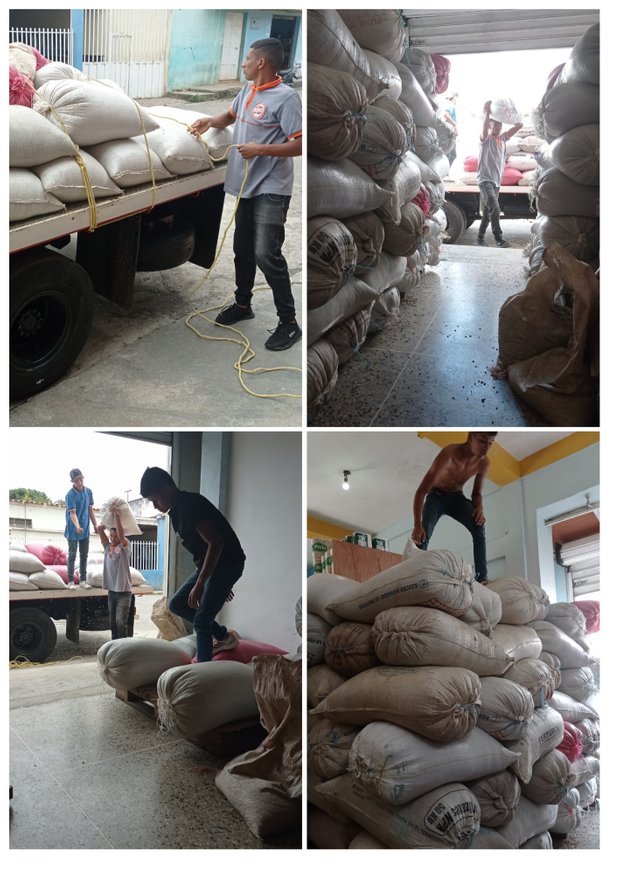 Puya to take samples of sacks.
More than 250 bags of raw coffee were purchased. When buying small amounts of coffee, it is easy to open the bags to assess the quality and smell of the beans. But when they are large quantities, a metal spike is used that allows the bag to be pushed and the beans extracted, in order to ensure that it is a quality coffee, that it is good and has a good smell, because there are those who take advantage of the large number of bags. and they put sacks with coffee that is fermented or damaged.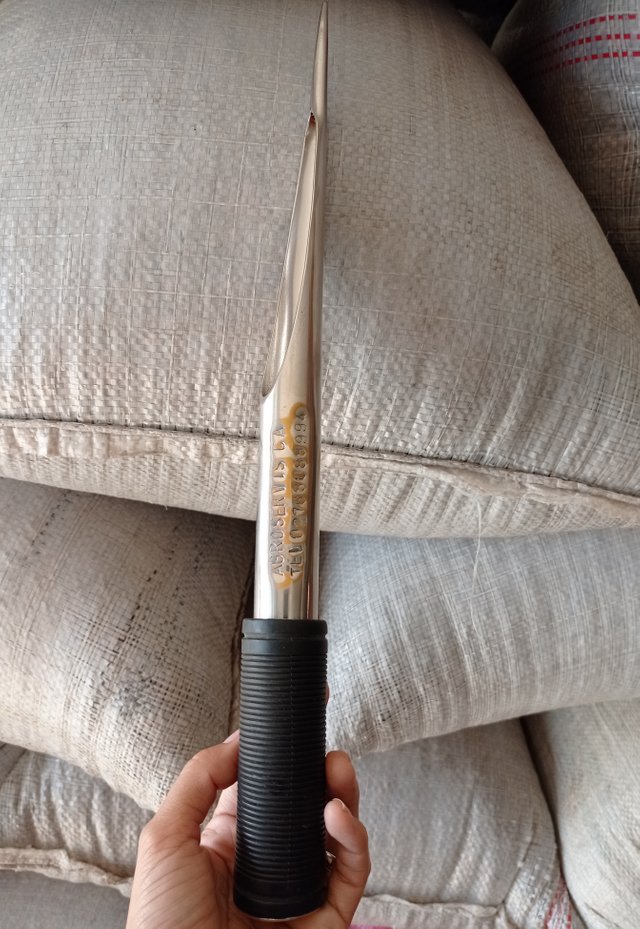 This tool called puyo or sack sampler, we did not have it, so we decided to make the investment and buy it to use it every time we travel to make large purchases of coffee. Tool price: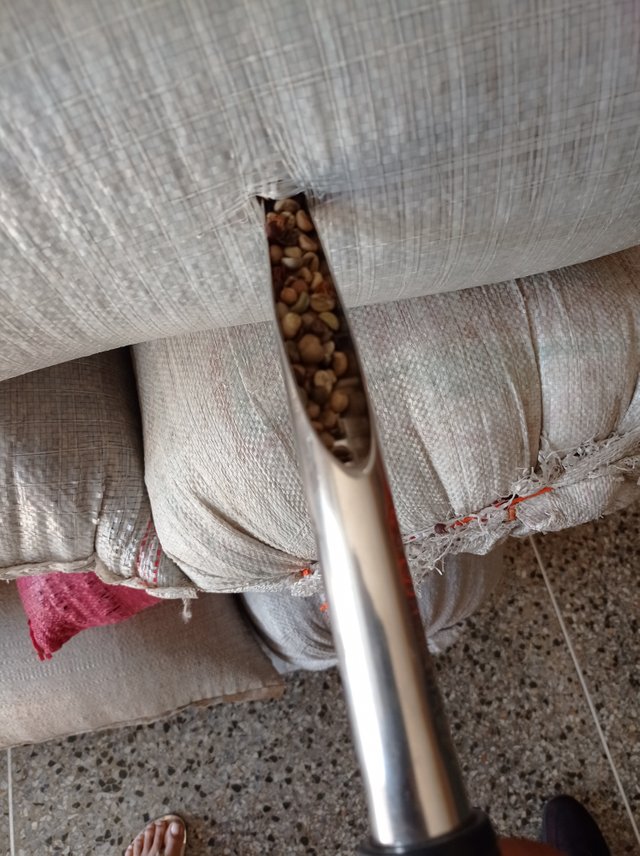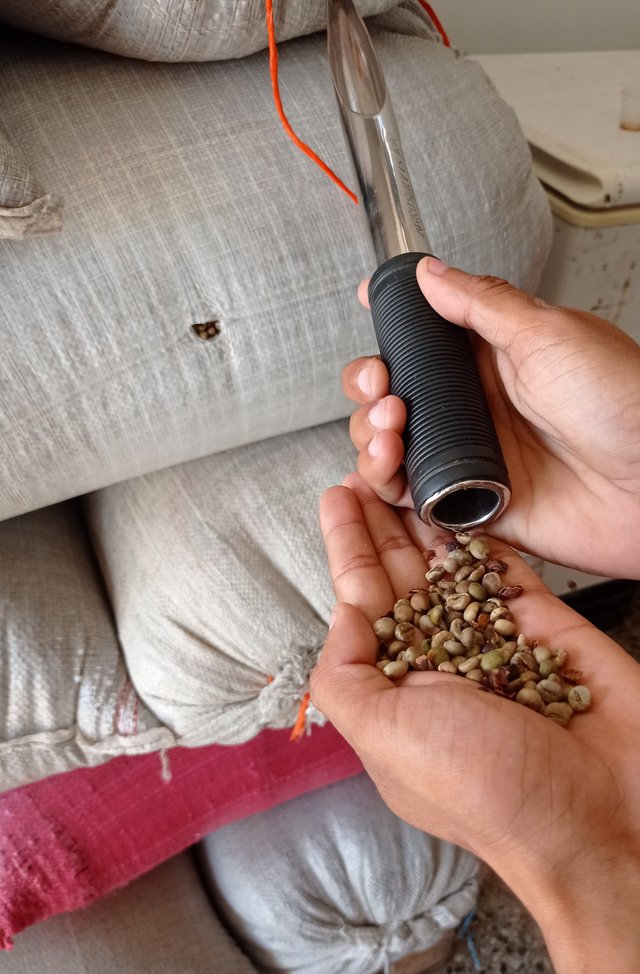 ---
💯💯💯💯💯💯
The logistics of buying raw coffee is quite long, it starts from the early hours of the morning and ends very late at night, with the load of the truck that goes to Puerto La Cruz.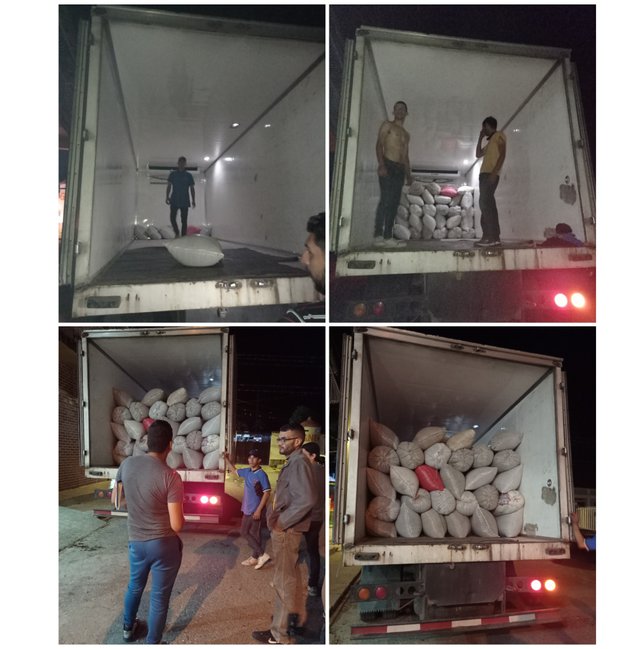 Right now we are working hard for the growth of our company. Coffee is one of the items that generates more work and therefore more profits, and it is also the most widely consumed and widespread beverage worldwide. It is also one of the oldest hot drinks around.
Did you know ?
That the Turkish meaning of this drink is "The one that amazes and makes the thoughts fly". This makes sense, when we have a cup of coffee, we really wake up and get more excited. Although it may seem difficult to believe, the cultivation of coffee is one of the most important in the world, and occupies the second place in commercialization, it is cultivated and commercialized in more than 75 countries, which generates an extensive source of work, more of 63 and a thousand families depends clearly on this item.
---
During my stay in Sanaré I was looking for some machines to buy and thus expand the roaster that we have in the city of Puerto La Cruz. There are plans to grow the company, change to a larger place and space and thus offer the complete service of the coffee process to those who need it. These machines are essential in a roasting plant; toaster oven, grain sorter and mill.
My new acquisition for our premises in the municipal market:
The holy Roman.
Well really its name is Roman Balance, it is a fundamental instrument to weigh the bags inside the premises, I say sacred because for my grandfather this object was super sacred, he thought that whoever dared to rob someone with this weight was very wrong, indeed God's word in:
Proverbs 11: 1-2
He says:
11 False weight is an abomination to the Lord;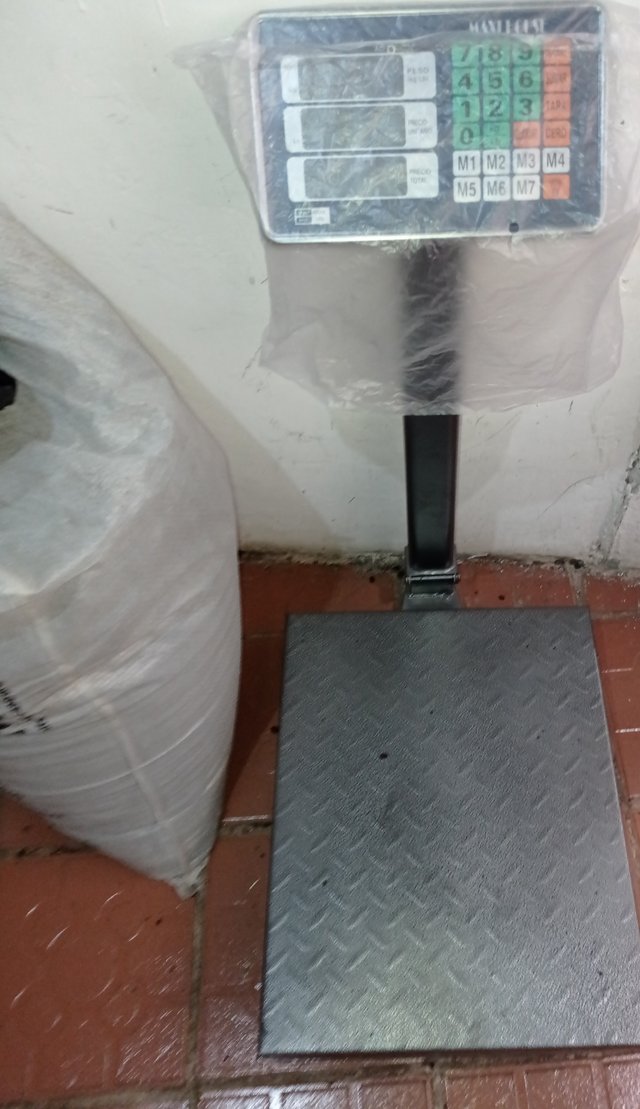 For me, my Partner is God, and if I want him in my business and for him to go forward as a powerful giant, opening the doors for the growth of my company, I have to do things well and that's where being fair with him. weight and not take from anyone what belongs to him, and I know that this is a blessing for my life. Well today, it is normal and more in the municipal market that they alter the pesos to rob customers, bad and ignorant people who have no ideas of the biblical consequences of these acts.
God likes it when we are honest and upright in our jobs, and he sees that and rewards his children. So let's always do the right thing, so that our businesses are blessed and prosperous. I wish everything goes well for you today tomorrow and God always bless you.
See you in a next post.
---
| Business name: | Distribuidora de alimentos y Servicios G.I |
| --- | --- |
| Owner's name: | @angeloguzman31 |
| Business address: | Puerto La Cruz, Anzoátegui, Venezuela |
| About us: | My presentation |