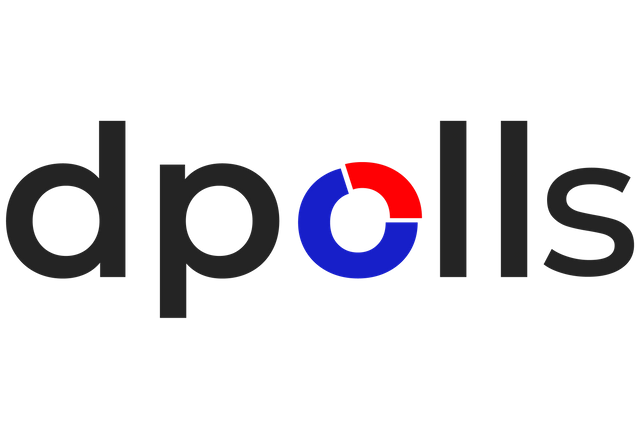 This FAQ will help you understand a few aspects of dPolls. If you have more questions regarding the project, do not hesitate to join the Discord server of Symbionts.

* Special thanks to Bluerobo for working on the initial version of the FAQ.
Voting Requirement
You need to have an account on Steem and enough RC. The only available way to login on dPolls is by using Steemlogin.
---
Markdown
You can use HTML or simple Markdown to format your poll in the editor. It is not possible to use Markdown for the answer options.
---
Pictures
dPolls is currently not storing data locally. Therefore it is not possible to upload images directly into the editor.
As a workaround, you can upload images to the Steemit editor and then copy that link into the dPolls editor.
Other image repositories like Imgur work as well, but make sure your source allows hot-linking. Pixabay for example does not.
---
Videos
Embedding videos is currently not possible on dPolls. If you include the link in markdown it will show up as a link on dPolls and will behave as expected in your post on Steem.
[Link Description](Link to video): Displays a Link to video.
Link to video: only pasting the link embeds the video player directly in your post.
Ideally, use both ways in conjunction. That way you get a link to the source and the video ready to play in your post at the same time.
---
Maximum Answer Options
You can set up to 64 answers that users can choose from.
---
Payout Options
Same as what is available at the blockchain level. Full Power-up, 50%/50% Payout, and Decline.
The ability to set more beneficiary is not yet available.
---
Editing after Publishing
dPolls can be edited until the first vote is cast. Thereafter you can edit the main post on Steem but not on dpolls.io itself.
---
Multiple Choice Option

At the end of the editor is a checkbox to enable multiple-choice dPolls. This option allows the voter to choose multiple answers from the options provided.
---
Poll Promotion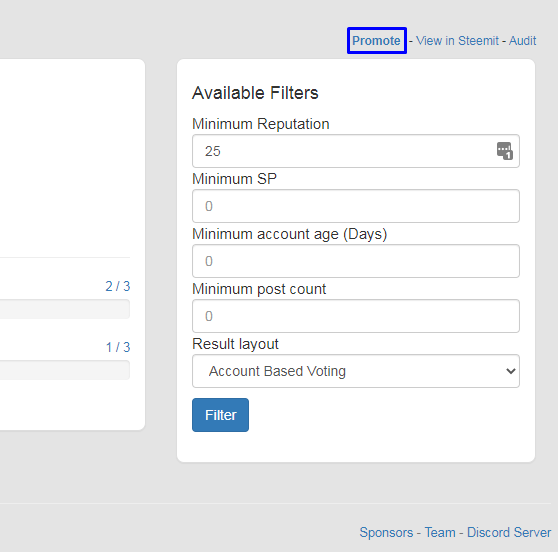 This is helpful when you create a dpoll and want to increase exposure to more users.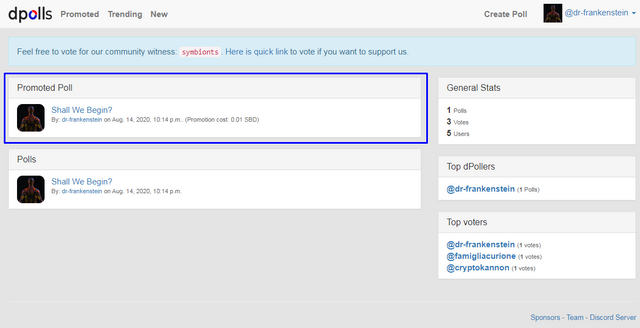 If you bid the highest amount, your dPoll will appear on top of the dpolls.io homepage.
---
Content Filter
New: Lists active polls by creation date.
Trending: Lists active polls by voter count.
Promoted: Lists active polls by promotion amount.
Only active polls are shown - in every filter. If you want to look up older polls, you can go to the profile of a dPoller by either clicking on the user name in a recent dPoll or to https://dpolls.io/user/@[username].
Result Filter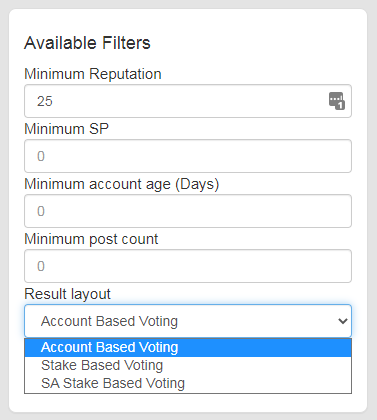 It is possible to screen the cast votes by parameters:
Minimum Reputation
Minimum SP
Minimum Account Age
Minimum Post Count
Every account can vote, and the default view does not exclude any accounts. However, you can filter the results based on parameters you think represent a genuine/eligible account.
---
Stake Weighting
As shown above, you can select in the filter options menu if you want an account-based view of the results or a stake weighted view.
The metric pairs with owned SP. Delegations are ignored. The results are dynamic. That means power-ups/or -downs will automatically be reflected.
---
Audit Option

This makes the transaction data easily available to everybody who wants to check the integrity of any dPoll.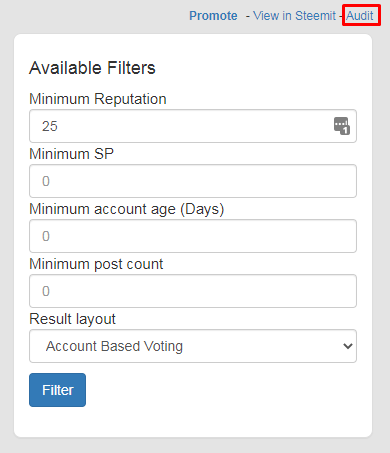 You can do this by going to the Audit link of the poll you are interested in.
Polls By Vote
There is a view that lists polls by vote count on specific date ranges. This view is hidden at the moment, but it is accessible via /polls_by_vote. This option ranks the dPolls of the last 7 days by votes cast.
Delegate to dPolls
You can use the following links to delegate, a portion of the curation rewards will be shared with delegators:

50SP | 100SP | 250SP | 500SP | 1000SP | 10000SP
Vote for Symbionts
The project is currently maintained by the Symbionts team, if you want to support them, you can cast a witness vote by following this link.
---
Steem on,