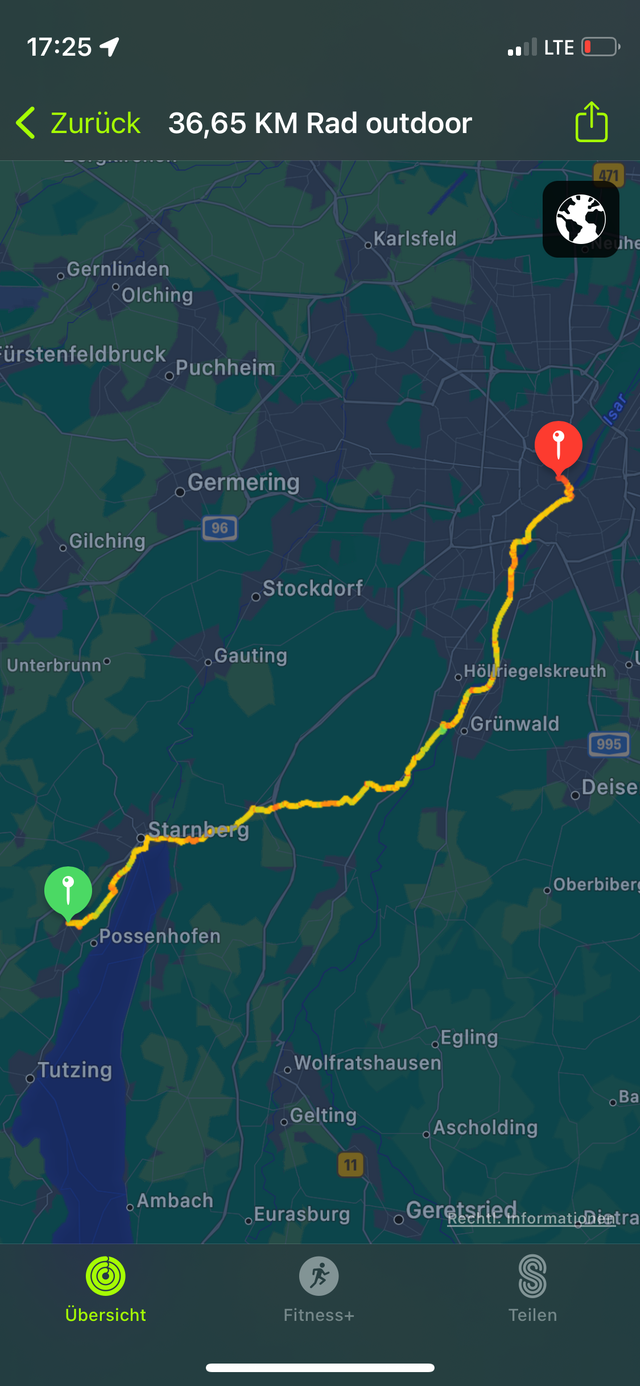 Hallo liebe Community,
in München angekommen endete also unsere Tour mit den Rädern von Augsburg nach München. Wir hatten extra am letzten Tag nur eine relativ kurze Tour von 37 Kilometern geplant, damit wir noch den ganzen Restlichen Tag in München verbringen konnten.
Da an diesem Tag ein Andreas Gabalier Konzert mit 90.000 Zuschauern in München stattfand und dazu noch Samstag war platzte die Innenstadt aus allen Nähten. Aber wir kämpften uns tapfer durch das Touri Programm.
Kleinigkeit Essen am Viktualien Markt, Marienplatz, Hofbräuhaus, Feldherrendenkmal, teure Autos und Geschäfte in der Maximilianstraße. Da kamen einige Meter zu Fuß zusammen.
Dann erstmal in unser schönes und nah an der Innenstadt gelegenes Hotel, kurz duschen und wieder los, denn mittlerweile war es schon gegen Abend.
Zum Abendessen sind wir nochmals zum Abschluss richtig zünftig bayrisch zum Haxnbauer Haxen Essen gegangen und auch die eine oder andere Halbe Helles war dabei.
Auf dem Rückweg zum Hotel lauschten wir noch einen virtuos aufspielenden Geiger und besuchten ein Pfälzer Weinfest 😂 mitten in München.
Das war also unsere Biketour für dieses Jahr und es war wie immer ein tolles Erlebnis. Am nächsten Morgen ging es dann wieder mit dem Zug nach Hause mit viel Vorfreude auf unsere nächste Tour.
Viele Grüße und bis bald Euer
Al
Hello dear community,
When we arrived in Munich, our tour with the bikes from Augsburg to Munich came to an end. We had only planned a relatively short tour of 37 kilometres on the last day so that we could spend the rest of the day in Munich.
As there was an Andreas Gabalier concert with 90,000 spectators in Munich on this day and it was also Saturday, the city centre was bursting at the seams. But we bravely fought our way through the tourist programme.
A bite to eat at the Viktualien Markt, Marienplatz, Hofbräuhaus, Feldherrendenkmal, expensive cars and shops in Maximilianstraße. That was quite a few metres on foot.
Then we went to our beautiful hotel close to the city centre, had a quick shower and set off again, as it was already getting close to evening.
For dinner, we went to the Haxnbauer for a proper Bavarian knuckle dinner and also had a pint or two of Helles beer.
On the way back to the hotel, we listened to a virtuoso violinist and visited a Palatinate wine festival 😂 in the middle of Munich.
So that was our bike tour for this year and, as always, it was a great experience. The next morning we went back home by train with lots of anticipation for our next tour.
Many greetings and see you soon
Al