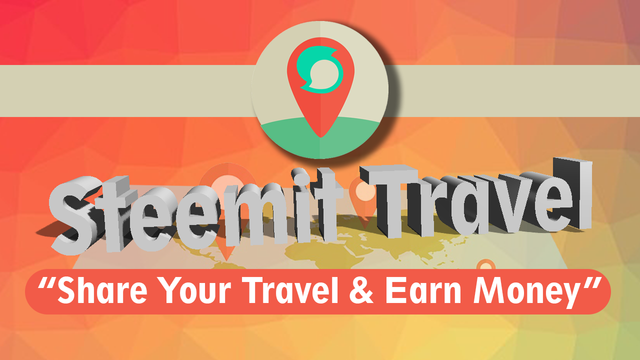 Introduction
Hello Steemians and dear stakeholders! Are you interested in travel, culture, and history? The Steemit Travel community is here to inspire many people on Steemit. We are an open community to share content about travel stories, backpackers, tours, local wisdom, beautiful nature and explore the beautiful earth.
Discover and share the beauty of the earth and inspiration with us in the Steemit Travel community. We are the only community on Steemit that aims to empower travelers, adventurers, backpackers, lovers of culture and history (Culture Vulture), travel companies and transportation services. We are here to provide more inspiration, beauty and investment opportunities in tourism businesses that are open without restrictions on Steemit.
Vision :
"To become a fair, honest, transparent and wise Steemit Travel community page that can provide investment opportunities for everyone involved in the travel sector"
Mission:
Work efficiently to increase participation of Steemit users in the travel sector.
Give rewards for everyone who shares travel posts in the Steemit Travel community.
Invite more investors in the travel sector to increase the economic value of Steem in the future.
Provide guidance to every member of the community.
Provide opportunities for everyone from all over the country to share travel posts.
Conduct wise management and governance, and collaborate with various communities on Steemit.
Make the community page an opportunity to develop financial technology in the travel sector and be able to have an income impact for everyone.
Taglines :
"Share Your Travel and Earn Money"
Rules :
The rules we set are very simple and subject to the rules set by the Steemit team.
The community is open to all users from different countries.
Posts must be original and no place for abusers.
Posting does not contain elements of harassment and discriminations.
English posts are prioritized and open to any language.
Each member must respect each other, support and actively interact.
Prioritize users who join the club status, minimum at #club5050
Community abuse will be dealt strictly by the team.
Posts must be of high quality and at least 300 words.
Use the official tag #travel.
Texts and pictures taken from free external websites must include a reference source.
Categories and Topics
In general, we are open about anything on the topic of travel which is an original work produced by the content owner. We want to take this wider and open up opportunities for every user to participate on a broad topic. Our topics include Travel, Local Wisdom, Adventure, Backpackers, Food Travel, Travel Guide, Business Travel, Nature Lovers, Friday Travel, Weekend Travel and Culture Vulture.
For the topic of Culture Vulture (culture lovers) is a topic that is quite potential to be developed on the Steemit Travel community page. You can share something unique about your country with the world as well as share local experiences. This category can include about Festivals, Costumes and Traditions, Food, and Art, only unique and identical about your country, Culture Vulture wants to bring more experience, inspiration and knowledge to the world.
Steem Power
Currently we have up to 5,101.52 SP which is delegated by all users who support this community. We are open to welcome more resources and provide benefits for you as a delegate who will be rewarded. Support us to bring more inspiration to Steemit!
Thus the intro post about the Steemit Travel community, hopefully this community can develop by getting support from various parties. Your support is the most important thing to advance this community. We are waiting for you to share more inspiration with the world.
Best Regard,

@ponpase | ADMIN - FOUNDER
@ripon0630 | MOD - Community Manager
DELEGATION
We are very open to receiving delegations from anyone who wants to support the community. if you are interested in becoming a delegator for Steem-Database you can give any delegation you like :
Alternative links delegates to @hive-163291