皆さん、こんにちは。私の地域ではすでに通り過ぎようとしていますが、台風が日本へ来ていますね。
昨日は台風で天候が荒れると考えて、近づいて来る前に朝から買い出しに行っていました。
せっかくの連休中に台風で外へ出かけられないのは残念なところもあります。しかし、平日に天候が荒れるよりかは、休日の天候が悪い方が家で過ごしていれば良いので幸いだったかもしれません。
Hello everyone. I see that a typhoon is coming to Japan, although it is already passing through my area.
Yesterday, I went shopping in the morning before the typhoon approached, thinking that the weather would be rough.
It is unfortunate in some ways that we can't go out during the holidays because of the typhoon. However, it was probably a blessing that I could stay at home during the holiday rather than have bad weather on a weekday.
買い物先で、家で楽しむことが出来ないか考えていました。家で映画を見ながらお酒を嗜むか、何か趣味になりそうな分野の本を読むか。
考えながら歩いていると、美味しそうなたこ焼きが目に留まりました。そこで、せっかく時間があるのでたこ焼きを自分で作ることにしました。
家に帰って、購入したたこ焼きの材料セットを用意しました。普段はたこ焼きを作らないので説明書の通り、材料をきったり、粉と水を混ぜて元を用意します。
I was thinking about what I could enjoy at home while I was shopping. Maybe I could watch a movie at home and enjoy a drink, or read a book in some area that might be a hobby for me.
As I was walking around thinking about it, a delicious looking takoyaki caught my eye. So, since I had so much time on my hands, I decided to make the takoyaki myself.
I went home and prepared a set of ingredients for takoyaki that I had purchased. I usually do not make takoyaki, so I followed the instructions, cutting the ingredients, mixing the flour and water, and preparing the original ingredients.
たこ焼きを焼くプレートはホットプレート付属品でついてきたものを使用しました。
材料を投入していきます。後で調べて知ったのですが、具は生地をタコ焼き機の途中まで入れて、その穴に入れなければならなかったようです。
その後、タプタプに生地を入れるのが良さげな感じでした。
The plate for baking takoyaki was the one that came with the hot plate.
Ingredients are put in. I found out later that the ingredients had to be put into the takoyaki machine with the dough halfway through the takoyaki machine.
After that, it seemed like a good idea to put the dough into the tap-tap-tap.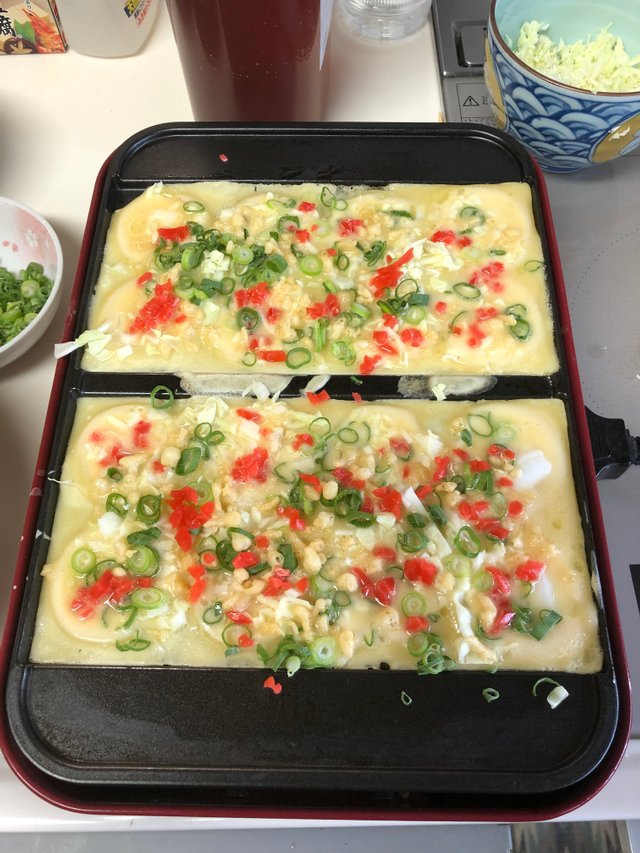 生地が2回分くらいたこ焼きを作れる量があったので、2回目は調べた手順通りに作りました。
1回目は油も少なかったみたいで、少し苦戦していました。2回目も焼き終えて、ソースなど調味料を準備します。
そして、出来上がったたこ焼きにトッピングを添え完了しました。
I had enough dough to make two batches of takoyaki, so I followed the instructions I had researched for the second batch.
The first time, there seemed to be less oil and I struggled a bit. After baking, prepare the sauce and other seasonings.
The second takoyaki was also done, and the toppings were added to complete the dish.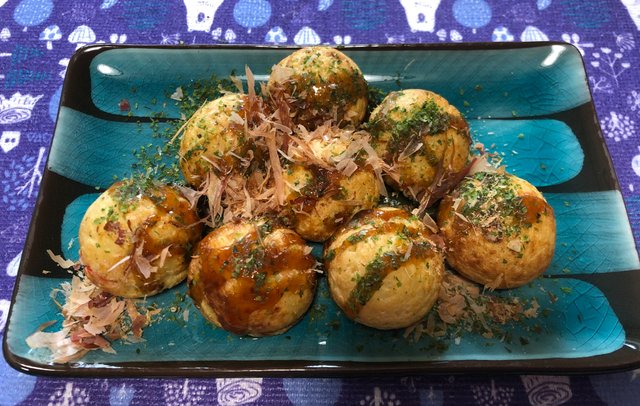 その後は、美味しく頂きました。
1回で作れる量が結構多いのと、小さいからいっぱい食べられると考えていましたが結構お腹にたまりました。
しかし、良い1日を過ごせたので良かったです。
After that, we enjoyed it.
I thought I could eat a lot because the amount of food I could make at one time was quite large and because it was small, but it filled me up quite well.
But I am glad we had a good day.
_________________________________
ツイッター、フォローをお願いします。
Twitter, please follow me.
https://twitter.com/jun_lemon3005
_________________________________