背景 Background
Nutbox发展至今,Peanut的TVL已达633万,市值超300万USD,目前的成果与各位大使的宣传与推广密切相关。
Global Ambassador项目自3月份启动以来,已经有8位新大使参与其中,两位来自委内瑞拉,两位来自韩国,一位来自中国,一位来自马来西亚,一位来自美国,还有一位来自巴基斯坦。经过8位大使的努力,正在有越来越多地区的人了解到Nutbox。
为奖励大使团队的贡献,每月会根据各位大使的工作给与PNUT的回报,互惠共赢,以期未来更好地发展。
Since the development of Nutbox, Peanut's TVL has reached 6.25 million USD and the market value has exceeded 3 million USD. The current results are closely related to the publicity and promotion of the ambassadors.
Since the launch of the Global Ambassador program in March, 8 new ambassadors have participated, 2 from Venezuela, 2 from Korean, 1 from China, 1 from Malaysia, 1 from the United States and 1 from Pakistan. Through the efforts of 8 ambassadors, more and more people in the region are learning about Nutbox.
In order to encourage the contribution of the ambassador team, PNUT will be rewarded every month based on the work of the ambassadors. Hope that we will develop better in the future.
主要工作 Main Task
下图为大使团队首月的工作内容和相应的PNUT申请量:
The following figure shows the work of the ambassador team in the first month and the number of PNUT application :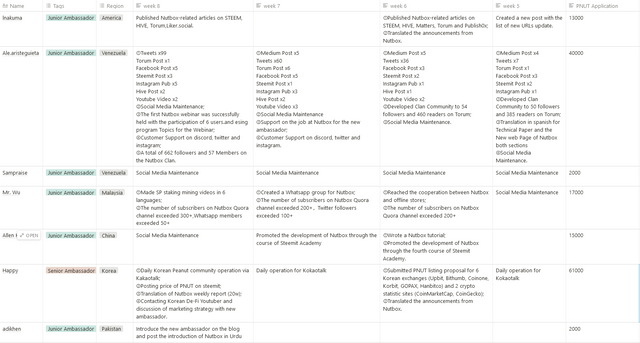 团队 Working team
Total: 150K
后续规划 Follow-up planning
只有这个月是这样为大使们申请一笔奖励,从下个月开始,我们将实行"Base+Bonus"的形式。
Only this month is like this. Starting from next month, we will implement the form of ''base+bonus''.