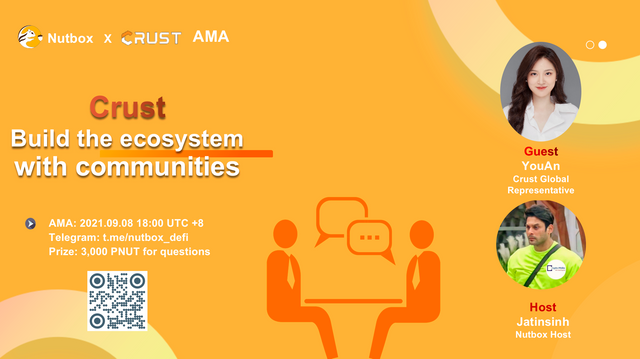 What is the collaboration between Nutbox & Crust?
Crust participated in both the first and second rounds of the Kusama slot auction. Nutbox provides users with a decentralized voting portal, allowing users to pledge KSM through Nutbox, and at the same time they can get Nutbox community tokens.
In both rounds of auctions, Nutbox was the decentralized voting portal recommended by Crust!
After the Crust mainnet is stable in the future, Nutbox may be able to have more in-depth cooperation with Crust, such as helping nodes raise CRUs from retail investors for use in Crust network staking.
We are very happy to cooperate with Nutbox to bring more novel and profitable gameplay to users!
---
Nutbox 和 Crust 之间有怎样的合作?
Crust 参加了 Kusama 第一轮和第二轮的插槽竞拍。 Nutbox 为用户们提供了一个去中心化的投票入口,允许用户通过 Nutbox 质押 KSM,同时获得 Nutbox 社区代币。
在两轮竞拍中,Nutbox 都是 Crust 所推荐的去中心化投票入口!
未来在 Crust 主网稳定后,Nutbox 或许可以与 Crust 进行更深入的合作,比如帮助节点向散户募集 CRU,用于 Crust 网络质押。
我们很高兴能与Nutbox合作,为用户带来更多新颖盈利的玩法!
---
Apakah kerjasama antara Nutbox & Crust?
Crust telah menyertai lelongan slot Kusama dalam pusingan pertama dan kedua. Nutbox menyediakan pengguna portal pengundian terdesentralisasi yang membolehkan pengguna pertaruhkan KSM melalui Nutbox, dan pada masa yang sama mereka boleh mendapatkan token komuniti Nutbox.
Dalam kedua-dua pusingan lelongan, Nutbox ialah portal pengundian terdesentralisasi yang disyorkan oleh Crust!
Selepas mainnet Crust menjadi stabil pada masa hadapan, Nutbox mungkin boleh mempunyai kerjasama yang lebih mendalam dengan Crust, seperti membantu nod mengumpul CRU daripada pelabur runcit untuk digunakan dalam pertaruhan di rangkaian Crust.
Kami sangat gembira untuk bekerjasama dengan Nutbox untuk membawa lebih banyak permainan baru yang menguntungkan kepada pengguna!
---
About Nutbox
Nutbox is a one-stop DAO factory for the community, providing non-technical founders with a series of tools (Crowd-staking, DApp factory, and DAO governance factory) to facilitate the creation of their own DAO platform.
For more information, please visit https://nutbox.io
---
Nutbox Introduction
DOCS | https://docs.nutbox.io
Website | https://nutbox.io/
Nutbox Guide
EN | https://blog.nutbox.io/@nutbox.mine/the-new-ui-of-nutbox-is-about-to-online-and-the-tutorial-of-new-ui
CN | https://blog.nutbox.io/@abcallen/wherein-1615536657147-s
Contact US
Wechat: cnsteem
Steem: https://blog.nutbox.io/@nutbox.mine
Discord: https://discord.gg/zPkMuGY
Telegram: https://t.me/joinchat/HKSkL1tns74yODE1
Vote For US
Please vote for our witness nutbox and smt-wherein:
---
Sook Jin GOH,
Nutbox Ambassador for Malaysia,
Director at Nanyang Global Scientific Research Centre