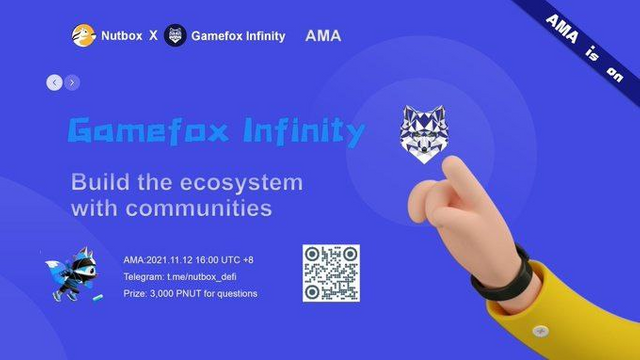 Could you please introduce Gomefox and the core team of Gamefox briefly?
Hi, my name is Jacub. As early as 2017, I started to study some interesting projects combining blockchain and games. At present, I mainly focus on GameFi, and I am also the head of Axie Infinity.
Gamefox Infinity is a gaming contract platform jointly established by our Axie Infinity Game Guild. The core team members are technical development or marketing personnel from blockchain, traditional big game projects and companies. They have been in the game field for more than ten years and have unique insights into core technologies such as GameFi and other algorithms.
George is a manager from a top Internet company and experienced in financial technology business management and leadership. Ken is the CTO. He previously ran the company as the CEO. He has more than 10 years of technical experience and has led a team of more than 10 algorithm engineers.
We are very optimistic about the prospects of GameFi and Metaverse. Our vision is to build Gamefox Infinity into a decentralized game computing power distribution platform, lower the thresholds for everyone to participate in the GameFi, and enjoy more benefits from GameFi.
---
How can the community participate in Gamefox?
You can enter the Gamefox official website. We will occasionally hold sales activities of Gameforce Contract or other welfare activities to reward users. You can also directly purchase Gameforce Contracts on the official website, which can be cast as Meta NFT assets on the platform. In addition, you can also obtain dividends from the platform development by holding Gamefox's real-time platform gameforce index token GFI, and you can also obtain eSLP through synthetic assets to staking to obtain income. We currently support a wealth of income methods, and you are welcome to explore and experience them on the Gamefox official website.
website: www.gamefox.io
---
Gamefox has announced the partnership with Nutbox Walnut recently and at which level will the two parties have in-depth cooperation ?
We are proud to announce the partnership with Nutbox Walnut, a partner, supporter and industry driver in blockchain space.
Our partnership opportunities will ensure both of us to have a further development in metaverse.
At the same time, we will reach the in-depth cooperation, integrating various resources to support our development, including global marketing resources support, developer-oriented resource services, production improvement guidelines and more.
Later we may launch our joint NFT. So far we have cooperated with Coin98 Wallet and ROOB community to joinly issue the co-branded NFT.
The 5G capacity and 100G capacity NFT jointly launched by coin98 and us correspond to 5G capacity and 100G capacity of game computing power. Users can pledge these NFT on our official website, so as to obtain profits. NFT also has circulation and collection value. It is permanent add hair, so NFT also had certain collection value likewise.
---
Gamefox is a decentralized cluster platform that distributed game cloud power, so how does Gamefox achieve this?
In terms of product design, Gamefox manages the non-standard Gamefi game computing power through clustering, and divides it into 100G-500G different specifications of the Gameforce Contract standard products, and each Gameforce Contract is a unique NFT asset. By contracting gameforce and then NFT contracting, users can directly purchase contracts according to different gaming power needs to obtain cash benefits.
In terms of team strength and technology, first of all, Gamefox is co-founded by the world's top ten game guilds. The centralized management of Axie game accounts alone has reached the order of thousands, so a large supply of game computing power can be realized. In addition, the team has exclusively developed the Fox Script Smart Strategy Library, which can provide users with a collection of intelligent strategies for automatic processing of in-game revenue, automatic optimization of operations, and AI real-time intelligent processing.
In this way, the user's Gameforce Contract revenue can reach optimality, and AI can automatically optimize and update the revenue situation in real time.
---
What is the competitive advantage of Gamefox over other similar game guilds?
On Gamefox Infinity, we are building a game power distribution platform based on Axie, which is jointly founded by the world's top ten game guilds. Essentially, we provide a simpler and cheaper way to earn money in GameFi games. For example, our core function, Gameforce Contract, provides users with an aggregated game power distribution service, enabling players to subscribe to game power to join GameFi. The cluster management is used to carry out activities for players to play to earn, while the loss of transaction fees reduced and the profits for users increased.
We have also developed an innovation zone to enable users to enjoy the highly rewarding of GameFi, which will be launched soon.
Firstly, Axie Infinity lowers the threshold for users to participate in GameFi, which saves complicated game processes, and directly enjoy the development dividends of multiple explosive GameFi. This is similar to buying an NFT in a market like Opensea, but It is actually a P2E machine that automatically helps you keep getting profits.
Secondly, our Fox Script smart strategy library design is independently developed by the Gamefox Infinity team and updated in real time to provide users with a collection of smart strategies for automatic in-game revenue processing, automatic optimization of operations, and AI real-time intelligent processing. Simply put, Fox Script will automatically calculate the optimal profit solution to provide the highest profit for the guild/individual players.
This is critical, because any GameFi has its game mechanism, complex gameplay and even hidden surprises. If these are learned and analyzed manually, the effect will be relatively poor and it takes a long time, but with the help of Fox Script, the most efficient strategy can be calculated through the machine to help us get profits.
Thirdly, we have our own innovative AI technologies. Our researchers proposed the "X-Branch" evolutionary algorithm, which can automatically select the most suitable algorithm for machine learning tasks. The speed is increased by 50,000 times, and the error rate is only increased by 0.6%.
---
Chaingame/GameFi is undoubtedly one of the biggest hotspots recently, we have seen some projects Like YGG participating in the Chain game have established cooperation with Gamefox. Can you give us a detailed introduction?
YGG is essentially an online software organization. Users can obtain Axie loans through such a P2E guild. This will help more users to join Axie without paying upfront fees, and then use Axie to make money. So we also call it the guild mode in the game. Players gather together, join the same team, learn and grow together, and earn money through the game. Many ordinary people in Southeast Asia affected by the epidemic can rely on this to obtain income and subsistence. Gamefox also hopes to help players enter the Gamefi world more conveniently and securely by providing Gameforce Contracts, and to obtain benefits. Our goals are the same as YGG, and we not only provide Gameforce Contracts for individual players, but also for P2E Guilds.
And I think this is the future of the Chaingame/GameFi industry. We will establish cooperation with more game guilds in the future to help players and boost the healthy development of the entire industry.
---
How to earn on Gamefox Infinity as a normal user?
First, realize asset appreciation by purchasing the Gameforce Contract.
The threshold for participating in Gameforce Contract is very low. You only need to pay 81U(Raw value is 108U), with an annualized yield of 309%. This is a fairly stable and good investment method. The generated SLP has been listed in 17 exchanges including Binance and OKEX.
Second, apply to become a whitelist community.
If you have your own community and want to invite more users to enjoy the GameFi benefits provided by Gamefox Infinity, you can reach the administrator of this group and apply to become a whitelist community to get more benefits.
Third, purchase Gameforce Contract to get GFI airdrops
Users who purchase GameforceContract will receive GFI airdrops according to a certain percentage.
GFI token, anchors the real game computing power of the platform. The first phase of the GFI anchors Axie. Users who contribute power in the early stage, interact with GFI game contracts and exchange synthetic assets will be given rights and airdrops. Some high-quality communities and outstanding promoters will be given excess airdrop rewards.
The second stage of GFI will include the world's top ten GameFi games for hashrate layout, which will be based on the weighted average of the index influence. Users can stake the corresponding GFI to get the big power reward. GFI is the first token to benchmark the GameFi Index.
Through decentralized synthetic assets and GFI tokens, Gamefox Infinity provides users with aggregated game power distribution services, enabling players to join GameFi by subscribing game power. In the Gamefox Infinity, cluster management is used to carry out in-game activities for players to play to earn, while the loss of transaction fees reduced, and the profits for users increased.
At present, Gameforce NFT Contract is designed with different specifications for P2E level, which are 5G, 10G, 100G, 200G, and 500G, a total of 5 types. The NFT contracts issued by each specification are also limited, ensuring its scarcity as a new type of NFT asset.
The game power of each NFT contract is different. 5-500G is from low to high to meet different needs of players to play to earn. The higher the power, the higher the NFT value and the stronger the scarcity.
Some users may be familiar with BTCST (a token collateralized by 0.1TH/s real Bitcoin computing power). This coin has risen more than 500 times. As the first GFI token to benchmark the GameFi Index, it has just begun, whose future is promising and bright. The airdropped GFI through the purchase of Gameforce Contract will bring you another 10-200 times the income! !
---
Why did Gamefox choose Axie infinity?
Regardless of the number of daily active users, the size of the trading market, and the price of a single NFT transaction, Axie Infinity has set a number of records. Judging from these data, Axie Infinity is also the chain game with the highest degree of breaking recoeds. Moreover, its gameplay is very rich. In terms of game experience, it does not lose to traditional games. The Ronin side chain brings it low cost and high speed, as well as its self-contained economic model and mechanism design that players can quickly benefit from. These all show why it is so popular with players. But at the same time, it is more and more difficult for Axie to make money. With the continuous adjustment of the game mechanism and the high barriers formed by the players participating in the early stage, it is very, very difficult for ordinary players to join Axie to play to earn. It is the insight into such a huge market demand, so Gamefox came into being, hoping to lower the threshold for more ordinary players to enter the world of chain games, and help more players get the fun of P2E from Axie.
---
The concept of NFT is very trendy recently, we have seen that Gamefox released own NFT, will there be any NFT explorations in the future?
NFT+metaverse are the directions we are planning. As a unique virtual asset, Gamefox is already a "part of" NFT and metaverse, and it is also an irresistible trend. In the future, we will introduce more innovative and useful functional designs for users in NFT and Metaverse. For example, in the future, we may cooperate with some games to release independent IP NFT works, and sign some NFT artists in game art, and hold an initial public sale event on the platform, etc. Everyone can pay more attention to our social media channels, product developments will be released as soon as possible.
---
What is the future roadmap for Gamefox? Can you give a brief introduction?
2021.Q4
Gameforce Contract Innovation Zone goes online
NFT trading platform goes online
2022.Q1
GameFi multi-signature contract goes live
Axie Infinity cross-chain gateway and NFT casting is online
2022 Q2
Gamefox Infinity multi-chain platform synthetic asset issuance
Gamefox Infinity campaign starts globally
2022 Q3 Gamefox Infinity ecological relay chain testnet is online
2022 Q4 Gamefox Infinity ecological relay chain is officially online
---
About Nutbox
Nutbox is a one-stop DAO factory for the community, providing non-technical founders with a series of tools (Crowd-staking, DApp factory, and DAO governance factory) to facilitate the creation of their own DAO platform.
For more information, please visit https://nutbox.io
---
Nutbox Introduction
DOCS | https://docs.nutbox.io
Website | https://nutbox.io/
Nutbox Guide
EN | https://blog.nutbox.io/@nutbox.mine/the-new-ui-of-nutbox-is-about-to-online-and-the-tutorial-of-new-ui
CN | https://blog.nutbox.io/@abcallen/wherein-1615536657147-s
Contact US
Wechat: cnsteem
Steem: https://blog.nutbox.io/@nutbox.mine
Discord: https://discord.gg/zPkMuGY
Telegram: https://t.me/joinchat/nutbox_defi
Vote For US
Please vote for our witness nutbox and smt-wherein:
---
Sook Jin GOH,
Nutbox Ambassador for Malaysia,
Director at Nanyang Global Scientific Research Centre