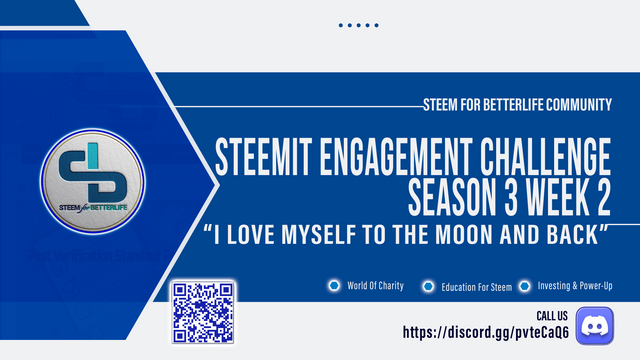 So often people start doubting in what they do and in themselves.
Why?
They think they are not good enough
They think they don't have the experience for the task
They are scared of what other people might think or say
They compare themselves to others
They allow mistakes from the past ruling their lives
What they don't know is that they are not alone.
Self-doubt is a global problem and often it is those who are the smartest who doubt themselves the most.
Steemians are no different. They also ask questions of;
"Can I do it"?
Must I quit Steemit"?
For this challenge we want you to write a post in which you tell us how you love yourself to the moon and back.
What are the doubts you have (can be personal or related to Steemit)
What can you do to overcome these doubts
What makes you love yourself
What must you do to prioritize your happiness and well-being
Write a post with no less than 350 words
Posts must be posted in the STEEM FOR BETTERLIFE community
Post must be Steemexclusive
All relevant languages are allowed
Use your own images, and if not you must use FREE images and post the source of the images
Use Post Title "Steemit Engagement Challenge S3-W2: I love myself to the moon and back by @?"
You must use the #steemforbetterlife-s3w2 #life, #yourcountry, #club? tag, among your first 5 tags
Participants may not use any auto-vote services
Paste your post link in this post to make searching easier
Invite 3 other users
Actively commenting on other engagement participants across the engagement community
Scoring System or Verification Format
| Verification Date | Month Date, Year |
| --- | --- |
| O'clock | 00.00 PM/ AM |
| Get Upvote | 0 |
| Valid Comments from Other Users | 0 |
| Description | Information | Score |
| --- | --- | --- |
| Plagiarism Free | ✅ or ❌ | 1 |
| #steemexlusive | ✅ or ❌ | 1 |
| Bot Free | ✅ or ❌ | 1 |
| Verified User | ✅ or ❌ | 1 |
| Status #club5050 | | 1 |
| Status #club 75 | | 1,5 |
| Status #club 100 | | 2 |
| Markdown Style | | 1 |
| Quality Content | | 3 |
| Total Score | | 10 |
| Club Status Verification Period | Month Date to Month Date, Year |
| --- | --- |
| Transfer to Vesting | xxx.xxx STEEM |
| Cash Out | xxx.xxx STEEM |
| Result | clubxxx |
| Voting CSI | 00.00 ( 0.00 % self, 00 upvotes, 00 accounts, last 7d ) |
Determination of Club Status refers to the https://steemworld.org/transfer-search Web-based Application
| Note | Development Notes from Verifier |
| --- | --- |
---
---
---
We do not guarantee that every participant will be supported by steemcurator01 or steemcurator02
The jury's decision cannot be contested
The main hashtag for this contest search is #steemforbetterlife-s3w2

Click the icon below for Update Information About Steem For Better Life Community
July 24, 2022
Signed Steem For BetterLife Community Team