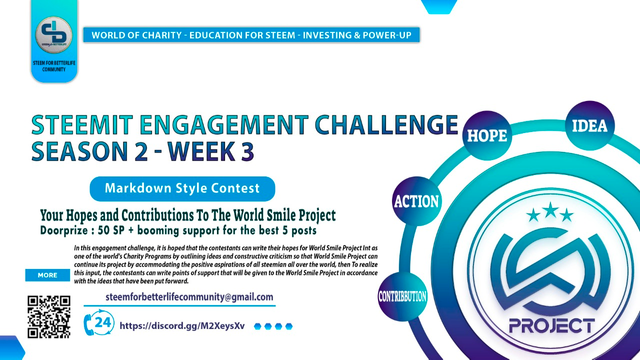 Steemit Engagement Challenge Season2 Week 3 STEEM FOR BETTERLIFE COMMUNITY again brought the Markdown theme as part of the important points in organizing the contest. In week 3, we collaborated on two community pillars, namely STEEM learning and Charity. Well, we continue to raise these two pillars as the identity of the community so that Charity and steem learning can synergize in Steem For BetterLife Community.
The theme this time is "Steemit Engagement Challenge Season2 #week3 | Markdown Style Contest : Your Hopes and Contributions To The World Smile Project", In this engagement challenge, it is hoped that the contestants can write their hopes for World Smile Project Int as one of the world's Charity Programs by outlining ideas and constructive criticism so that World Smile Project can continue its project by accommodating the positive aspirations of all steemian all over the world, then To realize this input, the contestants can write points of support that will be given to the World Smile Project in accordance with the ideas that have been put forward.
Must be posted in the STEEM FOR BETTERLIFE community - (Mandatory)
Plagiarism is strictly prohibited (which mean, the content must be exclusive and original with the #steemexclusive tag) - (Mandatory)
All relevant languages ​​are allowed
Show and write down your hopes, ideas and contributions that you have made and will do to realize your hopes, at least 300 words - (Mandatory)
Attach a selfie of yourself holding the paper supporting the World Smile Project by hand. Use other photos up to 8 original and recent photos from your activities in support of the World Smile Project (Don't use source photos or WhatsApp messages) - (Required)
Use Post Title Steemit Engagement Challenge Season2 #week3 | Markdown Style Contest : Your Hopes and Contributions To The World Smile Project - (Mandatory)
You must use the tags #markdownstyle-w3 #contest #yourcountry (ex : #indonesia ) and #steemexclusive try between your first 4 tags - (Required)
Participants may not use any auto-vote services - (Mandatory)
Include a map what3words.com as your location for selfies or photos of other supporting activities- (Mandatory)
Support #worldsmileproject (@worldsmile) or to Steem Better Life Offcial community account (@steembetterlife) will be concidered, but Not Mandatory
Paste your post link in this post to make searching easier - (Mandatory)
Upvote and resteem this post - (Mandatory)
| Description | Information | Score |
| --- | --- | --- |
| Steemexlusive | ✅ or ❌ | 5 |
| Plagiarism Free | ✅ or ❌ | 5 |
| Bot Free | ✅ or ❌ | 5 |
| Status Club | ✅ or ❌ | 15 |
| Markdown Style | ✅ or ❌ | 15 |
| Location / Map | ✅ or ❌ | 10 |
| Support WSP / Community | ✅ or ❌ | 20 |
| Post Quality | | 25 |
| Total Score | | 100% |
Steemexlusive, Free Plagiarism, Bot Free and Club Status are the rules that must be followed, otherwise you are automatically disqualified
50 STEEM POWER + Support Booming For The Best 5 Posts
We do not guarantee that every participant will be supported by steemcurator01 or steemcurator02
The more you use the markdown type and explain it, the greater of your chances to win the grand prize and the more you edit the post, the less chance you will get.
The jury's decision is irrevocable
The main hashtag for this contest search is #markdownstyle-w3
Conclusion and Expectations of the Contest
Every steemian can make interesting posts by using various types of markdowns available on the steemit platform. And the steemian will be able to show his hopes, ideas and contributions to the World Smile project in real terms, either in the form of share rewards or other support that is relevant to the growth and development of World Smile Project Int.
Signed STEEM FOR BETTERLIFE Community Team
Thank You